Blond ChaosMen American Butt Slut, Jon
Years Active: 2015
CHAOS MEN / BRIAN OCKERT INFO:
Start Age: 23
Debuted: March 30, 2015
Height: 6′
Weight: 150 lbs
Cock: 7″ cut
Jon surprised me during his interview. He is a gay guy, and when I asked him what he liked to do, he mentioned fisting. That's not one I have actually heard before. Ironically, he is not into super hung guys, but every now and then, having a guy dig in with their hand turns him on.
   He is blond and has that twink vibe about him, but he seems like mature guy. At 23, he seems like he has his life together, but is always looking to make a little extra money and has been debating giving porn a try.
   Jon loves his pubes and it was awesome getting someone in who was not obsessed with shaving their manhood off. Nestled in those natural pubes is a thick 7 inches of meat.
   For the solo, he gets down to the business of getting his cock hard. He ramps it up a bit, but quickly flips over to massage his back door, which got him totally rock solid.
   Most guys are used to sitting or laying to cum, but Jon said he was best upright. He milks his cock until a nice thick (and apparently tasty!) load spills out!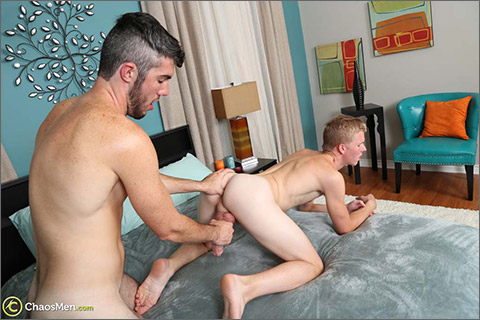 RAW: BRADLEY & JON
Bradley was watching for his videos to air when a video of Jon & Pax aired the very week his Serviced video appeared.
   After watching Jon get fucked by Pax, he asked if he could do a video with Jon. I suppose wanting to give Jon's hole a pounding from his own cock.
   I asked Jon if he would like to work with Bradley, to which he took one look at his fat uncut cock and said, "Yes!" Jon thinks uncut cocks are the best to be fucked by. There is a little Out Take at the end of Jon advising Bradley on how best to use his cock to make him cum.
   So, I knew I had a video with chemistry going even before we got to the studio.
   Bradley said he would like to try bottoming for a video. He is mostly a Top, and you can tell he is damn good at it. But he had wanted to try bottoming on camera. I asked Jon if he thought he could top, and despite me pegging him as a Bottom, he said he would totally be down to fuck Bradley. Turns out Jon is a great Top!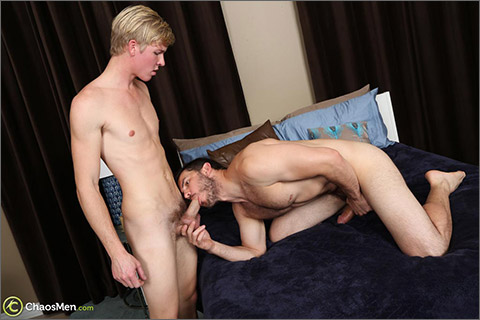 SERVICED: JON & VANDER
Jon mentioned fisting in his solo interview, so let me start by saying that no fisting is happening in this video! Sorry fans of donkey punching!
   There is however, a lot of toy play!
   Jon starts off on his knees, worshiping Vander's cock. The boy can deep throat, and swallows Vander completely!
   Vander takes a turn at sucking on Jon, but he is pretty wobbly until Vander slides a toy in his ass. Yep! He is a bottom!
   Vander also brought his puppy dog tail butt plug. Apparently pup play is all the rage for piggy bottoms these days! If you have not checked out Vander's model portfolio, you should go have a look at the fun images I took with him and his leather harness.
   For this video, Jon slides it in and out of Vander, making him really squirm each time the thick part of the plug goes in! They take turns fucking each other with the toys while giving each other head.
   For the big finale, they also take turns giving each other facials and some hot cum eating!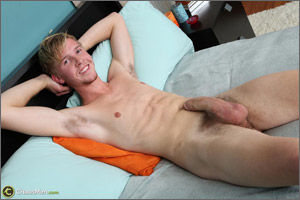 SOLO: JON
SERVICED: JON & VANDER
CLICK HERE TO GO TO HIS CHAOSMEN BIO PAGE