Staxus Czech Twink Gay Porn Star, Johny Cherry
Known Aliases: Czech Hunter 164
Years Active: 2014 – 2015
STAXUS INFO:
Date of birth: 5th August 1995
Height: 6'0″ / 182 cms
Cock size: 7.5″ / 19 cms
Ethnicity: Czech
Role: Bottom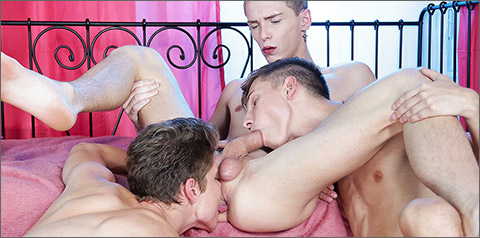 THE MIRROR: SPUNKY THREESOME RESULTS IN A SPIT-ROAST WAVE OF HOT SPUNK!
Of course, any scene that begins with Jaro Stone, Johny Cherry and Kris Blent sitting together on a sofa pretty much has everything going for it right from the off – and the good news is that every ounce of that initial anticipation quickly gets transformed into a whole hundredweight of cum-draining reality! One of the key ingredients of success in this deliciously hot threesome is the range of experience represented – from Stone's cock-whoring prowess on the one hand, right through to Cherry's invigorating freshness on the other.
   Add the almost uncontrollable passion that Blent seems to bring into any scene and you have the makings of an instant classic. To begin with, it's Stone's cock that maintains centre-stage, with his two buddies quite literally fighting over the meaty, uncut shaft; but it's not long before the old-hand's lust for dick seems to get too much and all three are taking it in turns to engage in some much-needed fellatio! By this point, of course, there's every good chance that you'll be jerking away like a demented teen; but things get even hotter once Blent finally succumbs to his overriding desire for dick, taking Stone's pole up his ass whilst Cherry plugs his mouth!
   No question about it, this is a spit-roasting par excellence; and events take on an even more ball-busting quality when the three boys undertake a chain-fuck, with Stone fucking Cherry, who in turn is banging Blent. That clearly pushes Cherry into overdrive, as he promptly proceeds to ride the blond lad's Dutch truncheon whilst Stone wanks off above them both. The resultant spray of goo is then finally matched by Cherry and Blent for a spunk-sodden finale!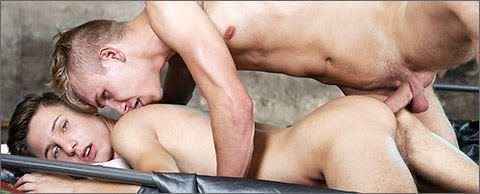 THE MIRROR: SVEN LAARSON RIMS, FUCKS & CREAMS HIS HOT, HORNY JOCK-BUDDY!
If only the rest of us had a magic mirror like the one Kris Blent has in his loft – one where sexy young guys pop out and engage in the hottest, raunchiest action imaginable! As it is, we just have to make the most of horny escapades such as this one between Sven Laarson and recent newcomer, Johny Cherry – two sexy, cock-hungry pals of the blond Dutch lad, who quite literally jump out of the looking glass into Blent's very own wonderland! Fortunately for them both, there's a bed on hand to accommodate their rutting session; which begins with some rather sensuous (but arguably innocent) kissing, but which quickly transforms itself into something far more hardcore.
   At which point the stunning jockstraps that they're both wearing promptly get removed and the two young beauties begin to take it in turns to feast on all the deliciously hard dick that's now been uncovered! Cue a terrific session of 69-ing that sees Laarson giving his horny mate's tight little pucker a real good licking; before replacing his very eager tongue with his thick, uncut schlong! It's a move that certainly doesn't seem to meet with any objection from Cherry, that's for sure.
   Why, the horny fellow takes every inch of Laarson's dick in a whole series of positions like a full-time pro – maintaining his usual cheery countenance throughout. Then again, with Laarson's handsome cock up his ass what else would you expect? Finally, he mounts his pal and rides him cowboy-style, promptly exploding as a result; before Laarson responds in kind by splattering the guy's ass-hole with hot jizz!
CLICK HERE TO GO TO HIS STAXUS DETAILS
CZECH HUNTER 164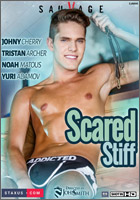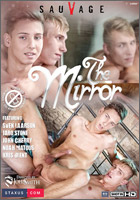 SCARED STIFF
THE MIRROR
SKATE OFF