Rugged Handsome American Gay Porn Star, Joey Russo
Years Active: 2001 – 2007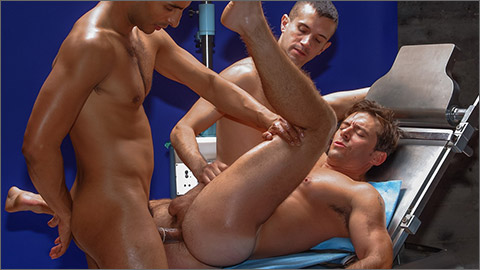 DRILL: TO THE POINT – MEDICAL OFFICE
Miguel Leonn (top), Joey Russo (top and bottom), Tim Bruno (bottom)
Maybe it's the painkillers, or maybe it's just his imagination, but as Tim Bruno lies in the dentist's chair, he finds Dr. Leonn and technician Russo making out right across him! Their cocks thrust over and then into his eager mouth. Bruno offers up his boyish butt and takes on both men in a nasty team-fuck that makes their loads fly. Then, as Russo once again plows Bruno, Leonn slams his chocolaty, uncut cock up Russo's wet tunnel for a chain fuck that churns up their jizz once again. Nobody has to say, "Open wide" in this office. As always, the bonus content created by TitanMen.com is exceptional. An hour and ten minutes delivers not only the expected Cumshot Review, but Photoshoot session with each of the men, broken down by scenes and giving glimpses of the guys "being real" as they're captured in Brian Mills' glorifying photos. There's a revealing Behind the Scenes segment, a Music Image Gallery where the music's as good as the images, and finally, a generous eight additional minutes of Fluffing amongst the stars—to you and me, that's cocksucking. The quality and amount of this bonus content is unique to TitanMen.com features. So. You think you can take this kinda action and not come unscrewed? You know what they always say. If the drill fits—wear it.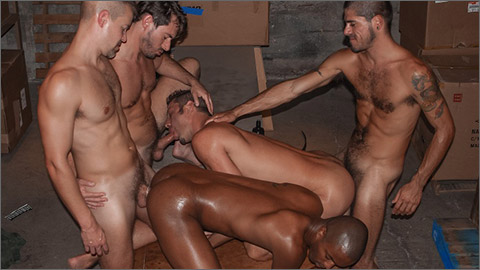 PACKERS: 5-way fuck-fest in the meat packing loading dock with Erik Campbell, Joey Russo, Nick Costes, Troy Banner, Tyler Boots
Packers has been dialogue free until now, when suddenly there are five brilliant spoken words: "All right…work's over. Let's fuck!" The five horny dudes in the loading dock tear into a cockwallowing, pud pounding orgy that's filmed ManPlay style capturing their spontaneous, fullimpact lust. Tyler's thick wonder-cock conquers Joey's smooth white ass, while next to them, Erik's hefty dark meat gives Troy's ass the balling of his life. Tyler blasts his heavy load against Joey's beard, and everybody lets the day's pent up joy-juice fly. Then all five men start swappin' holes and cocks in a circle of side-by-side salaciousness. The bottoms jump the tops, and Troy gives Tyler's ass a heavy duty workout, while next to them, Nick churns Erik's chocolate ass. It's not long before the five hard-bodied hunks are showering their buddies in volleys of high-flying spunk.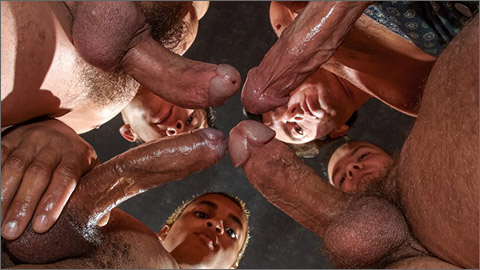 BACK TO BARSTOW: Joe Sarge, Joey Russo, Marc Sterling, Randy Eliott, Ricky, Tim Tucker, Toby Tyler, Troy Banner
Troy Banner and Marc Sterling introduce Joey Russo to the neighbors — young 'uns Tim Tucker, Toby Tyler and Ricky, and dads Randy Eliot and Joe Sarge. It's Russo's coming home party. In a small town, that's what you'd call a mixed group. Hot headed young kids like willowy Toby Tyler and blond-tipped Ricky are bound to pig out, but they get some mentoring from husky Eliot and gray haired Sarge — who's brought his camera of all things. Forbidden photography brings out the exhibitionist in the kids, who service all of their elders in a hot chain suck. Troy's a great host, providing a glory hole for sloppy, spit-flying cocksucking. When he brings out a couple of dildos, the boys' eyes light up, and their knees are soon tucked under their ears for some greasy, rubber toy, ass loosening. Nasty Russo's struttin' his electrifying boner, shovin' it cruelly into mouth after mouth, and shooting his jiz to the moon, spurring the other men into countless rounds of sweaty, balls-out man sex. Then he's riding the biggest cock in the room, pluggin' his ass like a house afire, and exploding a load that sprays thick cum across the room. No wonder "Mike" is legendary in Barstow. When you come Back to Barstow, you'll find it's a small town with a big fuckin' payoff.
CLICK HERE TO GO TO HIS TITAN MEN DETAILS
ARABESQUE
BONERS
HARD AS WOOD
HAIRY BOYZ 11
HUMONGOUS COCKS #10
HOLD EVERYTHING
ESCAPE FROM SAN FRANCISCO
COCK SCENE INVESTIGATORS
BACK TO BARSTOW
HORSE – FALLEN ANGEL 5
MENS ROOM: BAKERSFIELD STATION
PACKERS
CIRQUE NOIR
DRILL: TO THE POINT
RIDERS
MANPLAY 16
BLACK & WHITE
BLOW ME: PART TWO
HOMO ERECTUS
L.A. SEX PARTY
ROAD TRIP
BUILT TO BREED
ANON: ANONYMOUS SEX ADDICTS
BAREBACK ABDUCTION 2: THE CONVERSION OF CHASE PETERS
BAREBACK BEDROOM 3
PISS & LOADS
BLACK ROPE
HOT LOAD
DADDY PACK 3

MEN MAGAZINE PRESENTS: TITAN MEN
[2]  March/April 2002
UNZIPPED  April 2006
HONCHO  May 2002
HONCHO  January 2003
INCHES  May 2002
ALL MAN  September 2002
PLAYGIRL  February 2004
XXX SHOWCASE  v13 n10
XXX SHOWCASE  v13 n11
XXX SHOWCASE  v14 n01
ADAM GAY VIDEO: 400 PORN STARS