American Muscle Gay Porn Star, Joey D
Years Active: 2013 – 2017
TWITTER @Big_JoeyD
AMERICAN MUSCLE HUNKS INFO:
Birthday: February 19
Wishlist: Show Me
Sign: Pisces
Favorite Place Traveled: Paris
Favorite Activity
Besides the Gym: Video Games
Contact Me: joeyd@americanmusclehunks.com
Twitter: @dworksout
Skype ID: big_joey_d
Instagram: dworksout
Facebook: facebook.com/bigjoeydmuscle
Tumblr: bigjoeyd.tumblr.com
Nude or Non-Nude: Both
Weight: 240lbs
Height: 6′
Chest: 52″
Arms: 19″
Legs: 27″
Waist: 32″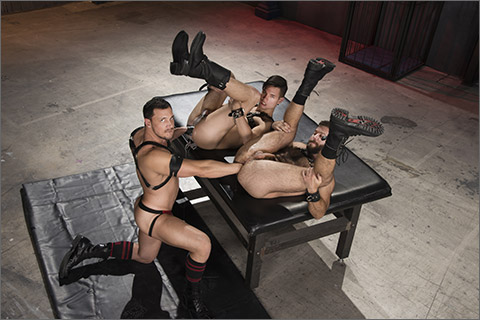 DEEP HOLE DUNGEON: Joey D fuck machines Issac Lin & Gage Lennox
Hairy, muscular Gage Lennox and smooth, lean Issac Lin show off their asses to big, beefy Joey D. Joey has a special surprise for their training session today: twin fucking machines! But first, the boys need to service Joey's cock. They take turns choking on Joey's fat, hard meat, eager to do whatever it takes to please him. Before using the fucking machines to fill their asses, Joey makes Gage and Issac lube up their dildos by showing off their cocksucking skills. When Issac's dong is ready, Joey spins him around and guides the big, black dildo into his hole. As Issac watches, Joey slides his cock into Gage's hole and fucks him as Gage continues to practice his cocksucking on the fucking machine. Saliva drips from Gage's mouth to the floor, forming into a sloppy puddle. With Gage's hole opened up, Joey spins him around and guides him onto the fucking machine. The speed ramps up as Joey feeds his cock to Issac, then to Gage. Joey has one more trick in this session to destroy Joey and Gage's holes. Joey reconfigures the fucking machines so that they penetrate straight up into the air, penetrating more deeply than ever into their eager holes. As the machines reach the limit of their abilities, the boys start begging for daddy's fist – and Joey is eager to give it to them!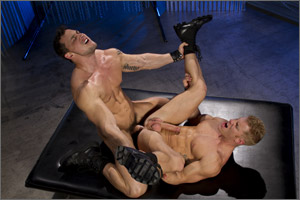 FUCK HOLE
SCENE 3: Joey D fucks Johnny V
Real-life boyfriends Johnny V and Joey D are rocking black jockstraps, black boots, and racks of bulging muscles. Both studs ooze with rampant lust and they are about to give you a look at their intense and exciting sex life. They chew each other's lips and smash their boiling nuts together, until Johnny reaches out to tear Joey's jock away so he can suck his hard cock throbbing behind the mesh. Joey playfully cock-whips him, then directs his sexual focus at Johnny's muscle-butt. Joey kneads it, slaps it, and spits at Johnny's tight hole before drilling it with his tongue and fingers. It's only a matter of time before Johnny wants more and demands "that big fuckin' cock" in his ass. His wish is granted, and he gets all nine inches of Joey's thick, juicy dick in a powerful thrust. Their smooth muscular bodies writhe as Joey slams Johnny. They roll into a sit-fuck position to mix up the romp, and Johnny rides hard on Joey's huge cock, beating Joeys chest in appreciation of the intense fuck he's getting. The excitement explodes as Johnny grabs his cock and sprays multiple streams of cum across both of their torsos. In a spectacular climax, colossus Joey stands over Johnny and showers him with spunk.
HOT HOUSE CLUB INFERNO
RAGING STALLION
AMERICAN MUSCLE HUNKS
LIVE CHAT & PRIVATE SHOWS @ FLIRT 4 FREE
AMERICAN MUSCLE HUNKS
CLICK HERE TO GO TO HIS RAGING STALLION BIO PAGE