Young American Gay Porn Star, Jody Scott
Known Aliases / aka:
Years Active: 2006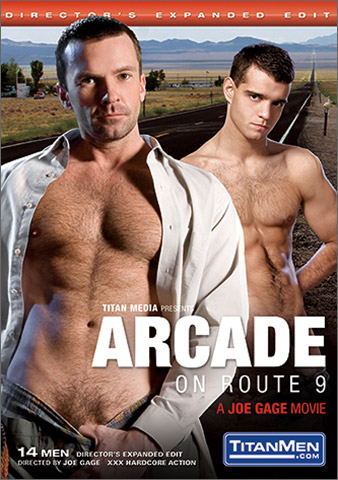 ARCADE ON ROUTE 9
What if your favorite father/son fantasy was real? That's the steamy scenario Joe Gage has made into his most sensational movie ever. What's a father to do on his son's 18th birthday, but initiate him into the rites of manhood, at the ARCADE ON ROUTE 9?
   Dad makes sure Junior's right in the thick of it, as guys sperm it every which way they can—there's slobbering cocksucking, group JO, nasty glory hole action, and TitanMen-style hot and sweaty fucking—flip flops, side by side buddy fucks, and brutal three man chain fucks. In the extended Director's Expanded Edit (available only from www.TitanMenStore.com), six of the scenes find the guys hosing down their cum-covered buddies with piss play that's body wash, facial scrub and deep-throated gulp.
Gage works the intergenerational angle like you've never seen—there're a couple dads jizzin' it with their juniors. But likes also play with likes. A smooth young athlete trades fucks with a mega-hung college guy, while the bruiser trio of mechanic, doc, and coach ream each other out in the next booth.
   With ten scenes of non-stop sex filling three and a half incredible hours, ARCADE ON ROUTE 9 is a movie that deserved a sensational cast. And that's what it got. Mega-stars Matt Cole (MAN-SIZED: MANPLAY 25) and Jake Deckard (BIG MUSCLE; SIDE EFFECTS; SPY QUEST 2) bust the cream together in a pair of scenes. Furry daddy Ken Mack (LIFEGUARD! THE MEN OF DEEP WATER BEACH; SPY QUEST 2) and recent virgin (and TitanMen exclusive) Cole Ryan (THE CHEST; CLOSED SET: TITAN STAGE ONE) are popular TitanMen favorites, joining recent TitanMen viewer faves Brett Anderson (MAN-SIZED: MANPLAY 25), TitanMen exclusive Alex Brawley (MANPLAY 22: HARDWORK), Josh West (CLOSED SET: TITAN STAGE ONE), Cam Kurtz (LIFEGUARD! THE MEN OF DEEP WATER BEACH), and Dominic Pacifico (BOOT CAMP: MANPLAY 24).
   It's hard to believe ARCADE ON ROUTE 9 is the first movie for guys as ruggedly built and wildly nasty as its crewcut coach, Peter Axel, or punky as Jody Scott. Younger guys Adam Young and Josh Powell make their TitanMen debuts, along with the striking first TitanMen feature of the one who matters most—Matthew Matters, as Junior, the horny birthday boy himself.
When all the arcade action is over, Joe Gage has a final mind-fuck up his jizz-drenched sleeve. We're back at Junior's house for an encore of his greeting Dad "Good morning," and Dad's suggesting they do something special for Junior's birthday. Was the whole thing Junior's day dream? Well then, how does he know so well what goes on and on, at the
ARCADE ON ROUTE 9?
CLICK HERE TO GO TO HIS TITAN MEN DETAILS
VIDEO ON-DEMAND: Jody Scott @ AEBN SMUTJUNKIES THEATER
DVD's & ON-DEMAND: Jody Scott @ TLA VIDEO