Sexy Uncut Czech Gay Porn Star, Jirka Mendel / Tom Smith
Known Aliases / aka: George Kovar (Oldmann / Titan), Cesear (Lucas Ent), Roman (Jansi), Tom Smith (Studio 2000, Danny Ray), Edvar (Varsity Men), Milos Mann (Higgins)
Years Active: 2007 – 2010
WILLIAM HIGGINS INFO:
When we ran Jirka's Casting Couch, the email machine went crazy. He has one of those killer faces. Jirka is from not the prettiest part of the Czech Republic, Louny, about half way between Prague and the German border. I'd call it the 'rust belt' of the Czech Republic. He's a cabinet maker. He does like speed. You can't really see it in these photos, but I'll bet there are some close ups in the complete set, he lost his left knee in a murder-cycle accident. He has a completely artificial left knee. Fortunately, the rest of him is fine, he walks well, and if you're into scars, he's got a really gnarly one.
Jirka is a very sexual animal. He loves all kinds of sex, which will be revealed in these pages presently. Well, he's a petite animal, quite a work of beauty. I hate to say, but about three sets after this one, he came in sporting a rooster. I've found roosters knock down flat and look fine after a quick shampoo. Dumb! How come it took us so long to figure that one out! So, far Jirka's not been tempted to touch his magnificent natural bush. We've reminded him several times not to touch it. Let's hope he's not corrupted by the influences of the evil big city. We all love this guy. Again, watch this space for more.
Nationality: Czech Republic
Age (2007): 19
Zodiac Sign: Scorpio
Home City: Louny
Height: 173 cm / 5'8"
Foot Size: 8 (convert)
Weight: 70 kg / 156 lbs
Penis Size: 17 cm / 6.7"
Profession: Cabinet-maker
Hobbies: Hockey, Football, Tenis, Fitness
Favorite Sports: Hockey, Football
Active Sports: Hockey, Football, Fitness
Favorite Movie/Music/Sport Stars: Tom Cruise
Visited Countries: Italy
Want To Visit Countries: Tunisia, Greece, Egypt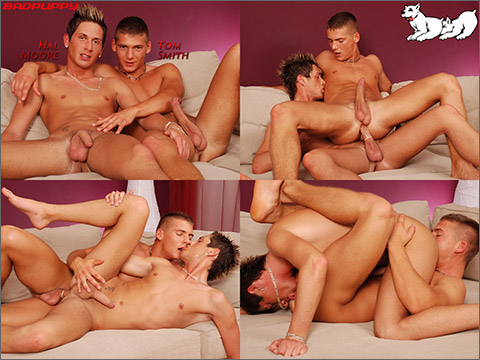 HAL MOORE & TOM SMITH FLIP-FUCK
Hal Moore walked into his computer class at school and met Tom Smith who was sitting next to him. It was not long before they both realized they were attracted to each other and Tom invited Hal back to his apartment during one of their breaks. The clothes come off quickly. Tom is incredibly muscular with a thick and already erect cock. Hal is a lean young man with a dick as thick as it is long. Hal is the first one sucking up Tom's thick piece of meat; his big, heavy balls hanging there; just waiting for a mouth to wrap around them. Tom pushes Hal back against the sofa so that he can get his mouth around Hal's cock. After Tom primes Hals ass with his tongue, he plunges his cock deep into Hal's hole and starts fucking him hard. Tom gets in a good ass pounding on Hal; but, he desperately wants Hal's cock up his own ass. Hal rolls over; sitting up on the sofa. Tom squats down over Hal's cock and slowly slides down onto it. Tom takes control and as he rides Hals' cock he works his ass muscles stimulating Hal to have to pull out as he squirts his jizz all over Tom's balls. Tom does not disappoint. He grabs his cock and with a few quick jerks gives us a cum dump all over his chest and stomach.
BADPUPPY'S DANNY RAY COLLECTION
WILLIAM HIGGINS
TITAN MEDIA / TITAN FRESH
RAWBOYS / BARE ADVENTURES
LUCAS ENTERTAINMENT