American Gay Porn Star, Jeremy Spreadums
Known Aliases: Jessie @ Sean Cody
Years Active: 2011 – 2016
SEAN CODY INFO:
Height: 5'7″
Weight: 165lb
Cock: 6″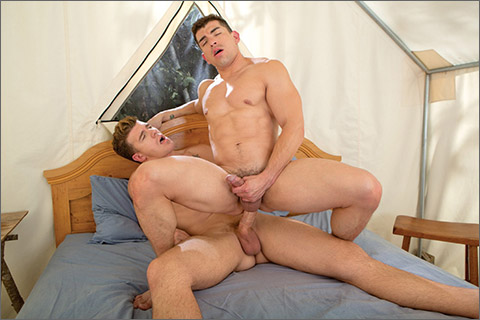 PITCHING TENTS: JJ Knight & Jeremy Spreadums
After horsing around in the river, JJ Knight and Jeremy Spreadums strip off their wet clothes to their tight, white briefs. Their sexual chemistry is so intense, Jeremy can't resist dropping to his knees and sucking JJ's insanely huge cock in broad daylight. Retreating to their tent for more privacy, they make out on the bed and Jeremy deepthroats JJ's massive rod. Reaching down, JJ massages Jeremy's spreadable ass cheeks, then repositions himself behind Jeremy to get a taste. Using his tongue, JJ probes Jeremy's hole with slick spit. With Jeremy ready to receive, JJ pushes his enormous member into Jeremy's hole. Their doggy style fucking picks up speed as Jeremy pushes his ass into JJ's crotch, pushing JJ's cock ever deeper. Dismounting, JJ lies down on the bed and invites Jeremy to go for a ride. As Jeremy rides JJ's cock, his muscular legs and beefy torso flex and swell. JJ thrusts up from above, then moves to missionary position. Jeremy puts his left leg in the air and enjoys the feeling of JJ's massive meat stretching his hole. As JJ pummels Jeremy's sweet spot, the sensation builds until Jeremy explodes with gushers of cum that drench his torso. Pulling out, JJ strokes his load out into Jeremy's waiting mouth. Hot rivers of cum accumulate on Jeremy's chin as JJ empties his balls. When he's finished, JJ leans in for a kiss, and his cum smears across both their faces as they enter a passionate embrace.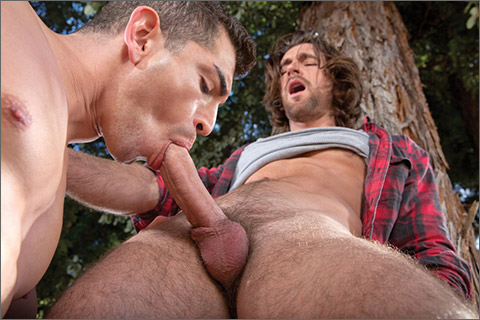 PITCHING TENTS: Woody Fox & Jeremy Spreadums
Walking down a woodland path, handsome Woody Fox searches for some remote cruising grounds. Reaching into his shorts, he fondles his long, hard dick, waiting for a hot piece of ass to come his way. Along comes muscled jock Jeremy Spreadums. For a moment, Jeremy lingers in the brush, staring in awe at the beautiful man exposing himself out in the open. As Woody strokes his cock invitingly, Jeremy emerges from the brush and cops a feel. They strip as they make out, and Jeremy falls to his knees to service Woody's meat. With long strokes of his tongue, Jeremy spreads his thick spit up and down Woody's long, curved shaft. Strings of spit connect the tip of Woody's cock to Jeremy's lips every time he pauses to take a breath. With his hands guiding the back of Jeremy's head, Woody flexes his six-pack abs and thrusts his hips. While using his hand to rub the tip of Woody's cock, Jeremy uses his mouth to suck on Woody's heavy balls. Pulling down Jeremy's shorts, Woody falls to his knees and gulps down Jeremy's rod. As Woody's lips pass over the sensitive tip of Jeremy's cock, Jeremy's bulging pecs and rippling abs flex in the forest light. Trading places again, Jeremy strokes his cock while sucking Woody off faster and faster. Reaching down, Woody jerks his cock until it explodes with gushing jets of cum. His load drips off Jeremy's chin and down his chest, which sets him over the edge. As he strokes himself, Jeremy explodes streams of cum that splatter onto the hard-packed trail.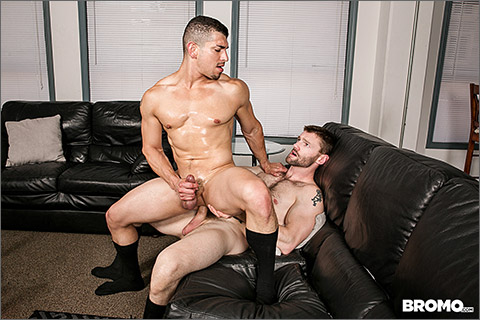 THE BUSINESS OF BAREBACKING – PART 2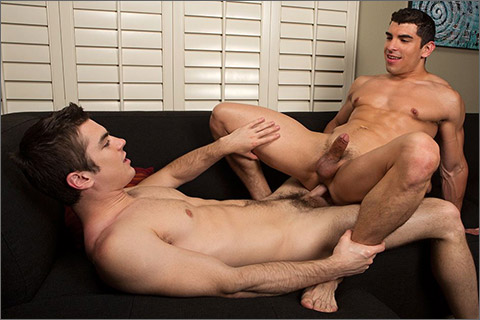 MORGAN & JESSIE FLIP-FUCK
Morgan and Jessie couldn't figure out who wanted to do what.
   "I am pretty excited!" Morgan said. "I want to try a little of everything!"
   Jessie was definitely up for that, so they ended up taking turns fucking each other… and even brought in a double-ended dildo that Morgan had spotted before the shoot!
FALCON STUDIOS
BROMO
SEAN CODY
CLICK HERE TO GO TO HIS SEAN CODY DETAILS