Randy Blue American Gay Porn Star, Jeff Powers
Years Active: 2015 – 2016
RANDY BLUE INFO:
Jeff Powers is a southern boy with southern charm. He has been living his life as straight man, but has a bisexual side that he felt was time to explore. And there is no better place to explore than here at Randy Blue. This stud has tons of muscles, hair, and tattoos. He has one of those dicks that gets rock hard and never goes down until it shoots its wad. He got to practice his gay side and bareback some hot asses. The southern drawl will lure you in, and his bedroom eyes will seduce you. And before you know it, he will have dumped a load in you too.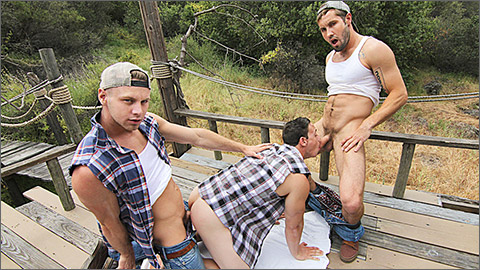 REDNECKS: Brandon Evans & Jeff Powers fuck Tobias
Getting blown while playing video games is a hot fantasy, which comes true for Jeff Powers when Brandon Evans goes down on him while he plays. Since Brandon's head game is strong, Jeff can't help but once again flip him over and shove his huge thick cock raw and deep inside Brandon's hot ass. He fucks Brandon long and hard until he finds Tobias wanting some of that action too. The rest is an outdoor flip-fuck threesome you won't get enough of.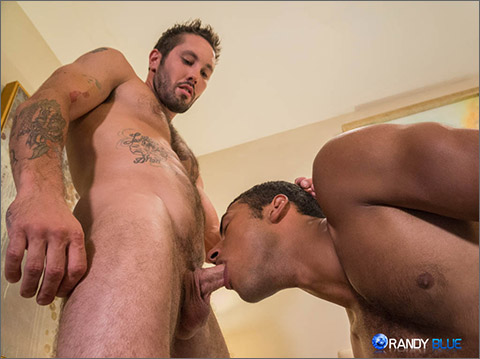 DOMINIC SANTOS BREAKS IN BISEXUAL BOY, JEFF POWERS WITH A BAREBACK FUCK
Jeff Powers did not want to do a solo. He wanted to have sex with a another man right away. And since we had a house of full of models waiting to fuck, I just could not refuse turning this southern stud from solo scene to hardcore bareback fuck. This boy is tatted up and muscular. I asked him if he was straight and he just said that he sort of was. But he had messed around with guys before and he was super excited to do it again now. So I stopped the solo and brought in Dominic. Dominic was ecstatic. Jeff Powers is exactly his type. Bearded with Tattoos and a masculine laid back energy. Dominic was practically bouncing off the walls waiting to let this guy fuck him. And once they started to kiss, I just had to sit back and watch the fireworks go off. Dominic sucked off Jeff and then rimmed his ass. They sixty nined and then Jeff stuck his raw dick inside Dominic. Jeff was surprised how good it felt. It felt a little too good, actually. Jeff could not hold back and came inside of Dominic on the first position. If it was not so fucking hot, I would have been mad. After a brief intermission to let Jeff recuperate, the two started fucking again. Jeff fucked the cum out of Dominic and then shot a second load inside of him. Be sure to watch the free gay porn trailer of the hot action here at Randy Blue.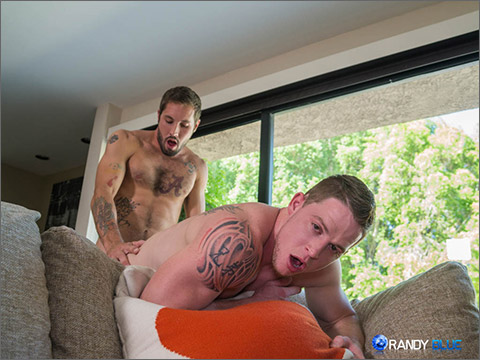 STRAIGHT SOUTHERN STUDS DUKE CAMPBELL AND JEFF POWERS BAREBACK
Duke Campbell and Jeff Powers are in hog heaven. They are relaxing at the pool and just chilling out. Jeff admitted to me that he was turned on and equally jealous of how jacked up Duke was. Duke has these massive pecs and arms and Jeff had no problem letting Duke know that he wanted to touch him. Since both of these boys are southern, they got along famously. Justu two straight dudes exploring their bisexual side with each other. After some making out in the pool. They took the heat inside. Duke sucked off Jeff and then they sixty nined each other. Then Jeff decided to rim Duke and warm up his hole. Duke laid back and begged for Jeff shove his dick inside of him. Jeff spit on his cock and shoved it inside. They barebacked missionary, cowboy and then doggie style. Finally Duke shot out a load of cum while he was getting fucked nice and hard. Then Jeff pulled out and came all over his back. He then wiped all the cum with his dick and shoved it back inside Duke. Duke loved getting cream pied. You are going to love this scene. Be sure to check out the free gay porn trailer in full HD of the bareback action here at Randy Blue.
CLICK HERE TO GO TO HIS RANDY BLUE DETAILS