Czech BelAmi Gay Porn Star, Jeff Mirren
Years Active: 2015 – 2017
BEL AMI INFO:
Eye Color: Blue-Grey
Hair Color: Brown
Zodiac: Taurus
Dick Type: Average
Dick Size: 18
Height: 180
Weight: 68
Jeff Mirren from my point of view appeared to be a rather problematic model. Great body, perfect ass but rather an unusual face. To make the story a little more colorful he has a tendency to hypochondria and keeps prescribing himself all sorts of pills and cures. On the other hand the more he works the better he gets and he gained a lot of experience recently helping Kevin preparing and training new models.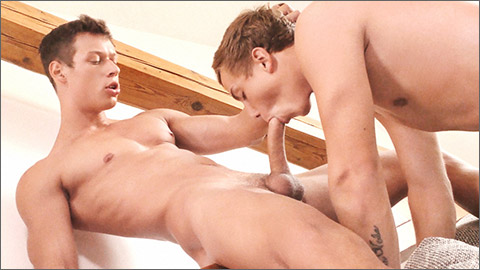 FRESHMEN TUESDAY: JEFF MIRREN & THOM JACOBS
It has been quite a while since Freshmen Thom Jacobs has made an appearance here at BelAmiOnline, so it is with pleasure that we are able to bring you this scene with Jeff Mirren.
   While most of the time our scenes are filmed in our studios or on Location, every now and then we are able to borrow an apartment from a friend to add a bit of variety and this is one of those occasions (just in case you notice the non-belamiesque furniture).
   Thom gives us a very capable performance here bottoming for Jeff and right from the shower opening we can see the chemistry evident between the 2 guys.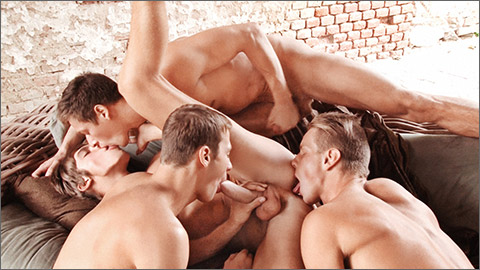 SUMMER BREAK 10: HELMUT HUXLEY & MARCEL GASSION & JEFF MIRREN & ROALD EKBERG
In last week's Summer Break diary you got a little taste of this scene that we referred to as 'The Pot Plot' and we are happy to bring you the full scene over 2 days this week.
   It is filmed a little differently than most 2 day scenes in that it is a group flipflop. On day one, Helmut gets to fuck everyone, and on day 2, very democratically, everyone then gets their turn to fuck Helmut.
   It is nice to see Helmut's scene partner, Jeff, Roald and Marcel (all remarkably talented bottoms) also get the chance to show us what they can do as tops as well.
   2 day scenes always require a lot more planning and effort, so we are very pleased that this one worked out so well. The chemistry between the boys is charming and the action itself is 1st class throughout.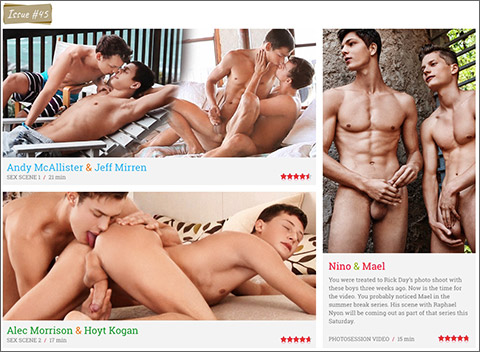 FRESHMEN ISSUE 45: Andy McAllister & Jeff Mirren


KEVIN'S ADVENTURE WITH JEFF
Kevin is seen running around with his camera on assignment to create home videos for us. (Any boys that are a mystery to you though will have to remain that way for a little bit longer until we unveil them later this year). Part of his role also seems to be a bit like a BelAmi sociaI worker…. If he finds someone in need of cheering up, or even just in need of some relief from boredom, he is always there to help out. Today is Jeff's lucky day to be bored as Kevin decides to help cheer him up and take is mind away from any trace of boredom.
LIVE CHAT & PRIVATE SHOWS @ FLIRT 4 FREE