Falcon Studios American Gay Porn Star Playgirl Model, Jeff Hammond
Known Aliases / aka: Nikos DiCopolous (Playgirl), Chris Hammond (???)
Years Active: 1992 – 1997
FALCON STUDIOS INFO:
Hair Color: Light Brown
Eye Color: Brown
Height: 5′ 10"
Position: Top
Build: Swimmer
Body Hair: Smooth
Cock: 9" cut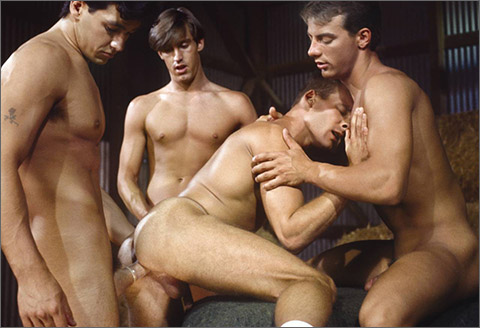 DOWN HOME: Jeff Hammond and Kris Lord fuck Adam Archer and Dylan Fox
When Jeff leaves the General Store, Dylan Fox stops him. These two guys haven't seen each other in a long time, but as they stare into each other's eyes they both know exactly what the other wants. It doesn't take long for smooth and handsome Dylan Fox and taut-bodied Adam Archer to lure Jeff back to the barn. Quickly Adam and Dylan get down to business – frenzied ass-eating, ravenous cocksucking and wild fucking. Dylan gets just what he wants as Jeff thrusts his huge cock deep into the young jock. Harder and harder Jeff fucks the surrendered stud while Dylan ravishes Adam's muscular ass with his tongue. Suddenly Kris Lord barges in. He had an idea of what was going on in the barn and he's ready to join in. He buries his cock in Dylan's hungry hole and the foursome gyrates in a hot sexual workout…a wild fuck fest of perfect erotic harmony…ending as each hot stud shoots his sticky voluminous load.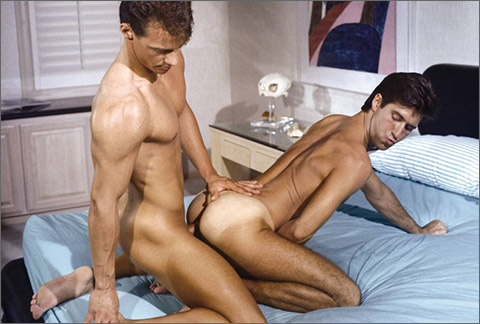 DOWN HOME: Jeff Hammond fucks Mitch Taylor
Under the hot rays of the afternoon sun Jeff Hammond snorkels out to Mitch Taylor's boat moored in the river…interrupting a sun-soaked masturbation session. Startled but very turned on by Jeff's sleek form, Mitch invites Jeff home for a shower and sex. Under the stream of water Mitch worships Jeff's form – caressing his butt, sucking his huge thick cock, exploring every well-hewn muscle with his tongue. Slowly he moves from Jeff's massive cock to his ass…warming and opening Jeff's hole. Totally turned on, Jeff and Mitch return to the bedroom for some heavy duty fucking. Jeff plows Mitch with unyielding zeal. Thrust after thrust takes the studs closer and closer to sexual abandon. At the apex of desire, Jeff and Mitch erupt in a spectacular explosion of cum.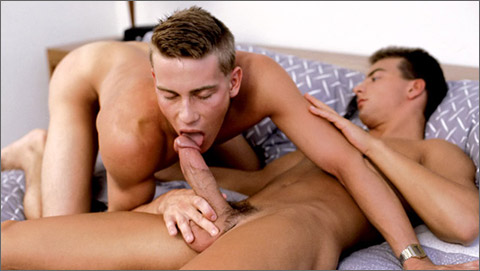 DRIVING HARD: Jeff Hammond fucks Chad Knight
Chad Knight is freakin' out about gettin' hitched. He needs to relax and get over his pre-wedding jitters. Luckily hunky chauffeur Jeff Hammond arrives to give him a hand … and whatever else needed to help the nervous groom out. Eagerly sucking Jeff's cock seems to be doing the trick until Chad yields and Jeff takes control with a wide-stretching ass pounding that leaves Chad calm and satisfied.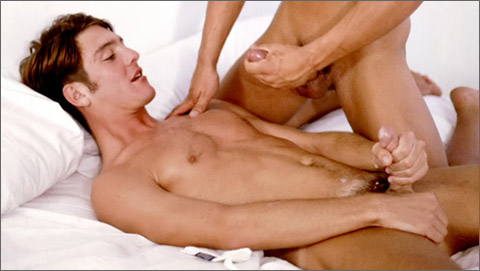 DRIVING HARD: Jeff Hammond fucks Rusty Brooks
Chauffeur Jeff Hammond didn't sign up for the difficult task of having to keep an eye on bad-boy Rusty Brooks. The spoiled young punk has nothing but lip and attitude and it's up to Jeff to teach the brat a lesson. So he shuts Rusty up by cramming his stiff prick in his mouth and then drives the message home with a well-disciplined fuck.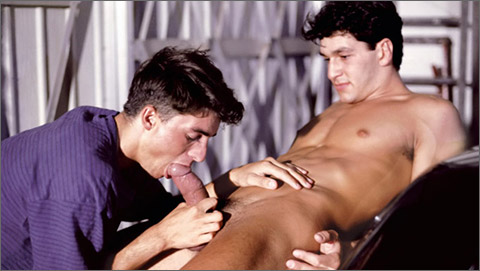 DRIVING HARD: Jeff Hammond, Kris Lord fucks Jeff Pole; Jeff Hammond blows his load
Having reached their destination, chauffer Jeff Hammond can't figure out why his two passengers won't get out. Whoops, looks like the two of them have made the backseat of the limo their personal playground where Jeff Pole can slide his mouth up and down Kris Lord's meatpole before he gets it rammed up his hole real hard. And Jeff has a front row seat to the unexpected floor show, giving him a well-deserved break.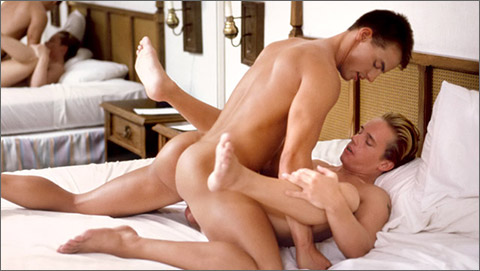 DRIVING HARD: Jeff Hammond fucks Drew Kelley
Jeff Hammond's last pick-up is young Drew Kelley and his prom date. Little did Drew know he was dating Miss Goody Two-Shoes who spoils his plans at the end of the night, leaving him frustrated and horny. Jeff lends the young man an ear and then some more. After downing a few drinks the sly chauffeur shows the frisky blond how to make the most of a free ride as they careen from sucking to rimming and then to fucking.