American Gogo Boy Model Gay Porn Star, Jay Austin
Known Aliases / aka:
Years Active: 2014, 2016 – 2019
NEXT DOOR STUDIOS INFO:
Cock: 7″
Body Hair: Moderately hairy
Height: 6'1″
Hair Color: Brown
Eye Color: Green
Position: Versatile
Foreskin: Cut
Body Type: Muscular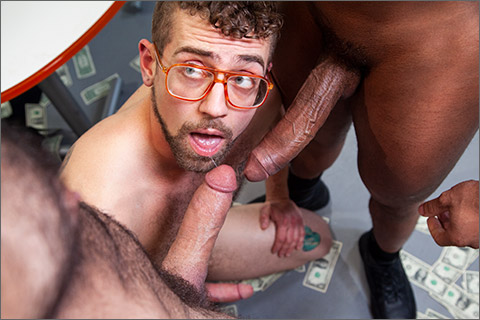 MASTURBATION STATION: Ricky Larkin, Trent King & Jay Austin fuck around
Trent King and Jay Austin are having a strategy meeting to discuss business when Ricky Larkin crashes the meeting with a dick shaped birthday cake for Trent. Ricky knows what Trent wants for his birthday, so he pulls out his dick and puts it in Trent and Jay's faces. Jay can't resist a nice dick or two when he sees them and sinks to his knees to suck Ricky and Trent at the same time. Jay is in cock sucking heaven, and soon he's bent over the table with Trent's raw cock planted firmly in his ass. Ricky comes around the front to feed Jay his cake-covered dick in his mouth. Jay's hole is nice and tight and the guys can't help but take turns passing him back and forth as they each pound his ass. Barely a second goes by when Jay doesn't have a raw cock in each end until Trent wants a go with Ricky. Trent lies back on the table and lets Ricky pound his fuckable hole. Jay takes his place sitting on Trent's face as Ricky fucks him bareback from behind. Trent's ass feels so good that it makes Ricky blast his load all over Trent's big dick. Jay wants one more stretching and spreads his legs to take Trent deep inside one last time. Trent pounds away on Jay's hairy hole until he fucks the cum out of Jay's hairy cock. When Trent sees Jay covered in cum, he pulls out and slathers Jay's hole with thick white jizz before shoving it back inside with his raw cock.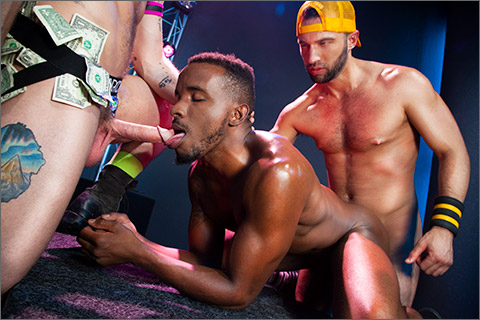 HIT IT THEN QUIT IT: Phoenix Fellington, Jay Austin & Colby Tucker fuck around
Phoenix Fellington hits a bar where Jay Austin and Colby Tucker are gogo dancing. Phoenix stuffs their jockstraps with cash until Colby bends over and offers up his ass for Phoenix to explore with his tongue. The taste of Colby's hole gets Phoenix's cock throbbing before he gets on stage where Jay and Colby take turns servicing his monster cock with their eager throats and mouths. Seeing Phoenix's jacked bod is more than Colby can take and he bends Phoenix over to stuff his raging boner deep inside the ripped stud. Colby pounds away as Jay shoves his dick into Phoenix's mouth so the stud is plugged from both ends. After a nice cock sucking, Jay is ready for his turn at stuffing Phoenix from behind. They turn the stud around and switch it up as Jay continues to fuck Phoenix's tight ass. Colby wants his turn and gets on his back with his legs in the air for Jay to take a turn on his open hole. After plowing his fellow dancer, Jay wants a crack with Phoenix and opens his legs for the hung stud to enter his ass. It's a plowing that Jay won't forget as Phoenix leaves his hole gaping. All that cock inside Jay makes him blast his load and after Colby sees Jay's creamy cum land on his perfect abs, Colby lets loose and slathers Jay's face with jizz. Phoenix pulls out and adds to the mix as Colby gets down and licks Jay's sticky body clean.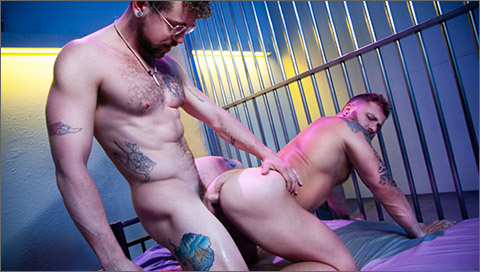 BOUNTY HUNTERS: Riley Mitchel & Jay Austin flip-fuck
Opposites attract. Especially in jail. That's what tattooed drug runner Riley Mitchell and wide-eyed innocent Jay Austin learn after they're thrown in a cell together. Jay's only crime is a night of hard partying. As for Riley? Well, he might have snuck some molly over the border. Whatever the case, Riley's got no patience for his Chatty Cathy cellmate, but his plan to shut Jay up reveals the scruffy, wide-eyed innocent has way more experience than he's letting on – with cock! After Riley zeroes in on Jay's ass, his expert rim job turns Jay's chit-chat into hungry moans, and within seconds, eager young Jay is bucking his ass back onto Riley's expert, non-stop tongue fuck. When it's Jay's turn to return the favor, the kid eagerly hits all fours like a hungry puppy, happily choking himself on Riley's thick, throbbing cock. It's a blowjob so good, Riley must hold onto the cell's bars to stay upright. Since they've let their guard down, tough guy Riley decides to offer up his hard muscle ass to his eager young cellmate. Jay's more than happy to accept. He takes the tatted-up criminal's hungry hole long and deep in a raw, spit-lubed fuck punctuated by Jay's eager cries of, "Good boy!" In return, Riley flips Jay's ass skyward, pile-driving the him bareback as both men grip the bars for support. Jay's eyes roll back into his head as he begs for more and more of Riley's raw dick. It's the kind of sweaty, hungry fuck that only two men locked alone in a cell together can give each other. It ends with Jay drenching his own beard with his thick cum and Riley slathering Jay's twitching hole with his load before driving it inside on the head of his bare, lube-slick cock. Just then, Riley's buddy Johnny Ryder shows up with a keyring he swiped off the sleeping deputy. In his rush to escape, Riley leaves poor, freshly plowed Jay behind, proving that while jail might be a great place to fuck, it's not the best place to make friends.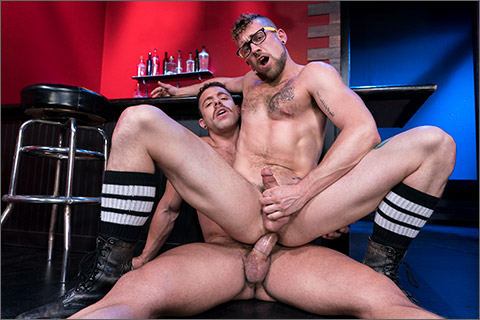 FURGASM: Eddy Ceetee fucks Jay Austin
Eddy Ceetee rounds a corner at the bar to find Jay Austin rubbing his crotch, waiting for a horny hunk to help get him off. Eddy walks up to Jay and grabs his head to start making out as Jay's cock bulges out from under his jockstrap. Eddy likes what he sees and opens his mouth to gobble up Jay's hard meat. He works the shaft and head as Jay moans out with each flick of Eddy's experienced tongue. It's not long before Eddy wants a taste of Jay's insatiable ass. Eddy opens the toned stud up and then lies back to let Jay sit on his hole-stretching cock. Jay bounces up and down, riding the monster deep until he tells Eddy to fuck him on the bar. Jay lies back and spreads his legs to let Eddy plant his dick deep into Jay's fuzzy hole. Jay keeps pounding as the two studs groan and grunt with each thrust from Eddy's hard cock. Eddy's thick pole feels so good ramming Jay's hole in and out that Jay lets loose and sprays his hairy stomach as Eddy continues to fuck his hole. After Jay empties his balls, Eddy pulls out and adds to the sticky mix by dropping his creamy load all over Jay's spent cock and balls.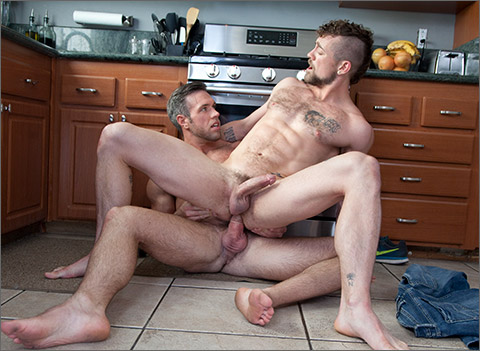 RIDE SHARE: Alex Mecum fucks Jay Austin
Alex Mecum is in the back of a 'RIDESHARE' when Jay Austin joins the ride and hops in the car with his bags. The two are crammed in on top of each other and after a tiny bit of small talk, the two hunks end up making out in the back seat. Jay decides to get out at Alex's stop and follows him inside. The studs get out of their clothes and Jay is the first to sink to his knees once he feels the meat Alex is packing between his legs. He takes it down his throat with ease before Alex wants a taste of Jay's ass. Alex bends the hairy hunk over in the kitchen and opens Jay up with a rim job. Alex's tongue feels amazing up Jay's asshole but he's ready to take something a lot bigger and much deeper in his crack. He bends over to let Alex slide his big, thick dick deep into his hairy hole. Alex pumps hard, drilling Jay as he moans out begging for more. Jay wants to ride Alex's big pole and sits down for the ride of his life. He bounces up and down in complete control of the depth of Alex's throbbing cock. With Alex buried deep up his ass, Jay lets the cum flow with a river that covers his abs and pubes. Alex can't believe his eyes when he sees how much cum there is and pulls out to slather Jay's begging face with more cum.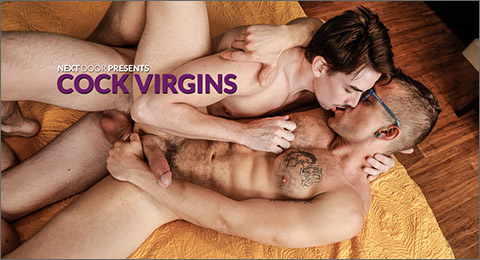 COCK VIRGINS
While fellow swimming buddy Markie More helps himself to a sandwich, Jack Hunter aggressively tries to help himself to Jay Austin, jumping him and demanding a kiss. Jay responds, but Jack isn't done with his frisky approach, asking Jay to suck him off.
   Jay's certainly never engaged in such behavior but something about Jack's cock entices him, so long as Markie doesn't hear them downstairs. Jack assures him it will be ok, and Jay begins his first descent, falling to his knees to get a bigger helping of Jack's extra long cock. Jack returns the favor, downing Jay's stiff rod before turning him over to tongue his asshole. Jay is surprised by the feel of Jack's tongue on his hole, but gets used to it quickly. Jack strokes himself while licking Jay's crack, before plunging his cock deep inside the virgin hole in front of him.
   Jay moans as Jack slides it all the way in, but his pain turns to pleasure once Jay breaks him in. Jack fucks Jay from behind, stroking his cock as he continues to pound, then flips him over and fucks the jizz out of him. Jay spits his thick load all over himself, as Jack pulls out and does the same, covering Jay in a double load of fun just as they hear footsteps coming up the stairway.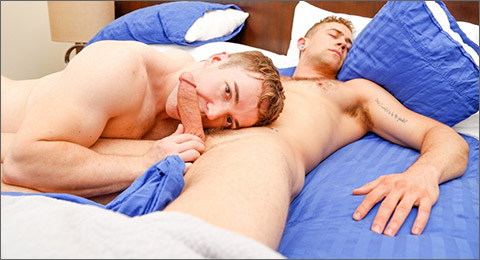 LOVE DRUNK
Waking up from a drunken night of partying, Jay Austin finds boyfriend Gabriel Cross a few steps ahead of him, feeling frisky and already going after what he wants. As he opens his eyes, Gabriel is already working on his cock, sucking him off in his sleep and rubbing Jay's chest. Jay comes to and immediately begins fingering Gabriel's hole. Gabriel has no patience, and wants Jay's cock immediately, so Jay bends him over and fucks him hard doggystyle, smacking Gabriel's bubble butt as he pounds him from behind. Gabriel takes every inch and begs for Jay to go harder, flipping him on his back and riding him hard, bouncing up and down on Jay's cock. They fuck like that until Gabriel is satisfied, and then it's his turn to be in control, so Jay sucks him off before letting Gabriel fuck him missionary. Gabriel is determined to bust his morning nut, fucking Jay with reckless abandon as he strokes his lover's cock, sparking Jay to empty his load all over himself as Gabriel pulls out and douses him with a second helping of morning juice, before falling back into each other's arms for a little more rest and relaxation to start the day.
CLICK HERE TO GO TO HIS NEXT DOOR STUDIOS DETAILS
VIDEO ON-DEMAND: Jay Austin @ AEBN SMUTJUNKIES THEATER
DVDs & ON-DEMAND: Jay Austin @ TLA VIDEO