Lucas Entertainment Handsome Hung Spanish Gay Porn Star, Javi Velaro
Years Active: 2015 – 2017
TWITTER @JaviVelaroXXX
LUCAS ENTERTAINMENT INFO:
Height: 5'9
Weight: 167 lbs
Dick Size: 9″
Position: Versatile
Meet Javi Velaro, one of Lucas Entertainment sexiest new exclusive models to date. Javi's bad-boy face is complimented by his huge cock — and I mean HUGE. You'll see him using it in the upcoming "LUCAS MEN 2.0"! And for the record, I couldn't imagine dining in a restaurant and having Javi Velaro waiting on my table (he is, in fact, a waiter), because it would be him I'd want off the menu. This guy is fucking sexy, through and through, and one of infinite reasons why all gay men should plan a vacation to Spain. Javi is an unapologetic top (a beautiful thing) that loves getting his dick sucked while he rims his bottom… all before bending him over doggy and fucking to the hilt!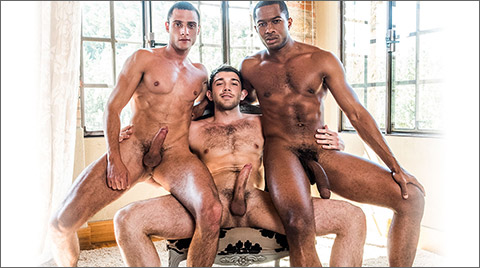 CUM HUNGRY BUTT SLUTS: Sean Xavier And Javi Velaro Double Penetrate Ben Batemen
Lucas Entertainment's next exclusive model, Ben Batemen, makes his debut with two seasoned gay bareback sex stars: Sean Xavier and Javi Velaro. Ben loves taking raw dick up his butt, and he prove himself more than capable since Sean is first in line to penetrate his cheeks deep and hard. While Sean is balls deep inside Ben, Javi Velaro makes use of Ben's mouth. The three guys make a daisy chain after awhile: Sean fucks Ben while Javi fucks Sean. When Ben is ready, he opens his ass for double the dick as Sean Xavier and Javi Velaro double penetrate him.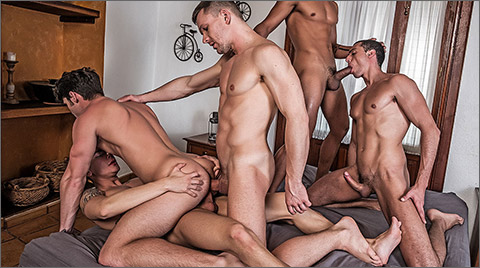 RAW DOUBLE PENETRATIONS 5: Devin Franco, Andrey Vic, Javi Velaro, Drae Axtell, Angel Cruz | Raw Double-Penetration
Devin Franco is the center of attention in this five-way raw fuck fest, and it's Andrey Vic who takes a special interest in pounding his ass bareback. Angel Cruz, Javi Velaro, and Drae Axtell get in on the fun — and it's guaranteed that you'll see plenty of thrusting asses and hard cocks ready to cum. But not before Andrey and Angel squeeze into Devin's ass and fuck him together. Two cocks in one butt is a lot of bottoming to handle, but Devin is up for it. He's one dependable bottom!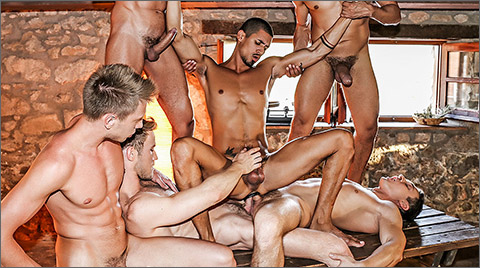 RAW DOUBLE PENETRATIONS 04 – STUFFED: Ibrahim Moreno Bareback Double-Penetration Orgy
Ibrahim Moreno has proven himself time and again to be the go-to guy for extreme anal penetration. Don't be fooled by his warm smile and sweet personality — while that's all true, he's also an animal in the bedroom, and he stars in this lineup of the studio's premiere Lucas Men. Ibrahim's bareback orgy features Marq Daniels, Bogdan Gromov, Alejandro Castillo, Javi Velaro, and Alex Kof. Ibrahim's Latin hole is ready to be stretched, and when you check out 14:30 you'll see Alex Kof and Alejandro Castillo going deep inside him for some hardcore raw double penetration action.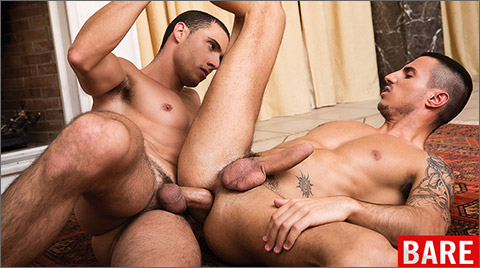 BAREBACKING ABROAD: Javi Velaro Fucks Klein Kerr's Furry Butt
A fireplace is enough to get anyone's juices pumping. Check out Javi Velaro, who is enjoying Klein Kerr; Klein is laying back while Javi rubs and massages him before moving on to Klein's ample uncut package. And, a personal touch that's a favorite of mine, Klein is wearing black briefs — even while Javi is sucking on his cock (see some of it for yourself at 03:14; this is some awesome oral action if you like the sensual side of fellatio). Javi Velaro is one of those porn models that does well in versatile sex scenes, and with a guy like Klein ready to meet his needs, Javi very much wants some of Klein's furry butt before turning around and bending over himself.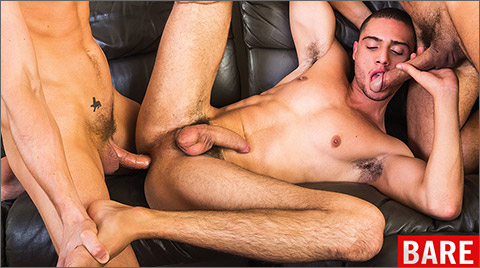 LUCAS MEN 2.0: Damon Heart Bottoms For Rafael Carreras And Javi Velaro
Damon Heart deserves credit: not only is he excited to take on the huge endowment of Rafael Carreras, but he also tests his bottoming skills with Javi Velaro at the same time. Some might shrink from the challenge (figuratively and literally) but Damon goes after them both. But there's only so much dick anyone can take, so Javi jumps in to save the day; he offers himself up as a bottom for Rafael and Damon alike.
CLICK HERE TO GO TO HIS LUCAS ENTERTAINMENT DETAILS