Sexy Uncut Corbin Fisher Amateur College Guy, Jasper
Years Active: 2015 – 2016
CORBIN FISHER INFO:
Age: 22
Waist: 32
Eyes: Blue
Height: 6′
Weight: 160 lbs
Hair: Blonde
Build: Athletic
Cock: 7.0″
SHOE: 8.5
Whether or not the full-lipped, light eyed stud had any other plans for the day, they were cast aside the moment Jamie steps in the room demanding his attention and cock!
   Jasper gives her full control of his dick- and what a nice one at that! Long and capable, it grows thicker in the middle and is completely natural. He fucks her with his uncut cock doggy-style and we get to check out that perky, hairy ass! She rides him reverse-cowgirl as he looks up at her with a smoldering look.
   She needs just one more taste of that delicious dick before he cums though. She gets down on her knees, giving him head and jerking him off for a convulsive orgasm!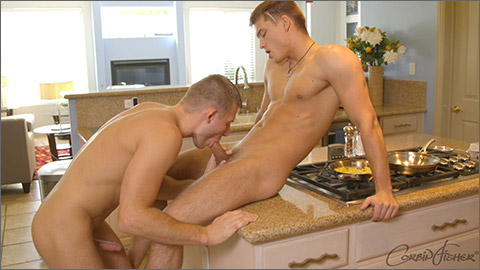 JASPER & KENNY'S BREAKFAST FUCK
When we last saw Jasper and Kenny they were having some fun with each other before going to sleep. The following morning Jasper's craving sausage for breakfast, and Kenny is glad to give him a meal. Leaning against the counter, Jasper drops Kenny's boxers and gets down on his knees for a mouthful of long, hard meat! Well this makes Kenny very hungry indeed, so he gets in on the action, returning the favor- and even adds in a salad tossing!
   Moving over to the couch, the guys continue to play and work themselves up. In no time Jaspers on the couch, mounting Kenny's cock! Kenny drills upward as Jasper presses down while the guys look into each other's eyes and makeout.
   Switching to doggy-style, the two blond studs go at it hard and fast. This is just what Jasper had in mind and more! His dick is stiff as a board as Kenny works deep into him. Kenny fucks a huge load out of him. No meal is complete without a little dessert- so Kenny finishes off with a little creampie!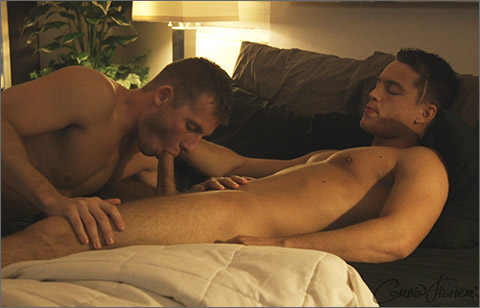 JASPER & KENNY'S LATE NIGHT FUCK
Late at night, when a hot, horny, and naked body presents himself in front of Jasper- is he really suppose to not succumb to the desires that Kenny's hard dick brings? After all, there's a reason they decided to share the bed!
   As great as his body look in the day, the lamplight across Kenny and Jasper's ideal bodies makes each of their well-defined muscles look even more tantalizing than usual!
   Jasper takes his time sliding into Kenny to make sure that not a single inch is taken for granted. It's definitely not. Kenny moans as he's being filled. Kenny's sexy abs are on full display as Jasper fucks him from the side, top, and underneath! This is exactly what Kenny was fantasizing about in the shower and he makes sure to let Jasper know just how good it feels- then let Jasper taste it! Afterward Kenny makes sure to suck Jasper dry — then gives Jasper a taste of his own cum!