Handsome American Gay Porn Star, Jason Ridge
Known Aliases / aka: Jake Lavalle (BigDikFactory), Will Jones (Playgirl)
Years Active: 2004 – 2012
LUCAS ENTERTAINMENT INFO:
Born: December 1974; Tampa
Height: 5'10"
Weight: 190 lbs
Dick Size: 8″
BIO: Michael Lucas himself handpicked Jason for the role of Nick Cameron in Michael Lucas's La Dolce Vita. And boy, was it a good choice! Jason's threeway with Lucas and Derrick Hanson is one of the film's hottest scenes and earned the trio the GAYVN for Best Threesome of 2007. We were happy to cast Jason again in Encounters 5, where he hooks up with our exclusive Jonathan Vargas in Jonathan's first bottoming scene!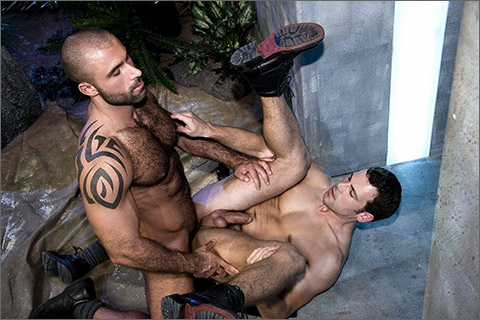 SPY QUEST 3 – SECRET RENDEZVOUS POINT: Jason Ridge, Fred Faurtin, and Alex Baresi fist, fuck, and suck.
Thick, hard-bodied agent Jason Ridge heads to the point (crossing paths on the way with François Sagat) where agents Alex Baresi and Fred Faurtin have scheduled their rendezvous in the forest to swap information. But secrets aren't all the two agents are sharing, as Jason spies on Alex and Fred getting distracted as they kiss and peel off their shirts, revealing Alex's thickly muscled back and incredibly hot, hairy pecs and Fred's tight, lean, smooth torso. Alex chews on Fred's erect nipples and gives his pits a tongue bath, then unzips him and swallows his uncut dickshaft, lavishing special attention on the bulbous cockhead glistening with precum. Jason, who's been stroking his dick and watching from behind some bushes, strips down and joins the action. Jason and Alex take turns slurping greedily on Fred's dick, then as Alex and Fred kiss, Jason goes back and forth stroking and sucking their two uncut cocks. Fred and Alex kiss and take turns biting and chewing each other's nipples until they both soak Jason's pecs with a double load of creamy cum.
   Still rock hard, Fred looks on as Jason fucks Alex's face and spews a torrent of jizz all over his hairy chest. Jason eats Alex's hairy muscle butt, slowly licking his crack and hole, then Fred gives it a go, spreading Alex's hairy asscheeks and driving his tongue in deep. Having gotten a tantalizing taste of Alex's meaty ass, Fred and Jason lube up their condom-sheathed cocks and take turns fucking the hell out of him.
   Fred gets Jason on his back with his thick legs in the air and eats his ass; Fred and Alex take turns fucking him until Jason pumps a white wad all over his tight abs. Alex then takes a ride on Fred's thick cock, grinding up and down and nice and slow while he pumps out a creamy load, his face contorted in pleasure.
Fred lays back and shoots all over his own chest.
   Alex gets down on all fours and offers Fred his hard, hairy muscled ass, so Fred slips a glove on, greases Alex's inviting butt, then shoves his fist in and out of Alex's hole, pushing all the way in and pulling nearly all the way out as Alex grunts loudly with intense pleasure. The sight and feel of Alex's ass gets Fred so hot and bothered he pumps out another load with one fist planted firmly up Alex's butt.
COLT STUDIO / BUCKSHOT PRODUCTIONS
CLICK HERE TO GO TO HIS TITAN MEN DETAILS

MEN MAGAZINE PRESENTS: TITAN MEN

MEN June 2006
FRESHMEN November 2006
[2] July/Aug 2004, July/Aug 2005, Jan/Feb 2007
UNZIPPED November 2003, February 2004, January 2005, March 2007, March 2009, June 2009
HONCHO March 2004, February 2005, February 2006, May 2007, January 2008
TORSO November 2005
ALL MAN May 2004
BLUEBOY June 2006
PLAYGIRL April 2004
PLAYGIRL: HOTTEST BODIES (2006)
XXX SHOWCASE v10 n10, v12 n05, v13 n05, v13 n08, v13 n09, v13 n11, v14 n04
MACHO #80
MEN SPEZIAL 9: DIE SCHÄRFSTEN KERLE VON HOT HOUSE
BRUNO GMUNDER: PERFECT – HOT HOUSE 2006 CALENDAR
[2] HOT MALE COUPLES 2007
MEN IN UNIFORM 2011 CALENDAR
ADAM GAY VIDEO: 2006 ADAM GAY VIDEO DIRECTORY
ADAM GAY VIDEO: 500 WORLD'S GREATEST PORN STARS
BRUNO GMUNDER: HOT – THE MEN OF HOT HOUSE
BRUNO GMUNDER: TRUNKS
THE DIRTY DOZEN – 12 YEARS OF HOT HOUSE VIDEO
MEN MAGAZINE PRESENTS: RASCAL VIDEO
VIDEO ON-DEMAND: Jason Ridge @ AEBN SMUTJUNKIES THEATER
DVDs & ON-DEMAND: Jason Ridge @ TLA VIDEO