Canadian Gay Porn Uncut Stud, Jason Duval
Known Aliases / aka:
Years Active: 2013; 2016
MEN OF MONTREAL INFO:
Age: 19
Height: 6'1″
Weight: 190 lbs
Dick Size: 7″ uncut
Position: Top
Jason Duval is a 19 year old straight single construction worker who was born and raised in Montreal. This 6'1″, 190 lbs. Aquarian has a nice 7″ uncut cock and dark sultry bedroom eyes. Even though it's been a year since he last hit the gym he is still sporting a hot physique with hairy and well developed abs and a nice chiseled chest. Jason has a hot hairy butt hole and is quite the gusher when he cums. A bit of shy guy, he is rather reserved and yet has a playful demeanour.

THE JERK OFF
The sexy Jason Duval is back to show off is body for you guys. He dosent waste any time and take off his white t-shirt to reveal is fury chest and perfectly ripped abs. Very slowly he undo his jeans and start caressing himself. He start playing with his dick under his underwear before taking it out. The suspense is then over… a big uncut cock is what mr Duval has to offer. He tease us by jerking it softly and spitting on it. Like a king on his throne Jason stroke himself and then oil all of his sexy body. He turn around for his fans to admire his virgin ass and play with his perfect pink hole. He's now hard as a rock and ready to explode which he does so hard that he cum on his face! Thank you Jason for the the show.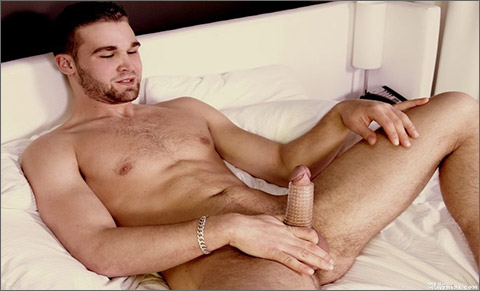 MORNING GEYSER
When you meet Jason Duval, the first thing that grab your attention are the dark sultry bedroom eyes that this 19 year old straight construction worker flashes in your direction. Single, this 6'1″, 190 lbs. Montreal-native Aquarian particularly loves doing demolition work.
   Jason is rather reserved and was pretty nervous during his interview with Marko Lebeau. A bit hesitant, he was easily distracted by the cameras and the video team. He was still nervous during the photo shoot and struggled to get hard. But, once he got into shooting the video scene, he seemed to quickly hit his stride and his shyness quickly disappeared; he was even interacting with the camera from time-to-time while jacking off.
   Jason enjoyed playing with himself and when we suggested he use a masturbator to enhance his pleasure, he wasn't too sure what to make of it. This was a first for him. But, once he lubed it up and starting stoking his dick with it, he got really turned on. His facial expression was priceless.
   Jason hasn't been working out for the past year, but his nicely chiseled and hairy body was hot to see as it flexed, twisted and turned for our cameras. This straight boy also gave us quite the show of playing with his ass and butthole, before being drawn towards the floor-to-ceiling yellow tinged mirror. He enjoyed jerking off and watching himself in action.
   When we asked him if he need a bit of private space to get ready to cum, he told us to stick around as it wouldn't be long before he would shoot. He confided that he had been holding back for a few minutes. In Men of Montreal's short but busy history, Jason surprised us with a cum shot like no other we've seen. After a first burst that generously hit the mirror, the second shot just as abundant flew all over the place, hitting both the videographer and his camera, in addition to our production assistant's feet.
   Jason had told us before shooting that he was a gusher, but even he was surprised with the geyser-like jets that spewed out of his 7″ uncut dick. Needless to say, he was quite proud of his accomplishment. We only hope that he will accept to grace our screen and your computers again in the near future.
CLICK HERE TO GO TO HIS MEN OF MONTREAL DETAILS