European Twink Czech Gay Porn Star, Jaro Stone
Known Aliases:
Years Active: 2013 – 2017
TWITTER @JaroStoneXXX
STAXUS:
Jaro will most likely be on many a man's bucket list. Who could blame them?! His gorgeous face with those extremely kissable lips, his perfectly regular abs, and that sizzlingly hot XL cock are enough to make any man break his vow of abstinence in a heartbeat.
Date of birth: 19th May 1994
Height: 5'9″ / 178 cm
Cock size: 8.7″ / 22 cm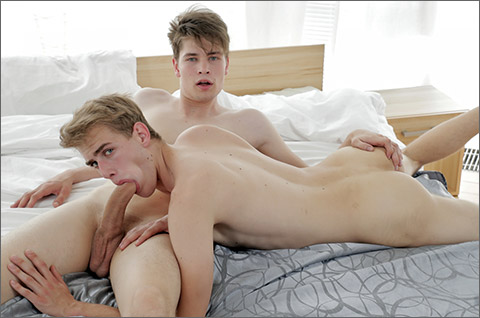 HUNG JURY: Legal Newbie Awards Bad Boy With A First Class Ride Of Hot Ass
Whoever said that lawyers don't have a heart? Or that the only thing that they truly appreciate and understand is hard cash? Well whoever it was, the image of legal minds being solely obsessed with mercenary reward is definitely in for a bit of a bashing here; as fresh-faced solicitor, Bjorn Nykvist, displays his distinctly compassionate side when Jaro Stone enters his office looking for representation in court. All the same, there's still no such thing as a free lunch; and whilst our legal eagle might not be thinking of the bucks, he almost certainly thinking of the fucks! Indeed, it's a definitely a deal of a carnal kind that's quickly getting brokered between these handsome youngsters; with the two buddies heading straight for bed in order to run through a few points of order.
   Needless to say, it isn't long before both their dicks are the centrepiece of negotiations; with a fine display of cock-sucking quickly developing into an ambitious session of energetic 69-ing. Ultimately, however, the urge to get Stone's infamous butt-picker deep inside his guts simply proves too much for the blond-headed Nykvist; who then proceeds to get his innards bashed to a legal high in a succession of positions, most notably reverse-cowboy. It's enough to send even the most dullened of fans into a spunk-fevered frenzy; and it certainly isn't long before Nykvist's cock is squirting out a generous wad, which Stone eagerly laps up to full effect. Not that Stone's ensuing eruption is any less intense; as both lads underline their rank as top-notch performers by exchanging a final devilishly jizz-laden smooch!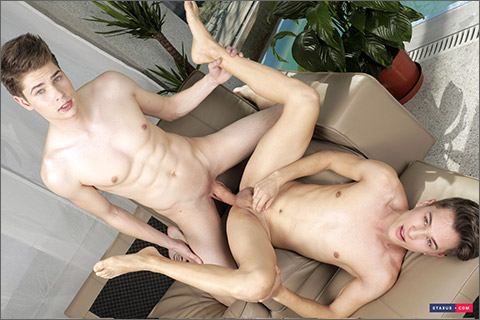 BIG IS BETTER: Swimming Buddies Head Out Of The Water For A Hot, Raw Fuck
No question about it, Jaro Stone and Angel Lopez are such a fucking hot pair of horned-up beauties that you could surely quite literally sit and watch the duo splashing about in the water all day; but the fact of the matter is that they're never the sort of boys who can play too innocent for long. Indeed, you won't find yourself having to wait more than a minute or two before both beauties are out of their swimming trunks and engaging in somewhat suggestive play; which soon leads to the guys smooching away in anticipation of a decidedly hardcore session.
   Not unnaturally, of course, given the nature of their characters and the fact that Lopez in particular is quite simply a living, breathing cock-whore, it's no time at all before the initial round of vigorous dick-munching has given way to an energetic session of sodomy; with Lopez eagerly parting his legs so that his butt can accommodate the full length of Stone's infamous poleaxe. And to his credit, the young lad takes every fucking inch like the pro that he is; getting buggered raw in a whole series of positions, whilst taking intermittent breaks to slurp on his buddy's cock as if to keep reminding himself (if indeed it was ever needed!) that Stone's beautiful buttpicker is actually for real.
   No need to worry about that though, boy. Our Stone is as one hundred percent legit as the day is long; and having finally secured his place cowboy-style on the summit of the fellow's cock, it's no wonder that Lopez is soon spurting like a fountain in sweet appreciation. Before finally allowing Stone to unload a fine wad all over his face!

AT EASE: TWO HORNED-UP RECRUITS PARK UP FOR A HARD FUCK & STICKY FACIAL!
STAXUS favourite, Jaro Stone, and new recruit, Will Simon, should be keeping a watchful out for hostile rebels as they scoot along in their army truck; but, as ever with our horny young officers, they're much more interested in exercising their cocks than combating the enemy. As a result, they're parked up in a field at the first opportunity, taking a chance to jump out of the vehicle so that they can take it in turns to feast on the handsome dick that they've both got stashed inside their khaki trousers!
   Stone, in particular, can't get enough of his mate's nicely curved shaft – but that'll come as no surprise to his legion of fans, who already know what a complete cock-bitch he is. Ever the versatile guy, however, he's clearly prepared to take the upper-hand in this pairing; and before long he's giving Simon's ass a rigorous rimming, probing his tongue right into his pal's eager little crack in preparation for what ultimately proves to be a terrific, open-air pounding! Fuck knows what the enemy would've thought had they stumbled upon these two cuties rutting away for all they're worth in the bright, Czech sunshine.
   What we can say with some certainty, though, is that you lot of horned-up bastards are in for a treat, with young Simon taking every inch like a veritable pro! All of which culminates nicely with Stone creaming the fellow's well-pounded pucker; before getting down on his knees and taking a full wad of hot jizz over his face and in his mouth from the depths of Simon's erupting rod! If every military excursion was this hot and jizzy, we'd all be fucking enlisting!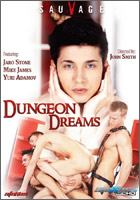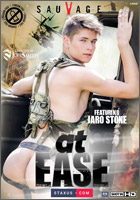 AT EASE
DUNGEON DREAMS
WORKOUT
STAND TO ATTENTION
VIDEO ON-DEMAND: Jaro Stone @ AEBN SMUTJUNKIES THEATER
DVDs & ON-DEMAND: Jaro Stone @ RAD VIDEO