William Higgins Handsome Blond Czech Gay Porn Star, Jarmil Sladky
Known Aliases:
Years Active: 2013 – 2015
WILLIAM HIGGINS INFO:
Model Name: Jarmil Sladky
Age: 20
Home Town: Hradec Kralove
Height: 168cm/5'6″
Weight: 66kg/145.2lb
Foot Size: EU40/US8.1/UK7.6
Penis Size: 15cm/5.91″
Profession/Student of: Motor mechanic
Hobbies: Cars, Sex
Favorite Sports: Football
Active Sports: Football
Movie/Music/Sport Stars: Jodie Marsh
Visited Coutries: Cuba
Want to Visit Coutries: Vietnam
Dream of My Life: Traveling
Zodiac Sign: Leo (July 23 – August 22)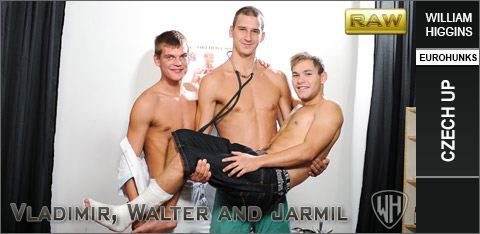 CZECH UP: JARMIL SLADKY, VLADIMIR KRUTY & WALTER UWE
Jarmil Sladky has his leg in plaster and has to visit the doctor's office to have it checked. Dr Walter Uwe and Sister Vladimir Kruty are on duty to attend to him. Since his accident Jarmil has had a few problems, so he needs to be thoroughly checked. Walter begins an examination, listening to his chest through the stethoscope. He tells Jarmil to get undressed for a full exam. Jarmil is helped to undress by Vladimir. In his undies Jarmil sits on the examination chair and Walter begins to check him out. Feeling Jarmil's lower abdomen causes him some discomfort so the doctor has him remove his underwear to check his temperature. With his legs in the stirrups Jarmil feels the thermometer as it slides into his ass. As Walter does the examination Vladimir takes notes. Not convinced at the results the thermometer is then inserted into Jarmil's piss slit and then Walter examines the cock and balls more closely. His hands feel the balls rubbing them, as Vladimir rubs his hands, soothingly over the patient's body. Jarmil's cock begins to grow and Vladimir leans to kiss his neck and then starts sucking that dick. He sucks it and then Walter takes over. They take turns on that rock hard cock as Jarmil's balls tighten nicely. Walter loses his top and pulls out a big hard cock, which Jarmil takes hold of and wanks. Vladimir is hard too and as he removes his shirt he feels Jarmil take hold of that cock and wank it as well. They are licking and sucking Jarmil's cock, breathing heavily, as he wanks both of them. Vladimir moves up so that Jarmil can suck on his cock too, as Walter continues to suck him. Walter then leans over and takes a suck on Vladimir's cock as well. Vladimir goes back to sucking Jarmil as Walter's mouth is closed around his cock. He fucks Walter's mouth as he wanks and sucks Jarmil. Walter needs sucking too and he moves so that Jarmil and Vladimir can take turns on his dick. The sucking continues apace, each taking turns on the other until Walter takes things further. With Vladimir taking Jarmil's place on the chair, Walter rims his hot hole. He rims it and then slips a finger in as well. It's not long until Walter's massive cock finds its way into that tight ass. He fucks it hard and fast as Vladimir wanks himself and sucks Jarmil. Vladimir moves onto his knees and Walter shoves his cock back into that hot hole, fucking it nice and deep. As he gets fucked good and hard Vladimir kisses Jarmil. Vladimir loves that big dick in his ass, and he lets Walter sit and then he takes a ride on that big cock, wanking himself hard as he does so. With Walter's dick so deep in his ass Vladimir wanks himself to a climax, shooting his juice everywhere. He continues to ride that big cock until Walter pulls out and shoots his cum too. Then Jarmil stands over Vladimir and wanks his cream onto Vladimir's chest. All spent the guys kiss to finish a great Czech Up.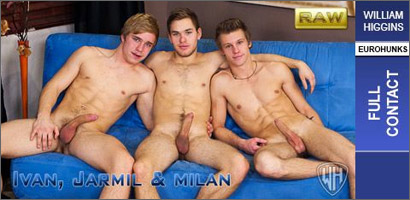 FULL CONTACT: IVAN MRAZ, JARMIL SLADKY & MILAN HORNIK RAW
In a great scene we have Ivan Mraz, Jarmil Sladky and Milan Hornik. We find Jarmil as he sits on a park bench waiting for Ivan to arrive. As they wait for Milan to arrive they have a chat. Then when he arrives they go off to Jarmil's flat. Jarmil plays host, pouring some drinks and the guys stand to toast each other. Then Ivan drops his pants and shows off his cock. He kisses Jarmil and the Milan. Jarmil takes hold of Ivan's dick and wanks it and the Ivan's shirt comes off too. Milan drops to his knees and sucks on Ivan's cock as Jarmil's is released from his pants and gets wanked. With Jarmil rock hard Milan needs no prompting his comes off Ivan's dick and goes down on Jarmil. With both Jarmiland Ivan rock hard they need Milan's dick out too. So all three get naked and Ivan shows that he can suck too, going down on Milan's throbbing cock. Ivan works on that cock and then Jarmil takes over. His mouth wraps around Milan's hot meat and Ivan joins in again, licking at the balls before sucking. Jarmil wants two cocks, so he kneels between Milan and Ivan and sucks each of them in turn, as they kiss. Then he sits on the sofa, his cock standing proud, for Milan and Ivan to get to work on. They each take turns of Jarmils cock but soon he wants more. So Ivan gets behind him and slides his dick deep into an eager hole. As he takes that big cock Jarmil also sucks on Milan's too. He loves being spit-roasted and gets it good. But Milan loves a bit of dick in his hole too, so they move and he sits right down on Ivan's pole, riding it good. As he rides that cock Milan's dick gets some sucking from Jarmil. Then it is all change again. This time Ivan's hole is up for some hard fucking, and Milan is happy to oblige. He fucks for a while and then changes with Jarmil As he takes that cock Ivan wanks himself and soon shoots his hot cum. Jarmil pulls out of that tight ass and also cum, this time over Ivan's balls. Then Milan dumps a huge load all over Ivan's chest. Ivan sucks the spent cock dry to end a wonderful scene.
CLICK HERE TO GO TO HIS WILLIAM HIGGINS BIO PAGE