Italian Kristen Bjorn Gay Porn Star, Jared
Years Active: 2015
KRISTEN BJORN INFO:
Nationality: Italy
Height: 6'3
Weight: 195 lbs
Dick: 8.5" (21.59 cms) uncut
Position: Versatile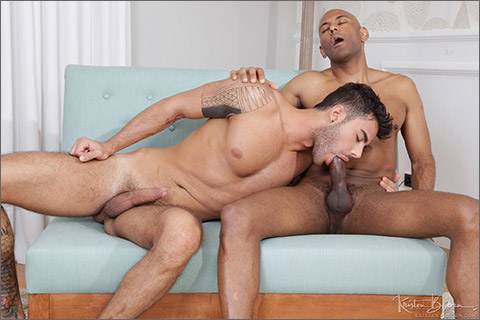 RAW ADVENTURES #15 – ON THE TOP: WILLIAM BRAVO FUCKS JARED
William and Jared meet up in the park and return to Jared's apartment close by. Both men are hungry for one another but their nervousness gets in the way. As they slowly strip away their clothing revealing their perfectly sculpted bodies the nervousness is gone. As William reveals his mammoth mahogany cock Jared is salivating thinking of this huge cock working its way down his throat. William drives Jared's appetite through the roof with his hot mouth gliding up and down his hard shaft. William knows that Jared has reached his peek of lust and desire and forces his rich cocoa colored cock deep into his mouth. Jared then gives William something that he has been yearning for, his ass. As he squats down it is met with William's wet and probing tongue. William wants to make sure that Jared's hot pink hole is truly hungry for his massive cock. Jared bends over and William gives his fat cock one last shot of spit before he rams his enormous raw cock up Jared's ass. As Jared is able to relax his ass, William picks up the pace and fucks Jared harder and deeper, much to the delight of Jared. As William continues his assault on Jared's ass he is pushed to his limits and explodes a huge, creamy load of cum and William does not let up for a second. Jared is then positioned with his knees next to his head and we are treated to an incredible view of this massively chocolate colored cock pumping away at the perfect pink hole of Jared. This gives William the opportunity to go as deep inside of Jared as possible. The sensation of his entire cock inside of Jared brings William to his climax that he showers all over Jared's pink hole.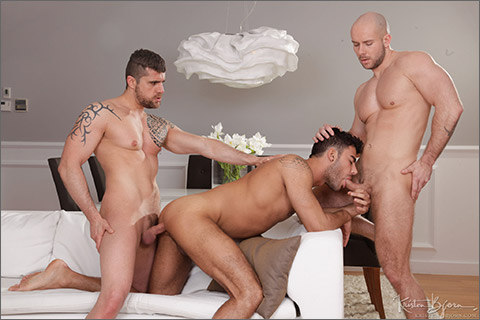 SKINS – 3SOME: ISAAC ELIAD & MAREK BOREK FUCK JARED
1, 2, 3Some, everyone loves to be the center of attention sometimes. Isaac, Jared and Marek slowly strip away their clothes and begin sucking each other's cocks in as many positions as possible. Jared is the first to get his ass fingered, spat on, probed and tongue fucked. Since his ass is already lubed up Isaac shoves his fat, raw cock in Jared's hot hole as he sucks on Marek's pounding cock. Jared is then flipped onto his back and Marek plunges his raw cock deep inside of that wet ass. Isaac enters into a hot 69 with Jared and enjoys the view of Marek's cock disappearing in and out of Jared's hungry hole. Jared is so turned on by all the attention that he blows his hot, creamy load all over Isaac's greedy lips and tongue. Isaac shares some of the load and lets it drool onto Marek's cock as lubricant. Isaac is the next to move to center stage and begins riding Marek's cock for all he can get out of it. Marek takes full advantage of the fact that Jared's cock is still hard and sucks on it as Isaac rides his cock. Isaac demands Marek to fuck him and no sooner are the words out of his mouth that he is shooting his thick load of cum. Marek continues his fucking before he erupts a huge, thick load of cum onto Isaac's smooth balls and ass and then deposits the last of his load inside of Isaac's ass. 1, 2, 3Some is always about sharing center stage.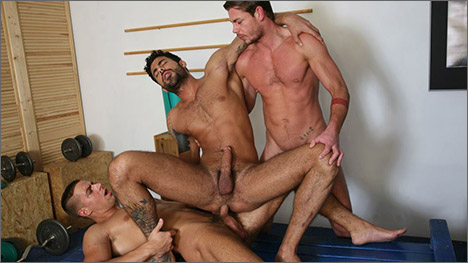 RAW ADVENTURES #10 – TRAINING DAY: ARNY DONAN, TOBY DUTCH, JARED
Jared is on his way to the gym and is in for a more strenuous workout than he has planned. As Jared strips down to his jock strap he notices that Arny is putting on a show by flexing his muscles for Toby. Arny steps up onto the bench so his captive audience has a better view. The view of his own jock strap captures Toby and Jared's attention so they free his strikingly hard cock and begin sharing the oral pleasures. After some intense sucking Arny lays down on the bench and Jared mounts him from on top and the two begin a 69 rim fest. Jared fucks Arny's hairy hole with his tongue and Arny works his tongue from Jared's hot ass to Toby's throbbing cock. Toby moves himself into center position as Jared hammers his raw cock into Toby's furry ass and Arny fucks his face. Jared and Arny switch up positions and now it is Arny's turn to fuck Toby's bare ass. After wearing out Toby's ass Jared mounts Arny's cock and begins to grind his cock deep into his ass. Jared has fucked himself into a frenzy of thick, creamy cum shooting all over Arny. Arny gets turned on by all the cum dripping on him that he sprays his load all over Jared's hairy balls and thighs.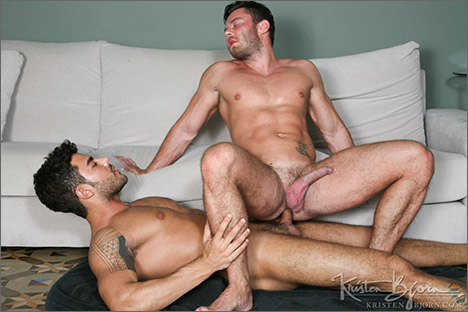 BARE TO THE BONE #3: JARED & PATRYK JANKOWSKI
RAW ADVENTURES #10 – TRAINING DAY: ARNY DONAN, TOBY DUTCH, JARED
RAW ADVENTURES #7 – BLACK KNIGHT: JARED, MIREK CESLAR
CLICK HERE TO GO TO HIS KRISTEN BJORN DETAILS