American Military Active Duty Amateur, James
Years Active: 2015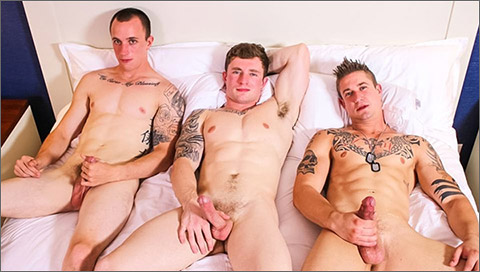 MARKIE, MICHAEL & JAMES
This time, we've got a very well-rounded, very sexy encounter on our hands and we'll need every soldier manning his post! It's Markie as the pivot man for James & Michael, each of the three bringing wonderfully unique energy to the encounter. From the gates, Markie and Michael can't keep their hands off each other for long. As soon as the undies come off, Markie is reaching for Michael, and vice versa. I think, perhaps, Markie might have sensed James's reluctance here. I know Michael certainly is acquainted with James's comfortability levels. But it's not long after Markie and Michael get going that James comes right along, just like a sad puppy dog. James reaches over to Markie, strokes his leg, and Markie returns the affectionate gesture with some sweet attention. From there the boys get into some good, deep sucking. Markie slurps down Michael's fine cock like he'd been down in the barracks for days. And at the same time, we see James bobbing on Markie's hard dick with some impressive fervor! It was the first real 'wow' moment for me during this interaction. It's all a lead up to a BIG first for James…taking a hard throbbing cock at each end! Yes troops, we're seeing a young soldier's limits pushed back. This is significant ground gained here. James takes Markie's dick in his ass while sucking Michael's big dick. He does the best he can to work Michael's cock with his mouth, but after a while, the pounding from Markie becomes too intense. We see that James's hole is still very tight. He ends up putting all his energy into enduring the hard pounding from powerful Markie. Look at those goosebumps on James's ass while getting fucked! Boy, these are the first encounters James won't ever forget…and neither will these other recruits! Before they each blow their hot cum loads, they line up on the bed next to each other so they can enjoy watching each other blast. Enjoy the action!
Brunette, Muscular, Smooth, Blowjob, Jerk Off, Anal Sex, First Time, Gay, Sandwich Fuck, Tattoos, Threesome, Kissing, Big Dick, Bareback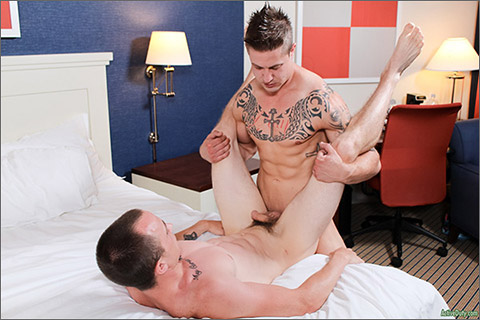 MICHAEL & JAMES
This one's a bit of a continued learning process for our boy James. Michael comes off as confident and dang right excited to connect with James, right off the git go. It's easy to tell this from their interaction with our eagle-eye scout, Claude. Before the boys get started, Claude cracks one about James being 'back for more pain' and Michael's the one bringing it! James has been in only twice before to push limits for us at Active Duty. His first time doing a solo was the initial hurdle, which he handled nicely, and he followed up not long after by joining a passionate three way. But it's easy to see that James is still learning and is having an adventure getting outside of his comfort zone. I was just telling Claude how much I like to see match ups like this because of the great dynamic. Michael is a sweet guy, but also has a part of him that aggressively loves sucking cock and fucking hot young guys. We get to see him here coaxing James forward, using a nice combo of stern direction and gentle guidance. Michael gets the ball rolling between the two, after Claude leaves them alone for a quick spell, by taking James's hand putting it right on his swollen cock. James knows what to do by now, so he jerks Michael's thick meat like a good soldier, always looking to earn more stripes. He doesn't jack him too long before going down to have a taste. James has come a long way, as far as properly sucking a fattened dick. He's honing his technique at every opportunity, and Michael is benefiting from James's practice! They go back to tugging their boners for a while before Michael goes in to reciprocate. Michael's body and tattoos really look hot, especially when he's bobbing fervently on a throbbing cock. Then comes time for the part James was anxiously anticipating. It's the time when he must take a hard erection into his tight, very tender hole. Michael, like a good soldier, knows his job here is important. Join these guys as James gets his sweet ass fucked hard and both guys have a good (although a bit painful) time together, building up to a nice, warm explosion.
Blonde, Brunette, Duo, Blowjob, Jerk Off, Anal Sex, Gay, Tattoos, Big Dick, Bareback
   CLICK HERE TO GO TO HIS ACTIVE DUTY DETAILS