Handsome Czech College Jock Gay Porn Star, Jakub Smolik
Known Aliases / aka: Czech Hunter 271, Harley Hunnam, Omar Radek
Years Active: 2016
WILLIAM HIGGINS INFO:
Jakub Smolik is aged 23 and lives in Prague. This very handsome straight guy works as a bricklayer and enjoys sports, particularly soccer. What a very handsome guy he is and with a sexy body too, as we see as he poses with his tee shirt over his shoulder. He flexes his biceps too before turning and lowering his pants to show off a very sexy ass. Then he turns again, pants still lowered, and we see his beautiful cock, with the foreskin hooding the head. He delights in showing the cock, flashing a huge smile. Jakub then works through a series of poses to let us enjoy that hot body and the cock as well as his sexy ass. He then gets his cock good and hard, with the head poking through the foreskin. He shows it off well before sitting down and laying back to lift his legs and expose his sexy ass. We see his hairy hole up close and then some more as he also pushes his stiff dick up towards the camera. Then we get more posing with the cock rock hard with the foreskin fully retracted and the head shining. To end a great shoot Jakub gives us more of his sexy ass, pulling his cheeks wide apart.
Model Name: Jakub Smolik
Age: 23
Home Town: Prague
Height: 170cm/5'6″
Weight: 68kg/149.6lb
Foot Size: EU41/US8.3/UK7.8
Penis Size: 15cm/5.91″
Profession/Student of: Bricklayer
Hobbies: Sport
Favorite Sports: Soccer
Active Sports: Soccer
Movie/Music/Sport Stars: Robbie Williams
Visited Coutries: Croatia
Want to Visit Coutries: France
Dream of My Life: I don't know.
Zodiac Sign: Libra (September 23 – October 22)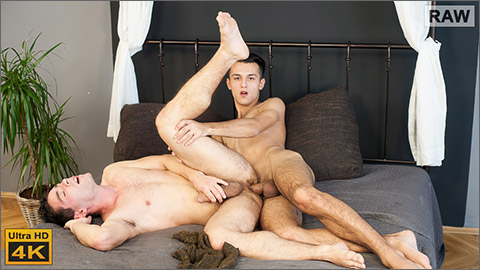 FULL CONTACT: PETR PLODNER & JAKUB SMOLIK – SCREEN TEST RAW
In Jakub Smolik's screentest we find him asleep and being awoken by Petr Plodner. They kiss and start to run their hands over each other. Petr lifts Jakub's tee shirt and kisses his nipples. He kisses down Jakub's body to his bulging underwear. Petr pulls off the underwear, releasing Jakub's hard cock. Taking hold of the cock Petr licks is and sucks the balls. Then he takes the cock in his mouth and starts wanking and sucking it. He licks and sucks the stiff dick, running his tongue around the head. Jakub moans as he enjoys the mouth on his cock, and reaches to run a hand over Petr's back. As Petr moves up to kiss him again Jakub rubs his friends groin. Petr removes his clothes, exposing his rock hard cock. Jakub quickly takes it in his mouth and sucks it. Petr fucks his cock into the mouth. Jakub's lips are wrapped tight around the cock. Then Petr sits on the bed and uses his feet to wank Jakub's cock. He moves up to kiss Jakub again and then pulls his friends legs in the air and slides his fat cock deep into the waiting hole. Jakub moans as he feel the cock pushing into his tight hole. He takes it well as the cock fucks him nice and deep. Jakub grabs his own cock and wanks it as he gets fucked deep and hard. That hairy ass is fucked hard as Jakub keeps wanking himself. Then Jakub turns over, onto his knees and Petr slides his dick back into the eager hole. Jakub's moaning continues as Petr fucks him. The cock thrusts deep into the hot ass and Petr spanks it a few times too. Jakub's moans get louder as the fucking speeds up. His hole is pounded so hard as it goes in all the way. Jakub lays on his side and Petr spoons with him, fucking his ass as Jakub wanks himself again. Petr's fucking speeds up and Jakub's wanking matches him. He moans loudly as his wanking results in a hot stream of cum shooting from his cock. Petr continues fucking and then pulls out to shoot his cum as well. He milks the cock and then pushes it back into Jakub's hole for a final few thrusts.
WILLIAM HIGGINS
STR8HELL
JAKE CRUISE'S COCK SURE MEN
RANDY BLUE
CLICK HERE TO GO TO HIS WILLIAM HIGGINS BIO PAGE