Slender College Jock American Gay Porn Star, Jake Riley
Years Active: 2015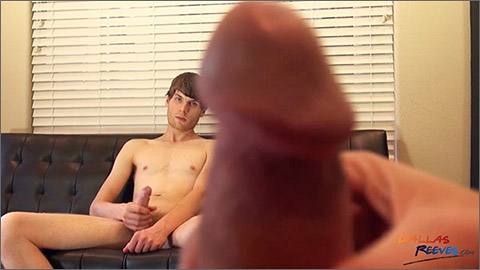 JAKE RILEY BAREBACK AUDITION
Jake Riley is a Georgia boy who describes himself as "an everyday normal guy," but he also admits to being curious about man-on-man action. In his casting interview, Jake also mentions that he hasn't done much, but that he is eager to try more. Like a lot of curious self-described straight guys, it seems that Jake is using porn as a way to experience some new things, in addition to getting a job. As he undresses for the cameraman, he seems a little nervous, but once he is fully nude, he doesn't have much of a problem getting fully erect. He jacks off for a while while the casting manager takes some photos of him. Before long, the director has a hard-on, too! Jake approaches to show off his very large cock, and then the camera guy gets a feel. Before long, our newbie has his mouth stuffed with cock and seems to be loving it. Jake explores every inch of the casting director's cock with his tongue before bending over to let the director explore his pink hole with his fingers. His asshole must be really tight, because the casting director takes his time loosening his love canal up with a finger or two. Jake gets fucked reclining on the couch with his legs in the air. The camera man's raw cock seems to slide in with ease after a few minutes, and once Jake is ready, the slam fucking begins. As Jake gets pounded he gets a little noisy – obviously loving this new experience! When his hole is gaping from the rough fucking, the casting director pulls out and ends up fitting four fingers up Jake's raw hole! Wanting some more ass, though, he bends Jake over onto his stomach and takes another turn. Jake ends up getting a huge wad of jizz all over his blown out asshole to end a hot bareback fuck session!