American CockyBoys Gay Porn Star, Jake Bass
Years Active: 2010 – 2015
TWITTER @FuckingJakeBass
COCKYBOYS INFO:
Don't let his innocent eyes and sweet smile fool you…Jake Bass is one sexy, inked-up motherfucker who is the perfect CockyBoy: part angel, part Tasmanian Devil! He's proof that being a CockyBoy isn't just a six-pack and a few tattoos — being a CockyBoy is all attitude. Jake loves joking around, showing off on camera, and, most of all, he isn't afraid to speak his mind. Jake's the kind of guy whose phone blows up as soon as he logs on to Grindr. Everyone wants a piece of Jake's skater ass, and he knows it! With a true passion for life, sex (he's versatile!), and boys, a smooth, tattooed body and a truly unique personality, Jake Bass is a CockyBoy who won't be forgotten!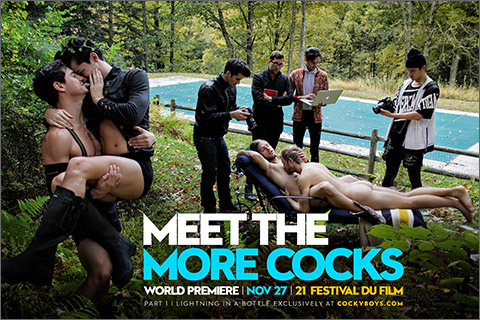 MEET THE MORECOCKS: LIGHTNING IN A BOTTLE
Throughout history, porn has remained one of most disputed and taboo forms of entertainment. But CockyBoys has always gone against the grain, ever since Jake Jaxson and his two partners RJ Sebastian and Benny Morecock took over in 2010. With a clear vision bringing together high quality gay porn with art-house and mainstream-style genre films, CockyBoys quickly developed a reputation for stimulating both the mind and the drive for sex. Now the famous "throuple," as they've been dubbed by New York magazine, are sharing what really goes on behind the scenes.
In CockyBoys' newest documentary series MEET THE MORECOCKS, Jason, Adrian, and Ben (their real names) allow us a glimpse inside their professional and personal lives. What you see on camera is vastly different from what goes on behind the scenes at the office, their compound in upstate New York, and all the talented models they discover and develop into international superstars. Not everything is easy to say the least, but as Benny says himself, a huge part of the company dialogue is to focus on the positive.
   In our pilot episode, "LIGHTNING IN A BOTTLE," we go in-depth with former model George Alvin — better known to fans as Max Ryder. From his very first scene on the site in 2012 to his starring roles in breakout hits Project GoGo Boy, The Haunting, and Road Strip, Max (together with model Jake Bass) quickly rose in popularity to make CockyBoys the household name it is today. In 2014, Max decided to retire from shooting porn scenes but still remain working for CockyBoys when he was invited to help publicize Jake Jaxson and RJ's photo book "A Thing of Beauty" on a 3-city European tour and shoot acting scenes for their new movie Answered Prayers.
   Traveling with Jake Jaxson, RJ, and CockyBoys Jake Bass and Levi Karter, Max runs into some difficulties as he rides the coattails of a career he's since transitioned away from. From London to Berlin to Paris and everything in between, this is the true story of how and why Max decided to leave CockyBoys shortly after returning to New York — and how Benny tries to find balance as he stays home, tending to the trio's six dogs and running the company all by himself.
   With Jake Jaxson, RJ, And Benny just as present in front of the camera as they are behind it, MEET THE MORECOCKS is a ground-breaking and unique look at the process of adult filmmaking. And for the first time, CockyBoys will be releasing each 30-minute "safe for work" episode separately from its concurrent sex scene.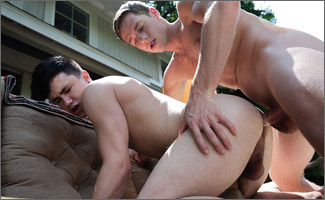 JAKE BASS & JUSTIN MATTHEWS FLIP-FUCK!
MEET THE MORECOCKS: LIGHTNING IN A BOTTLE
JAKE BASS & LUKAS GRANDE FLIP-FUCK!
DILLON ROSSI FUCKS JAKE BASS
CONNOR MAGUIRE & JAKE BASS FLIP-FUCK!
JAKE BASS POUNDS MAX CARTER
BEHIND THE SCENES DOC WITH JAKE BASS!
SONS OF MONTREAL: PIERRE FITCH VS. JAKE BASS
JAKE BASS FUCKS TONY MILAN
JAKE BASS NAILS ASHER HAWK
JAKE BASS AND JIMMY LITTLE COOL OFF IN THE SHOWER
JAKE FILMS HIMSELF DRILLING JOEY LAFONTAINE
JAKE BASS INTERVIEWS ZACH
JAKE BASS PLOWS DILLON ROSSI
JAKE BASS CONQUERS BEN ROSE!
PROJECT GOGOBOY EPISODE – THE REUNION
PROJECT GOGOBOY EPISODE #3: JAKE BASS GETS FUCKED BY THE IPAD BOY!
PROJECT GOGOBOY EPISODE #1: PIERRE FITCH AND MAX RYDER CAUGHT FUCKING BEHIND THE DJ BOOTH!
BOBBY LONG GETS REVENGE ON JAKE BASS'S ASS
GABRIEL CLARK FUCKS JAKE BASS
JAKE BASS JACKS OFF!
JAKE BASS JERKS OFF
ANSWERED PRAYERS
ROADSTRIP
RECONCILED
MEN OF ANARCHY – PART 3
RECONCILE
FORBIDDEN – PART 4
EDUCATING LIAM
JAKE BASS & SONNY STEWART – APOCALYPTIC SEX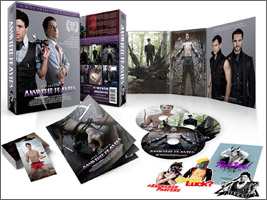 ANSWERED PRAYERS SPECIAL EDITION DVD
CREAM OF THE COCK
DOUBLE TROUBLE
HARDER
ROAD STRIP
PAINT IT BLACK
PROJECT GOGO BOY
10 FEET OF MEAT
BAD BOY BASS!
CLICK HERE TO GO TO HIS COCKYBOYS DETAILS