Handsome American Gay Porn Star, Jake Andrews
Known Aliases: Ben (Sean Cody)
Years Active: 2011 – 2016
LUCAS ENTERTAINMENT INFO:
Height: 5′ 8″
Weight: 165 lbs
Dick Size: 7.5″
Position: Versatile
Jake Andrews is a handsome guy who knows how much he loves having sex, and if it's bareback fucking, he's totally on board! Jake is flexible when he's in the sack — both in terms of what he likes to do along with his ability to use his body for his partner's pleasure — and that includes topping and bottoming. Jake's favorite part about sex is the feeling of first feeling a raw cock slide into his ass, and his fantasy is a raw bang-bang where he's the center of attention!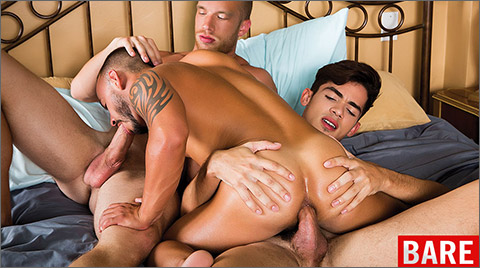 BAREBACK BOYFRIEND SWAP: Jake Andrews Shares Rafael Lords With Ashton Summers
Sharing is caring: that's a lesson Jake Andrews wants to demonstrate to Rafael Lords. The couple gets frisky on their bed when their housemate Ashton Summers "accidentally" stumbles across their fun. (Jake is performing oral sex on Rafael, so of course Ashton is going to be intrigued upon his intrusion.) Why be prudes when it's far better to have an extra body to throw around' One of the best portions of this encounter can be found at 27:10 when Rafael is being split-roasted: Jake is giving him deep and rhythmic thrusts while he swallows Ashton's cock!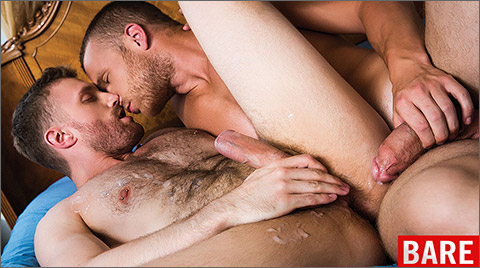 BAREBACK BOYFRIEND SWAP: Jake Andrews Breeds Evan Lance
Jake Andrews and Evan Lance aren't idiots — they know what's been going on between Rafael Lords and Spencer Whitman. But they're not interested in breaking up — they are interested in getting even. Jake brings out Evan's kinky and submissive side: Evan kisses and licks Jake's feet before moving on to fellatio. Evan rolls up Jake's tank top and sucks down his penis, which consistently looks like a work of art. And what should be done with a work of art like that' Rough anal sex, that's what: check out 15:30 to see Jake Andrews fuck Evan Lance like the power top he is in his heart!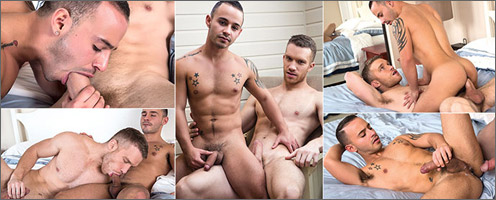 JAKE ANDREWS FLIP FUCKS RAW WITH BOYFRIEND RAFAEL LORDS
Jake Andrews flip fucks raw with boyfriend Rafael Lords: One question that's been asked quite a bit for several months from Lucas Entertainment fans is when Jake Andrews will be making a return to the studio. He had been in retirement, but recently emerged from his gay porn hibernation with his boyfriend, the newly announced Rafael Lords. Upon seeing Rafael for the first time, you might recollect the ever-popular Armond Rizzo: its no secret the first noticeable similarity is their size. Rafael Lords is compact and ready to fuck bareback! Rafael begins his scene with Jake Andrews intimately submissive: they closely hug and hold each other while removing their clothes. What follows? What else could, but Rafael sinking his teeth into Jake's big, fat cock (which looks like it's gotten bigger since last he performed). And take a look at Jake's body at 07:20 — the fucker couldn't look more cut! If watching Rafael Lords riding Jake Andrews is what you're after, take a peek at 18:05 — it's a stellar raw fuck loaded with passion and affection!
LUCAS ENTERTAINMENT
JAKE CRUISE'S COCK SURE MEN
RANDY BLUE
SEAN CODY