ChaosMen Amateur Gay Porn Guy, Jackson
Known Aliases:
Years Active: 2016
BRIAN OCKERT / CHAOS MEN INFO:
Start Age: 23
Debuted: October 24, 2016
Height: 5'10"
Weight: 140 lbs
Cock: 8″ Cut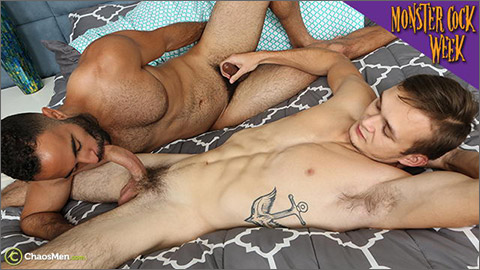 SERVICED: JACKSON & LORENZO
Jackson seemed nervous but eager to mess around with a guy.
   I got the feeling he really wanted to try new things, but was timid about making the first move. He is actually shaking with excitement before we got started.
   Lorenzo calms him down by worshiping his pecs and amazing abs. Jackson's cock is hard and ready to be serviced.
   My favorite part is watching Jackson take a chance to rub on Lorenzo hairy body. He seemed fascinated by it and I think given his naturally hairless body, he was a little envious. Or maybe just turned-on by it.
   He even sucks Lorenzo's cock. Yep, you can tell it is more than likely his first time. But he dives in, trying to please his buddy.
   Lorenzo then has him get on his back so he can get to work on his big curved cock. Jackson strokes Lorenzo's cock while being serviced.
   Lorenzo then rims his hole, and based on Jackson's reaction, I think we might have a Bottom in our future.
   Both Jackson and Lorenzo race to cum first. Just as Jackson is cumming, Lorenzo slides down and laps up his load.
   That gets Lorenzo psyched to bust his own load, adding his DNA to Jackson's spent cock.
   Jackson texted me that night, eager to come back and do EVERYTHING. So I think we opened the floodgates for him!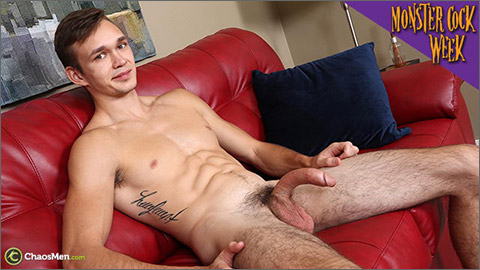 SOLO: JACKSON
Jackson arrived at the studios very nervous and almost timid.
   I didn't have a lot of information about him before meeting at the studio. I knew his age and that he wanted to do a solo. So I didn't know his sexuality, but before I could ask, he mentioned that his girlfriend knew he was shooting the video.
   Perhaps because he was so quiet, I figured he was bi or gay. He picked out some girls to stroke to, but I was wondering if maybe he was actually really curious about dudes, and putting himself out there. You might get a vibe off of him too.
   Jackson couldn't be sweeter, and was happy to hear you guys were going to like his amazing abs along with his curved 8″ inch cock. He keeps his bush natural, but had been told to shave it off by another studio that never did follow through with him. I was shocked to hear that. My initial photos from him he had full bush, and we did wait for them to grow back a decent amount.
   He says his girlfriend loves it natural, so he is glad to not have to keep up the maintenance.
   Jackson says he likes to dominate his girlfriend, and as timid and quiet as he seems during his interview and the solo, I just wonder how he would be as dominant Top. I think I was a little surprised during the interview that he was the dominant one. I pegged him as passive. He has a big cock, but I would love to see him get fucked.
   We shall see. He will back for a Serviced video, and we can check out what kind of energy he puts off for that video!
CLICK HERE TO GO TO HIS CHAOSMEN BIO PAGE