Raging Stallion American Gay Porn Star, Jack Vidra
Years Active: 2016
TWITTER @JackVidra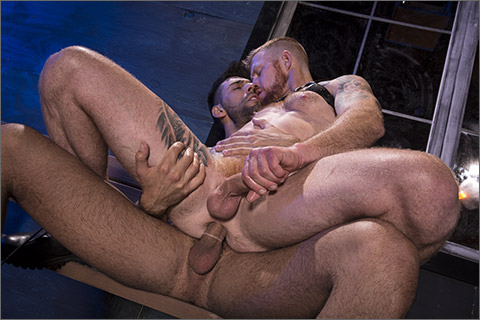 TWO DICK MINIMUM: Mick Stallone & Jack Vidra flip-fuck
Jack Vidra stands outside the cruise bar with his cock stiff and hard in his hands. He looks to the left and the right while stroking himself, and gets his wish when Mick Stallone emerges from the shadows. Kneeling down, Mick enthusiastically opens his mouth and swallows Jack's monster cock. Sitting down on a bench, Mick offers his cock to Jack, who greedily slobbers on Mick's long, hard shaft. Standing up, Jack and Mick rub their cocks together for a bit, then Mick turns around and Jack shoves his cock inside Mick from behind. Grabbing on to Mick's harness, Jack uses all the power of his muscular physique to pound Mick's tight hole. Switching roles, Jack sits down on Mick's cock, using his strong legs to fuck himself hard. Mick reaches up and pulls on Jack's supple nipples as Jack strokes his cock. With Mick filling up his hole, Jack jerks his meat until he blows a hot, white load on the ground. Kneeling on the bench, Jack pushes his ass in Mick's face, who enthusiastically rims Jack's freshly-fucked hole. Mick strokes his hard cock and blasts Jack's hairy ass with cum. After using his cock to smear his cum across Jack's hole, Mick leans forward to share a deep, connected kiss.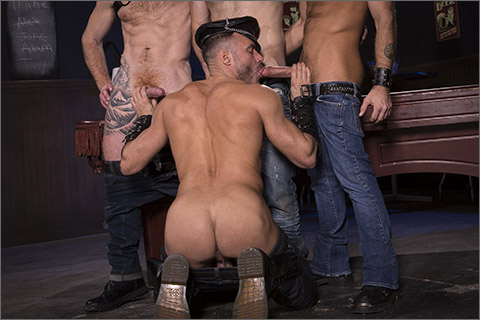 TWO DICK MINIMUM: Jack Vidra, Manuel Skye, CJ Phillips, and Jack Andy
The gritty cruise bar is closing down after a hot, sexy night, but Jack Vidra and Jack Andy aren't ready to go home yet. As the staff tries to clean up, they can't stop making out with each other. Manuel Skye announces last call, adding, "If you're not the one I'm fucking, get out of here!" Jack Andy and Jack Vidra ignore him, and instead pull their dicks out and rub them together. Manuel and his barback CJ exchange a conspiratorial look, as if to say, "Let's see how this plays out." Jack Vidra gets down on his knees and Jack Andy fucks his throat deep and hard. In the background, Manuel and CJ exchange deep kisses and grope each other's muscular bodies. As Jack Vidra worships Jack Andy's tool, Manuel and CJ come out from behind the bar and join them, instigating a four-man oral orgy. Jack Vidra sucks Manuel's massive meat as CJ attends to Jack Andy's throbbing tool. Manuel sinks to his knees to service Jack Vidra's lengthy cock, and adds to the intense pleasure by reaching up and tugging on Jack's plump, pink nipples. Jack Vidra leans against the pool table between Jack Andy and CJ, and Manuel services all their cocks at once. Using Manuel's face as a target, Jack Andy is the first to shoot, followed immediately by Jack Vidra's hot cum. With their loads blown, Manuel kicks them out (with a wink and a smile) so he and CJ can finish closing down the bar.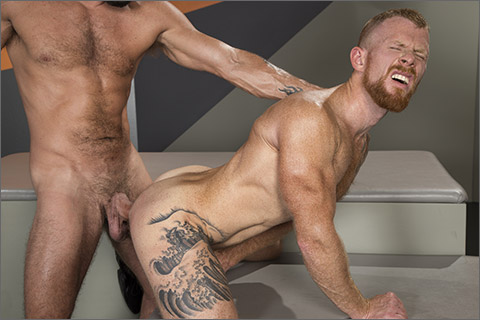 STATE OF AROUSAL: Tex Davidson fucks Jack Vidra
With their big dicks, furry bodies, and thick beards, the masculine attraction between Tex Davidson and Jack Vidra pushes their sexual connection into overdrive. Jack shows off the tattoo covering his hip as he fondles Tex's throbbing boner. Tex presses his face into Jack's thick, red beard, and their lips stay locked together as they make out. Their intense arousal is evident in their enormous, rock-hard cocks. Tex grabs the back of Jack's head and presses it into his crotch, and Jack eagerly opens his mouth to swallow Tex's immense sword. As Jack crouches on his knees to service Tex's meat, Jack's ass parts to reveal the smooth, pink hole in the center. Eager to get a taste, Tex dives in tongue-first to give Jack a wet, slippery rim job. Using his fingers, Tex drills his spit into Jack's hole, then follows with his cock. As Tex pounds Jack's backdoor, Jack braces himself doggy style and flexes every muscle in his body, heightening their 'State of Arousal.' Rolling over, Jack puts his legs high in the air and Tex drills Jack's hole with full power. They move to a sit-fuck position with Jack raising and lowering himself on Tex's fat meat. When he's not jerking his meat, Jack's hard cock slices through the air. Returning to missionary, Jack blows his load as Tex slams his cock into Jack's prostate. Tex beats his meat until his cum explodes in an arc that splashes all over Jack's inner thigh.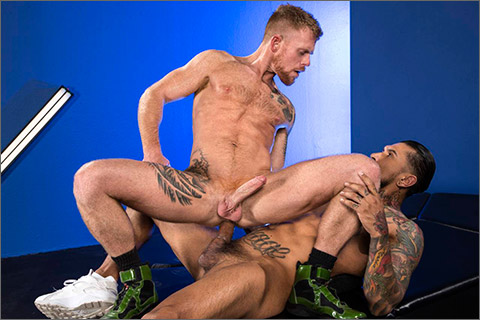 BOUT TO BUST: Boomer Banks fucks Jack Vidra