Cute Dutch Bentley Race Aussie Mate Gay Porn Guy, Jack Van Duin
Known Aliases:
Years Active: 2016
BENTLEY RACE COMMENTS / INFO:
I'm totally swooning over my new mate Jack. This 20 year old tanned blond boy from the Netherlands has been travelling around Australia for the past year. In his final week in Australia he tells me he got up the courage to come around to my place for a shoot. And I'm really glad he did. Jack tells me that he spent most of the past year driving all over Australia with his mates, and at times naked! He showed me a few shots of him and his mates posing naked by the side of the road. He loves Australia and hopes to come back again. He was so excited as he talked about his travels and all the people he had met. He has got such a cute smile that keeps breaking out across his face as I direct him to strip off. That golden tan is a sign of how much time he has spent naked in Australia. In our day together Jack also stripped off one more time and fucked a fleshlight on my bed. The toy got him so excited that he blew cum all over his belly. The big smile on his face is a sign of how much he enjoyed getting filmed while getting off. It was a pleasure to watch my new euro mate showing off that beautiful furry bum and uncut cock before putting on a hot show. I hope we will cross paths and make more videos sometime. In the meantime please enjoy this scene with my sexy new mate.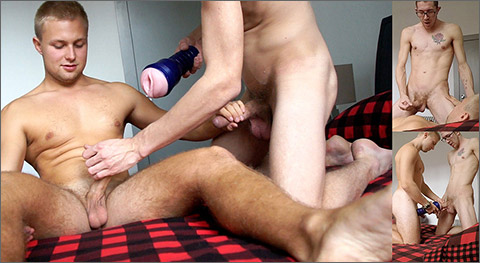 JACK VAN DUIN AND DAMIEN DYSON GET EACH OTHER OFF WITH SOME FLESHLIGHT WANKING FUN
This is one very hot video between my new mates Damien and Jack. And it's Jack's first time having sex with a guy on camera. He was a bit nervous about doing it at first. But then told me afterwards that he had fun doing it. In this scene Damien is showing our newcomer Damien how it's done. We start with a lot of kissing on the couch before the guys strip and move to the bed. They are enjoying wanking and sucking on each other's cocks before Jack suggests they play with a fleshlight. Bot of them love get the other to slowly push the rubber fuck toy up and down on their dicks. And it's actually how both of them end up cumming. It's Jack who ends up getting the cum all over him. I love shooting with both of these guys. Getting them together was awesome. They loved making out and getting off together.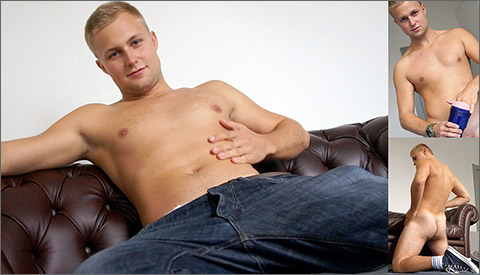 JACK VAN DUIN'S FIRST VIDEO – FLESHLIGHT FUCKING AND JACK OFF
20 year old Jack completely surprised me in this video as he started his first solo video scene. He was a bit apprehensive during the photoshoot about what to do. But he needed no direction at all once I started filming. This crazy beautiful Dutch guy instantly started playing up to the camera, teasing as he slowly stripped down to his pink undies. I can tell that he's having fun doing this and there's no rush to finish. Eventually Jack makes his way over to the bed where he lubes up one of the rubber fuck toys and glides his cock deep in to it. The he returns to the couch where he wedges the toy between the cushions so he can do some handsfree fucking. I can tell from his rhythm that he's getting close to cumming. Then he turns to me and asks "can I cum now"? And squirts a nice load of cum up on his belly. It's one of most beautiful and hottest solo scenes I've had the pleasure to record. I'm feeling very honoured to have had the chance to shoot Jack's very first porn video. I am hoping he will do a lot more.