Handsome American Hunk Gay Porn Star, Jack Andy
Known Aliases / aka:
Years Active: 2017
TWITTER @jack_andy6969
LUCAS ENTERTAINMENT INFO:
Position: Versatile
Dick Size: 9"
Height: 5'7
The handsome, all-American stud Jack Andy is a genuine guy. When asked about his favorite type of man, he didn't launch into a list of pros and cons, but rather said "kind guys" are his type. When Jack isn't filming porn, he loves showing off his throbbing nine-inch cock on his web cam and keeping his beautiful lean body in shape at the gym. "Usually I'm on the webcam or at the gym: coming four to five times a day takes some effort," Jack says. This Missouri native has a passion for modeling both in adult movies as well as for photo shoots. "I love dressing up — editorial and dark shoots are my favorite. Shadow play is the best… sometimes it is what you don't see that creates the allure," Jack added.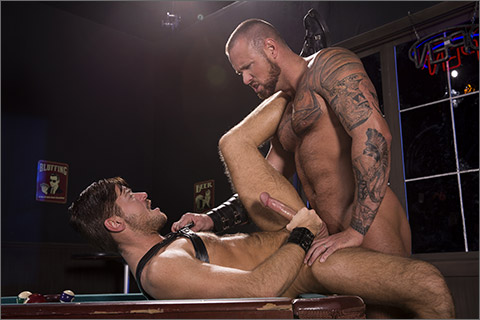 TWO DICK MINIMUM: Michael Roman fucks Jack Andy
In the dark alley outside the local cruise bar, big and muscular Michael Roman makes his move on ripped stud Jack Andy. They kiss passionately, then Jack frees Michael's bulge from his pants and wraps his lips around Michael's hard cock. Kneeling down, Michael returns the favor, tugging on Jack's balls and slicking up his shaft with slippery spit. The body hair that covers both men catches the light from the bar's signage. Bending over, Jack spreads his ass wide and Michael dives in face first. Moving inside the bar, Michael and Jack remove all their clothing (save for Jack's leather harness) and get down to business. Bracing himself against the pool table, Jack takes Michael's cock from behind. Putting all the power of his physique into his thrusting, Michael fucks Jack like an uncontrollable sex beast. Jack gets up on the pool table and throws his leg over Michael's shoulder. As Michael pounds his hole, Jack strokes his huge cock, getting closer and closer to cumming. Michael's thrusting is relentless and unyielding. With Michael deep inside him, Jack explodes with thick ropes of cum that drip across his hairy stomach. Michael grabs his hard meat and blows his load on Jack's cock and balls.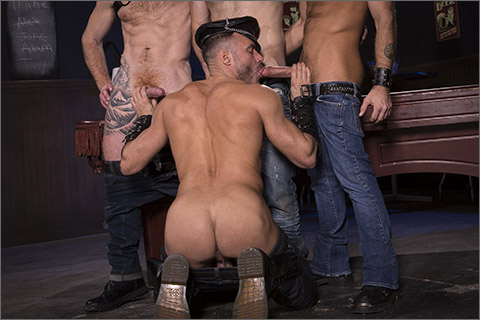 TWO DICK MINIMUM: Jack Vidra, Manuel Skye, CJ Phillips, and Jack Andy
The gritty cruise bar is closing down after a hot, sexy night, but Jack Vidra and Jack Andy aren't ready to go home yet. As the staff tries to clean up, they can't stop making out with each other. Manuel Skye announces last call, adding, "If you're not the one I'm fucking, get out of here!" Jack Andy and Jack Vidra ignore him, and instead pull their dicks out and rub them together. Manuel and his barback CJ exchange a conspiratorial look, as if to say, "Let's see how this plays out." Jack Vidra gets down on his knees and Jack Andy fucks his throat deep and hard. In the background, Manuel and CJ exchange deep kisses and grope each other's muscular bodies. As Jack Vidra worships Jack Andy's tool, Manuel and CJ come out from behind the bar and join them, instigating a four-man oral orgy. Jack Vidra sucks Manuel's massive meat as CJ attends to Jack Andy's throbbing tool. Manuel sinks to his knees to service Jack Vidra's lengthy cock, and adds to the intense pleasure by reaching up and tugging on Jack's plump, pink nipples. Jack Vidra leans against the pool table between Jack Andy and CJ, and Manuel services all their cocks at once. Using Manuel's face as a target, Jack Andy is the first to shoot, followed immediately by Jack Vidra's hot cum. With their loads blown, Manuel kicks them out (with a wink and a smile) so he and CJ can finish closing down the bar.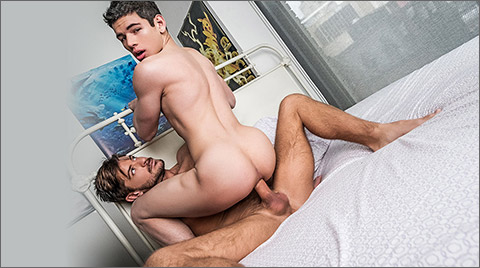 RAW DILFS: Ricky Verez Services Jack Andy's Hard Nine-Inch Cock
Jack Andy needs Ricky Verez to get his ass up and out of bed so they can start the day, but Ricky is being lazy. Jack has always treated Ricky like a kid stepbrother, but Ricky views him as more than that. For a long time, Ricky has harbored a strong sexual attraction to Jack, and he finally makes the move and lures Jack into bed with him. Jack doesn't resist, and instead lets loose on the little Latin bottom. Jack's nine-inch cock is huge and hard, and Ricky takes it in as many different positions as possible. But riding it is Ricky's favorite method, while Jack prefers getting the bottom on his back, legs up in the air, and pounding him until he shoots his load!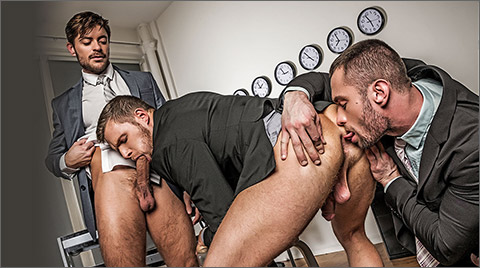 GENTLEMEN 19 – HARD AT WORK: Stas Landon And Jack Andy Double Penetrate Brian Bonds After Hours
It looks like Stas Landon learned a thing or two from his business mentor, Dylan James: if someone wants favoritism in the office, then they need to earn it. Stas is supervising two new employees he finds himself attracted to: Brian Bonds and Jack Andy. He gets a read that Jack is a wild pig and Brian was born to serve, so when everyone goes home for the day these three stick around. The bareback sex heats up when Brian opens up his ass for both Stas' cock and nine inches of meat Jack has between his legs.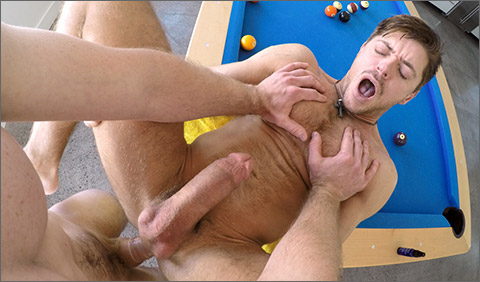 POOL TABLE FUCK
Horny daddy gets his dick sucked by his sexy billiards partner then bends him over for a hot, spontaneous fuck.

STRAWBERRIES WITH A KISS
After feeding Bryan strawberries and whipped cream, Jack seals the date with a romantic fuck.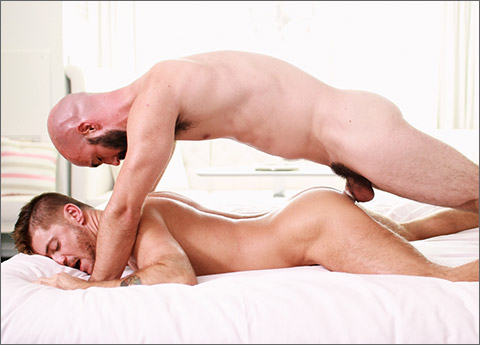 FAT OILED COCK
Jack gets an oily, erotic massage and his ass fucked by a hot daddy.
RAGING STALLION
LUCAS ENTERTAINMENT
GAY ROOM
CLICK HERE TO GO TO HIS LUCAS ENTERTAINMENT DETAILS