Next Door Studios solo performer, J Howling
Years Active: 2014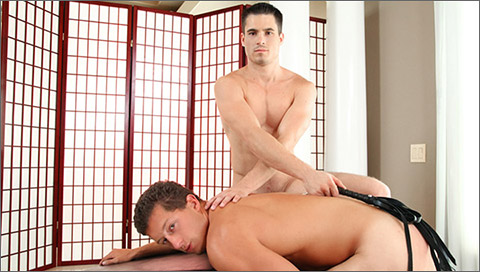 RICH BITCH
For millionaire playboy Drake Tyler, things usually come fairly easily. He's used to getting his way, and used to being in charge. And as much as this doesn't suck, Drake sometimes feels bored by it all. Luckily he has called J Howling. J knows all about power complexes, so when Drake calls him to make an appointment, J knows exactly what Drake needs. Upon arrival, J dispenses with any formalities and begins to immediately show Drake some tough love, seizing the power from this world dominator and grabbing him by the scruff of his neck and marching him to a back room, before stripping him and fixing in a restraint. J shoves his cock down Drake's throat, gagging him with it as he smacks Drake's inner thigh, playing and teasing the tip of Drake's cock through his underwear, and generally having his way with his tied up client. Drake begins to choke on J's hardening cock, as J runs his hands up and down Drake's chest, before spreading him wide, still restrained, and fucking him missionary while Drake lay helpless on his back like a turtle. J tightens the restraints on Drake's wrists as he continues to pound away, turning Drake over and slamming him from behind, flogging him with and pulling his hair, then ordering Drake to cum into his own hand and eat it, before busting his own nut all over Drake's waiting face.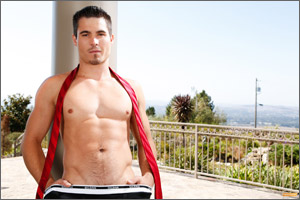 J HOWLING NEXT DOOR MALE SOLO
J Howling is a confident, strapping guy with an intense personality and a deeper, more contemplative side underneath. A Reiki practitioner and tantric student, J's focus is on energy transference and its healing properties, as well as the exchange of energy in a sexual context. A practicing dom, this alpha male knows all about the tease of control and power, and he exerts his will over the camera as he strips out of his shirt, then unzips his pants, stepping out of his garments as he strokes his cock naked at his desk. Reclining back, he puts his feet up on the desk and spreads his legs wide, rubbing the head of his cock with his thumb and forefinger before massaging his balls and working the shaft. Stroking with purpose, he closes his eyes and wipes his brow, before spewing his load all over his office in a mid-afternoon work break that's sure to get you through 'til quitting time.