Cute Blond William Higgins Czech Gay Porn Star, Ivan Sabado
Known Aliases / aka: Martin Osment, Czech Hunter 302
Years Active: 2017 – 2018
WILLIAM HIGGINS INFO:
Model Name: Ivan Sabado
Age: 18
Home Town: Prague
Height: 181cm/5'11"
Weight: 69kg/151.8lb
Foot Size: EU43/US8.7/UK8.2
Penis Size: 17cm/6.69″
Profession/Student of: Motor mechanic
Hobbies: Sport
Favorite Sports: Athletics
Active Sports: Handball
Movie/Music/Sport Stars: Gina Lollobrigida
Visited Countries: Croatia
Want to Visit Countries: Germany
Dream of My Life: I don't know.
Zodiac Sign: Libra (September 23 – October 22)

FULL CONTACT: DUSAN POLANEK & IVAN SABADO
Ivan Sabado is a very good looking straight guy who was up for a Screentest, so we paired him with Dusan Polanek. They sit and chat for a while with Dusan offers some help to Ivan with an injury he suffered playing handball. Ivan takes off his tee shirt and lays on his belly. Dusan straddles him and begins to massage his back. Then he turns Ivan over and rubs his hands all over his chest. In the process Ivan's cock stiffens and pokes out of his jeans. Dusan rubs it the then wanks it. He then goes down to suck on the hard cock, slapping it against his tongue in the process. His mouth works on Ivan's rock hard cock, Then Dusan remvoes Ivan's jeans and raises his legs to expose his tight ass hole. Dusan rubs his hand over the sexy hole before leaning forward to rim it. He keeps rimming the hole, and rubbing his fingers over it. As he plays with the hole he also wanks on Ivan's cock. Then he dips a finger into the tight hole and goes back down on the cock. His finger fucks Ivan's ass as he keeps sucking on his cock. Then Dusan stands and gets naked and positions his ass over Ivan's dick. He slides his ass down onto the cock and starts to ride up and down on it. His own cock is nice and hard and bobs up and down as he rides Ivan's. He takes hold of his own cock and wanks it as Ivan fucks his tight ass. Ivan fucks that ass deep as Dusan's wanking speeds up. With is cock rock hard and Ivan's deep in his hole Dusan shoots his creamy load. He rides that dick some more before dismounting. Then he takes hold of Ivan's cock and wanks it until it releases a big, creamy, cumshot all over the sexy body. Then Dusan takes Ivan off to the shower to clean up.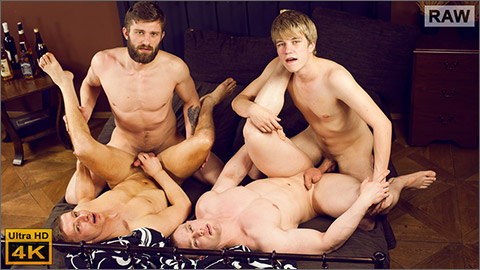 WANK PARTY #84
We join Filip Sebek, Jan Bavor, Ivan Sabado and Nikol Monak as Nikol's big hard cock is being licked and sucked by Filip and Ivan. Meanwhile Jan sucks on Filip's dick. Then Filip sits his hot ass down on Nikol's pole and Ivan slides his throbbing cock into Jan's waiting ass. Jan's ass gets nicely stretched by Ivan's dick and he wanks himself as he takes it. Filip rides up and down on Nikol's hard cock, taking right down to the balls. His ass really works Nikol's cock and Filip turns around and rides it face to face. Then Nikol takes over, fucking his big cock up into the eager hole. Jan lays on his back, legs up, for Ivan to fuck him in missionary position. He wanks himself hard as he takes the big cock. He quickly shoots his hot cum onto his belly as Ivan keeps fucking his hot ass. Ivan's fucking speeds up, going nice and deep into Jan's hole. Filip lays down as well and Nikol's dick goes back into his ass. Nikol pounds that ass as Filip wanks himself. Nikol really slams Filips ass as Ivan does the same to Jan's. Filip's wanking speeds up and he soon delivers his big, creamy load as Nikol fucks him. Jan turns over, onto his knees and takes Ivan's dick back into his ass. That thick cock slides deep into the waiting hole as Nikol continues to fuck Filip. Then Ivan is ready and pulls out to shoot his cum too. Nikol fucks even harder and he pulls out too, dumping his hot cum over Filip's cock and balls.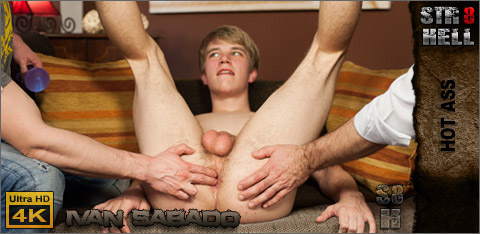 HOT ASS: IVAN SABADO
Ivan Sabado is such a great looking guy. He looks so hot as he sits in just his underwear and gropes inside it. He is quickly joined by two sets of helping hands who delight in feeling over his sexy body and getting his underwear off. They play with his hard cock, oiling it in the process. Then the hand turn their attention to his sexy ass. With his legs in the air that ass is available the hole is shown off. The hands take turns to finger it, with one and two fingers, opening it up nicely. The fingers really work Ivan's tight hole and soon a dildo is shoved into the hole too. His cock is wanked and his hole gets fucked by the toy. He is moved onto his knees for more fucking by the dildo as his cock is wanke as well. Then Ivan lays down again and has his beautiful cock wanked until it delivers a lovely cumshot, with the hot cream landing on his belly.
WILLIAM HIGGINS
STR8HELL
STAXUS
CZECH HUNTER
CLICK HERE TO GO TO HIS WILLIAM HIGGINS BIO PAGE
CLICK HERE TO GO TO HIS STR8HELL BIO PAGE