Handsome William Higgins Czech Gay Porn Star, Igor Tapak
Known Aliases / aka:
Years Active: 2017 – 2018
WILLIAM HIGGINS INFO:
Model Name: Igor Tapak
Age: 19
Home Town: Prague
Height: 180cm/5'10"
Weight: 80kg/176lb
Foot Size: EU43/US8.7/UK8.2
Penis Size: 17cm/6.69″
Profession/Student of: Worker
Hobbies: Sport
Favorite Sports: Soccer
Active Sports: Jogging
Movie/Music/Sport Stars: Adriana Sklenarikova
Visited Countries: Spain
Want to Visit Countries: Ireland
Dream of My Life: I do not know.
Zodiac Sign: Gemini (May 21 – June 20)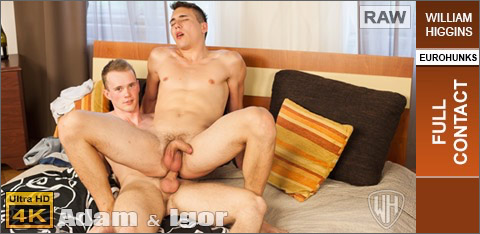 FULL CONTACT: ADAM NEZVAL & IGOR TAPAK
Adam Nezval's Screentest starts with him joining Igor Tapak on the bed and chatting to him for a while. He explains that he is single and is wanting to try new things. He is ok with Igor rubbing his leg and then leaning over to kiss him. Igor rubs Adam's crotch as they kiss and them he helps him off with his tee shirt. Igor kisses Adam's bare chest and continues rubbing his crotch. He opens Adam's belt and flies and takes off the shorts to reveal a rock hard cock. Taking hold of the cock Igor wanks it and then starts to suck it. His hot mouth works on Adam's stiff dick as he rubs the balls too. Adam pushes Igor's head further down on his cock. Then they kiss again before Igor returns to sucking. He sucks hard and Adam fucks his cock into the eager mouth. Then Igor kneels and opens his own jeans, pulling out his stiff cock. Adam returns the favor, sucking on Igor's cock. Igor removes his tee shirt as Adam works on his fat cock. After sucking for a while they move to 60, with Igor kneeling over Adam. Both suck cock like that with Igor licking up and down Adam's shaft too. The Igor lays on his belly, presenting his sexy ass. Adam climbs on and slides his rampant cock into the waiting hole. he fucks Igor's hot hole deep. Adam's sexy ass is on show too as he fucks that ass. His cock pounds the tight hole, going in balls deep. His ass is spread naturally showing off his hole as he keeps up his fucking. Then Adam sits on the bed and Igor slides his ass back down on that throbbing cock. He rides the cock, his own dick standing proud as his balls bounce. He really works his ass over Igor's cock . Then Igor takes over, fucking his dick up into the tight hole. They move again, into spoon position and Igor's dick slides back into the sexy hole. He fucks the ass deep and hard as Igor wanks himself. Igor keeps up his wanking until he shoots his hot load all over his left thigh. Adam's dick carries on pounding the tight hole until he needs to cum too. Then he pulls out and wanks his cock to shoot his cum over Igor's cock and balls, ending a great screentest.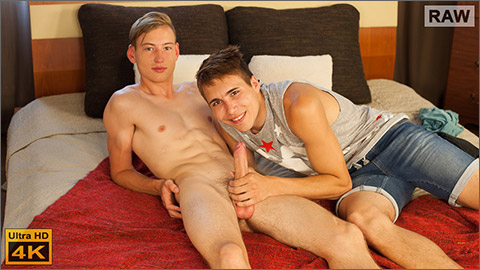 FULL CONTACT SCREEN TEST: IGOR TAPAK & LUKAS BERAN
Lukas Beran has his screentest, paired with Igor Tapak. They start off chatting as they sit on the bed, exploring what experiences Lukas has had. Then Igor persuades him to kiss. As they kiss Igor helps Lukas takes off his tee shirt. Igor runs his hands over Lukas' body. Then Lukas' shorts are removed too and his hard cock is exposed. Igor is soon sucking on that cock, licking up and down the shaft and sucking on the head. He kisses Lukas' again as he wanks on the cock before sucking again. Lukas' cock is rock hard and he moves onto his knees for Igor to continue sucking. That cock stands proud as the mouth works it and the tongue licks up and down the shaft. Igor then gets naked too and bends forward for Lukas to get behind him. Lukas slaps his cock against Igor's ass and then slides it into his waiting hole. The cock goes in easily and Lukas begins to fuck Igor's tight hole. He fucks that ass with long strokes, slowly at first and then speeding up. Igor takes the throbbing cock so well and when they move he quickly sits his ass back down on Lukas' big cock. He rides up and down on that dick taking every inch. Then they move to spoon position and we see that big cock really stretching Igor's hot hole. He grabs his own cock and starts to wank as Lukas pounds his ass. Igor keeps wanking himself as he takes Lukas' cock, shooting a big, creamy load as the dick pounds his ass. Lukas keeps fucking, going in deeper and fucking harder, then he pulls out and shoots his hot cum over Igor's balls.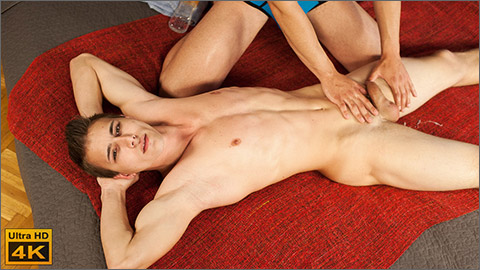 MASSAGE: IGOR TAPAK
Igor Tapak is one very hot guy. He is in for a massage. As he enters the room he looks around and begins to strip down to his underwear, showing off his hot, slim, build. Then he lays, face down, on the bed. Petr Zuska arrives to do the massage and he is wearing just his underwear too. He tells Igor to relax and he takes some oil to start the massage. Petr's hands glide over Igor's back and up to his shoulders. The hands massage those shoulders and down the back as Igor relaxes. Petr straddles Igor as he massages up and down the back. Then, moving to the side again, he begins to work on Igor's sexy ass. He pushes the underwear down to give access to it. Then the underwear is removes and Petr spreads Igor's legs. His hands work on the ass. pulling the cheeks apart and exposing the tight hole. Then he closes the legs again and massages them, going right down to work on the feet too. Parting the legs once more he moves back up to Igor's hot ass and begins to massage the cheeks. His hands rub up and down the ass crack onto Igor's cock and balls. The cock gets hard as the massage continues and Igor raises his ass to give better access to the cock. Petr takes hold of the stiff cock and wanks it. He takes more oil and rubs it over Igor's hot hole. Then he drips oil onto the ass. He slides a finger deep into the ass as he wanks Igor's rock hard cock. The finger goes in right up to the last knuckle as the cock is wanked hard. Igor cant hold back as his ass takes the finger and his cock releases a big load of creamy cum all over the bed. He turns over, onto his back, and Petr's hands run all over the sexy chest as Igor relaxes after his big cum shot.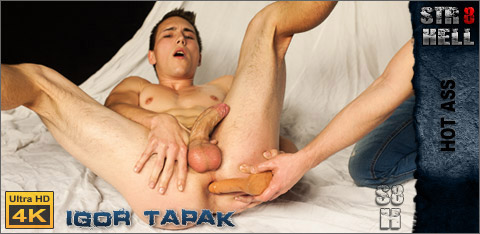 HOT ASS: IGOR TAPAK
Igor Tapak is such a hottie. He looks so good as he leans back on one elbow and feels all over his sexy chest. He reaches deep into his jeans to grope himself before he is joined by a helping hand. The hands roam all over that sexy body, taking oil to massage in as Igor pulls on his stiff cock. Naked Igor lays back with his legs in the air, exposing is tight hole. That ass looks so hot as oil is dripped and rubbed all over it. Igor keeps wanking his stiff cock as the hands rub over his hot hole. Soon a finger is probing the hole, sliding deep inside as Igor keeps wanking himself. Two fingers then slip deep inside that hot ass, stretching it wide. Next it is a dildo that gets pushed so deep into that sexy asss. All the while Igor keeps wanking his big cock. His ass gets fucked deep and soon another dildo goes all the way in. When it comes out Igor's hole stays open, wanting more. Back in goes the dildo, fucking him so deep. Igor turns over, onto his knees and feels his hole opened wide again by the dildo which fucks him deep. Then Igor lays on his back, and wanks himself to shoot the hot cum over his belly as the hands rubs over his sexy chest.
CLICK HERE TO GO TO HIS WILLIAM HIGGINS BIO PAGE
CLICK HERE TO GO TO HIS STR8HELL BIO PAGE