William Higgins Czech Gay Porn Star, Igor Galek
Known Aliases / aka: Debt Dandy 205, Diego Alvaros, Greg Noll
Years Active: 2017 – 2018
WILLIAM HIGGINS INFO:
Model Name: Igor Galek
Age: 19
Home Town: Prague
Height: 189cm/6'2″
Weight: 75kg/165lb
Foot Size: EU45/US9.1/UK8.6
Penis Size: 18cm/7.09″
Profession/Student of: Golf trainer
Hobbies: Sport
Favorite Sports: Jogging
Active Sports: Golf
Movie/Music/Sport Stars: Miley Cyrus
Visited Countries: Croatia
Want to Visit Countries: China
Dream of My Life: I do not know.
Zodiac Sign: Cancer (June 21 – July 22)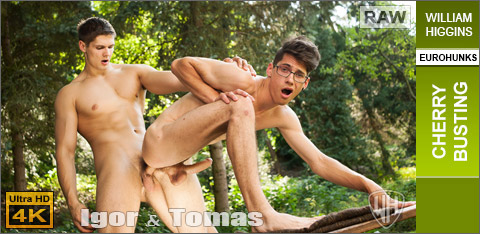 CHERRY BUSTING: IGOR GALEK & TOMAS FUK
Tomas Fuk is enjoying his e-cigarette as he sits in the garden. He is soon joined by Igor Galek who shares the vape. Soon the two guys are kissing each other and Igor goes down on Tomas' thick, hard, cock. He sucks that dick so well. Then the favour is returned as Tomas takes a turn on Igor's rock hard cock. They both get naked and as Igor lays along the bench Tomas climbs over him so that they can suck each other at the same time. Tomas is needing more than sucking and he gets it as Ivan's legs are raised to present his tight ass hole. Tomas' cock slides deep into the waiting ass and fucks him deep. Tomas keeps up his fucking as Igor wanks himself. Igor dumps a lovely cumshot all over his sexy body as Tomas continues to fuck him. Tomas still wants to fuck more, so they change position and that dick works Igor's hole some more. Tomas continues to fuck that ass until he is ready and he pulls out to shoot the hot cum all over Igor's sexy ass.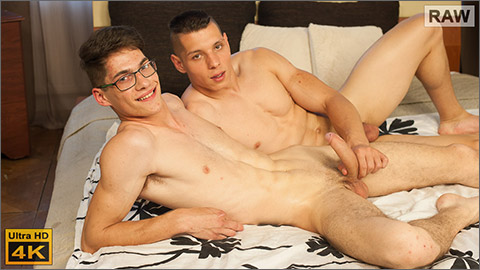 FULL CONTACT SCREEN TEST: IGOR GALEK & PETER LIPNIK
Igor Galek's Screentest see him joined by Peter Lipnik. They sit on the bed and chat for a while, to find out a little about Igor. Then Peter reaches and starts to feel Igor. He kisses him too. He opens Igor's jeans and takes out his cock. Then Peter removes his tee shirt and begins wanking Igor's cock. They keep up the kissing too. Peter kisses Igor's chest and then starts to suck his cock as well. As he sucks the cock it begins to swell in Peter's mouth. Soon it is rock hard from the sucking and Peter wanks and licks it. Then Peter removes his shorts to release his own stiff cock. he lays on the bed and raises his legs as Igor slides his big cock into the waiting ass. The big cock goes deep into Peter's ass and starts fucking. Peter takes hold of his own cock and wanks it as Igor's fucking speeds up. The big cock pounds into Peter's tight hole as he continues wanking himself. Then Peter moves onto his knees, with Igor behind him. Igor's cock slides back into Peter's hot hole and fucks him some more. The guys move into spoon position with Igor's rock hard cock deep in Peter's ass. Peter still wanks himself as Igor stretches his hot hole. Then Peter's wanking comes to a climax as he shoots his hot cum onto his belly. Igor continues to fuck that sexy ass, going harder and deeper until he is ready to blow his load too. Then he pulls out and wanks his cock until it dumps its' load too.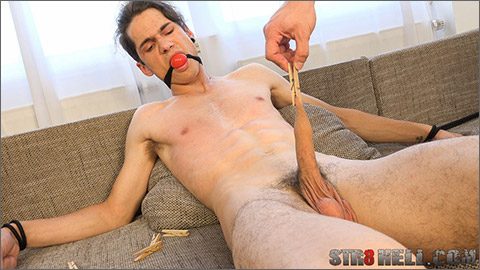 SPANKING: IGOR GALEK
Igor Galek is shackled and gagged and wearing just his underear. His tormentor, Filip Cervenka, arrives and starts to attach clothes pins to Igor's body. He also whips and spanks on that hot body as Igor moans. Then Filip applies the pins to Igor's cock and balls before whipping and spanking some more. He then turns Igor over so that he can spank the sexy ass. He spanks and whips the ass making Igor moan even more and then he spreads the cheeks to check out the hot hole. When he has enjoyed himself enough Filip lets Igor wank himself to a big hard erection and a very nice cum shot.
WILLIAM HIGGINS
STR8HELL
STAXUS
DEBT DANDY
TWINKS IN SHORTS
UK NAKED MEN
CLICK HERE TO GO TO HIS WILLIAM HIGGINS BIO PAGE
CLICK HERE TO GO TO HIS STR8HELL BIO PAGE