Handsome & Masculine Gay Porn Star, Hunter Marx
Years Active: 2009 – 2016
TWITTER @TheHunterMarx
FALCON STUDIOS INFO:
Nationality: U.S.A.
Height: 5'11"
Eye Color: Blue
Hair Color: Dark Brown
Endowment: 8.0 cut
Position: Top
JOHN BRUNO comments:
I'm very proud to annonce my latest discovery Hunter Marx. I think his pictures speak for themselves. Hunter is the quinessential MASSIVE MAN. Handsome. Massculine. Rugged. Muscular. I flew Mr. Marx out to LA a few weeks ago to shoot a couple of scenes. Hunter hadn't has sex for about 2 weeks prior to the shoots and he told me he had a ragin hardon during his flight to LA. I drove Hunter straight from the airport to my studio space. I second I asked him to take his clothes off he was rock hard. I love that in a model. After about 2 minutes of shooting Hunter was dying to blow his load for me. He almost passed out when I told him we had about another 30 minutes of video to shoot. All I can say is the Hunter did a fantastic job for his first video. I can't wait to meet up with Hunter again. I hope you guys ( and gals) like him too.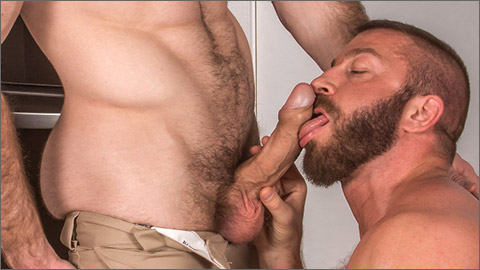 PACKAGE: Matthew Bosch delivers his huge uncut package to Hunter Marx's mouth and ass!
Lounging outside, Hunter Marx strokes his cock—which pulses as he licks his hand. He squeezes it inside his trunks to greet deliveryman Matthew Bosch—whose own bulge catches Hunter's attention. The uniformed stud sees Hunter's movies in the box: "I thought you looked familiar! I've always fantasized about doing porn." Hunter gives him an instant audition, pulling Matthew close for a kiss, their foreheads touching as they rub each other's bods. Hunter works up Matthew's dick, teasing the foreskin before trying to take it deep. The breathless sucker moans "Fuck!" as he comes up for air, spit dripping from his beard. Matthew sucks Hunter back, spit sliding from his mouth to the shaft and down Hunter's sac. Hunter eats and spreads Matthew's furry hole before fucking him from behind, ass hairs clinging to his shaft. Matthew sits down on Hunter, then fucks him back before taking it again—Hunter dumping his wad on the bottom's pubes and sac.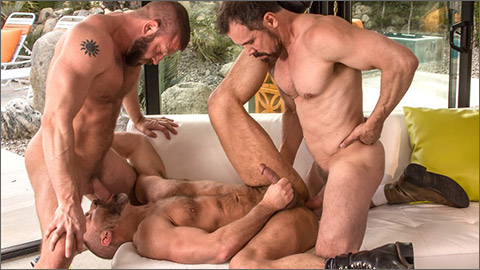 PACKAGE: Officer Dirk leads a 3-way with Hunter Marx and Daddy Max
On the deck, Max Sargent feasts on Hunter Marx's steel rod, breathing heavy from excitement as spit slides down the shaft. Max stands and feeds Hunter, who snaps his own dick up as he sucks. Officer Dirk Caber stumbles upon the scene and ushers them inside. "Down on your knees," he tells Max, making him suck Hunter. Dirk works up the bulge in his pants, a wet spot seeping through as he tastes the precum off his finger. Dirk whips his cock out and feeds Max, who sucks the studs back and forth as they kiss above him. Dirk feeds his precum to Hunter, who soon drops down to suck alongside Max. Dirk then sucks them both, repeatedly snapping up both of their boners at the same time: "Fuck yeah!" The three kiss as their dicks poke each other, Dirk then eating Hunter before fucking him. "Back to me! Fuck my cock!" yells Dirk as Hunter slides back on it. Max sits on Hunter as Dirk stuffs Hunter's mouth. Hunter rams Dirk's hole ("I love that! Fucking feeling you, every inch!"), the bottom soon covered in all three of their loads.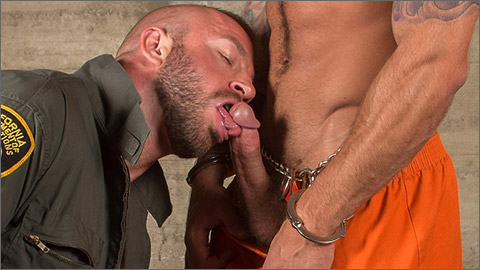 JAILBREAK: Jailer Hunter Marx fucks inmate Drake Jayden
Corrections officer Hunter Marx leads shackled prisoner Drake Jaden to a basement. "What the fuck am I doing here?" asks Drake, shoved in a chair by his uniformed superior. "I hear you've been handing out ass to the other CEs," says Hunter. "I wanna get a piece." Hunter whips out his big dick in front of Drake's wide-eyed face. "Fuck!" exclaims the prisoner as he looks up at the stud, quickly engulfing the beast. "Fuck that's a nice dick," says Drake as he spits on it. "I shoulda had you sooner." Drake sniffs the throbber before taking it to the root. Drake's big dick pops out of his jumpsuit, tempting Hunter—who sucks the tattooed brute back. Drake fucks his face as Hunter's nose hits his pubes. Hunter fucks Drake from behind, the bottom then sitting on him. The top squeezes precum out of Drake's cock and licks it off his thumb. Drake's cock fucks Hunter's hand, then bounces off the top's hairy stomach. They kiss, their arms all over each other's sweaty bods. Drake gets on his back, yelling "Fuck me!" as the two soon shoot all over his rock-hard abs.
TITAN MEN
FALCON STUDIOS
RAGING STALLION
CLICK HERE TO GO TO HIS TITAN MEN DETAILS

MEN MAGAZINE PRESENTS: TITAN MEN