SpunkWorthy American Gay Porn Amateur, Hugh
Years Active: 2014 – 2015
SPUNK WORTHY INFO:
Age: 20
Height: 5′ 7″
Weight: 165
Shoe: 9
Cock: 7″ x 5 1/2″
Orientation: Straight / Bi-curious
Hugh reminds me a little bit of Dennis the Menace. Not just 'cos of the flip in his blond hair, but in his personality, too. The curious or slightly mischievous kind of guy who'd try anything once. Or maybe twice, just to be sure about it.
   Hugh is 20 y/o and a military transplant from the Midwest, soaking up the weather and exploring his wilder sexual side while out here in So Cal. When he was approached about doing porn, Hugh jumped at the chance since it's something he'd been thinking about since high school.
   In the normal chit-chat when we first meet, the inevitable question comes up: "Why do want to do porn?" Usually, the response is related to money or liking the idea of showing off. Hugh's response came without a moment of hesitation:
   "I just like sex."
   Fair enough. And with that, Hugh set the stage for a sexually-charged shoot. He was obviously turned on by being in front of the camera and was flirting hard the whole time. Seemed like there was something that needed to be done about that, so, needless to say, I pulled out the ol' measuring tape to get the "Official Measurements" (cough cough).
   When I offered him some extra cash to get stroked off, Hugh was ready to roll with the sudden change of plans without missing a beat. I kinda wondered later if this was actually his plan the whole time!
   For a guy who normally jerks off 5 times a day, I didn't quite expect the explosive load Hugh was packing. And he's a vocal one. As I worked his cock up to an intense finish, Hugh's whole body clenched up and stream after stream of cum coated his chest.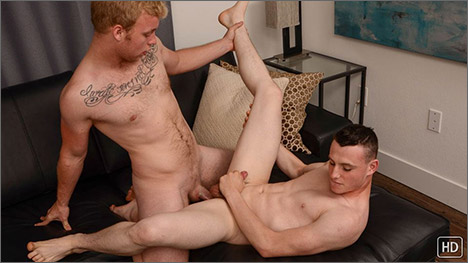 HUGH FUCKS TORY BAREBACK
Our first bareback scene!
After his massage video, when he tried a couple dildos, Tory said he wanted to try the real thing next. I had just the guy in mind for him: Hugh. He's got a thick dick and I had a feeling he'd jump in there and fuck Tory like a jackrabbit.
   At first, Hugh was a little edgy about making this next step, but Tory's excitement was enough to put him at ease. And apparently enough to get Hugh fired up, too. When Tory pulled Hugh's shorts down, his dick was already hard!
   Tory immediately started sucking him, wincing as he took it all the way down to the base, to the point that tears were running down his face. Not that it seemed to slow him down at all.
   Hugh sat on the couch and guided Tory's ass onto his cock. Tory rode it like a champ, moaning in pleasure. But the fun really started when Hugh stood up and started going to town with Tory on his knees– I was right about Hugh being a little fuck machine.
   Tory rolled over onto his back. Seeing how much Tory was enjoying the ride, Hugh grabbed Tory's cock and started jerking him off while fucking him. It didn't take long before Tory busted onto his stomach with Hugh stroking him in rhythm with his dick plowing Tory's ass.
   When Hugh's turn came, he stood up over Tory and shot one of his classic loads, spraying cum all the way up to Tory's face and drenching his entire torso.
Tags: Big Cumshot, Hairy, Blond, Anal
BLOWING HUGH
HUGH & COLT: JO BUDDIES
HUGH FUCKS TORY BAREBACK
CLICK HERE TO GO TO HIS SPUNK WORTHY DETAILS