Blond Hung Str8 Czech Gay Porn Amateur, Henri Nero
Known Aliases / aka:
Years Active: 2016
WILLIAM HIGGINS INFO:
Henri Nero is from Prague and is 27 years old. This hot straight guy works as a bricklayer and enjoys, in particular soccer. What a stunning looking guy Henri is, he certainly impresses as he stands, shirt over one shoulder and showing off his hot body. He slides his jeans down and adjusts his underwear to tease with his bulge. Sitting on the bedframe his puts one foot on it to pose. Then Henri stands again, turning and pushing down the underwear to reveal his sexy ass. He poses in that position with hands behind his head. Then he kicks off the underwear, flashing a beautiful soft cock and his balls. We continue to enjoy that sexy ass for a while as he poses some more. Then he turns again and the cock is on full view, resting on his low hanging balls. Henri then gets his cock hard and it is mighty impressive. He lays on the bed bringing his legs up to expose his hot, tight, hole as a very nice finale from the sexiest of guys.
Model Name: Henri Nero
Age: 27
Home Town: Prague
Height: 167cm/5'5″
Weight: 70kg/154lb
Foot Size: EU40/US8.1/UK7.6
Penis Size: 15cm/5.91″
Profession/Student of: Bricklayer
Hobbies: Sport
Favorite Sports: Soccer
Active Sports: Soccer
Movie/Music/Sport Stars: Alanis Morissette
Visited Coutries: Portugal
Want to Visit Coutries: USA
Dream of My Life: I don't know.
Zodiac Sign: Aries (March 21 – April 19)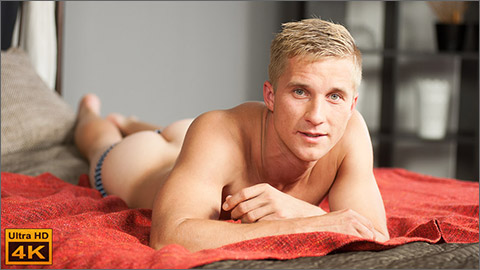 MASSAGE: HENRI NERO
Henri Nero agreed to a massage. He looks so good as he comes into the room wearing just his underwear and lay, face down, on the bed. He is soon joined by Filip Cervenka who takes some oil and gets to work massaging Henri's back. His hands glide all over the back and up to Henri's shoulders. Filip straddles Henri's sexy ass as his hands work deep into the back muscles. Then, moving to the side, Filip's hands slide into the underwear to work on Henri's butt cheeks. He pulls the underwear off that sexy ass and applies his oiled hands to it. That smooth, sexy, ass looks so good and Filip's hands work over it. He pulls the underwear from Henri's legs and reaches down to pull the cock back between the spread legs. More oil is used to coat that ass and then down onto the cock and balls too. Filip reaches down and wanks on the cock a little, with the head glistening with oil. Then he spreads the ass cheeks giving a glimpse of Hneri's tight hole. Henri moves onto his knees, with his heavy balls dangling between his legs as Filip rubs over that sexy ass. Filip reaches to wank on Henri's thick cock, grabbing his balls too. That hot ass hole is shown as the cheeks spread naturally as Filip keeps wanking. As one hand wanks the other rubs over that sexy ass. A finger slips into Henri's tight hole as well. His cock is rock hard from all the wanking and then he feels a vibrator slide into his tight hole as Filip continues to wank on the big cock. Then Henri turns onto his back and wanks himself, with his legs in the air to show more of that hot hole. Filip slips a finger back into the tight hole as Henri keeps wanking. The finger goes in so deep and Henri's wanking speeds up. His hole is finger-fucked as his cock shoots the cum onto his belly. Then he drops his legs and milks his cock dry.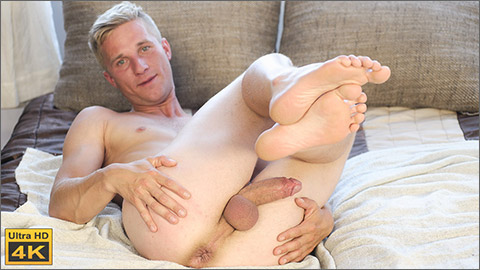 EROTIC SOLO: HENRI NERO
Henri Nero is from Prague and is 27 years old. This hot straight guy works as a bricklayer and enjoys, in particular soccer. He is s great looking guy and looks wonderful as he sits on the frame of the bed for his interview. Then Henri opens his shirt as he climbs onto the bed. His sexy chest is exposed as the shirt is removed and he starts to feel over his body. Undoing his belt too Henri moves to a sitting postion on the bedand slides a hand into his opened jeans. Then he slides the jeans down and starts to rub his groin. The underwear begins to bulge as he rubs his cock with one hand and his chest with the other. Pulling down the waistband of the underwear he releases his cock and takes hold of it. The underwear comes off as he begins gently wanking on his cock. The cock begins to swell under the gentle ministrations until it is rock hard. After wanking for a while Henri lays down and lift his legs in the air to reveal his sexy ass. The cheeks are parted and his tight hole is shown as he keeps wanking. Then he uses his hands to pull that ass even wider, with the hot hole looking so inviting. He turns over, onto his knees, balls dangling between his legs as he continues to show off that sexy ass hole. Then Henri stands, with one foot on the bed and wanks his beautiful cock some more. This time the wanking gets hard and fast until he announces that he is cumming and the hot cream shoots from his cock. He milks the cock dry and then goes off to the shower to clean up.
CLICK HERE TO GO TO HIS WILLIAM HIGGINS BIO PAGE