Men At Play Spanish Gay Porn Hunk, Hector de Silva
Years Active: 2015 – 2016
TWITTER @hectordesilvaxx
MEN AT PLAY INFO:
Menatplay introduces new spanish blood.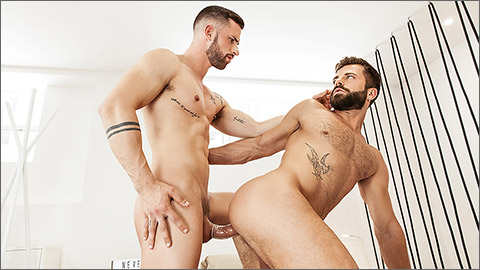 SENSE 8 A GAY XXX PARODY: Hector De Silva, Sunny Colucci
Sunny Colucci and Hector de Silva find themselves together in the same room, though they live thousands of miles apart. The guys use their Sense 8 abilities to an orgasmically satisfying climax.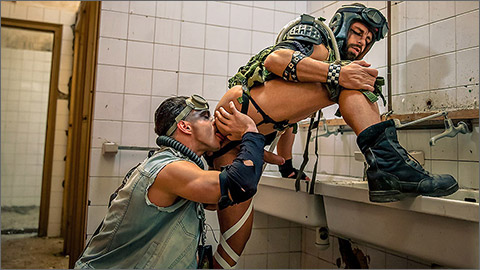 APOCALYPSE: Hector De Silva, Paddy O'Brian
The world is nearing collapse when a fight breaks out over one of the few remaining females. Paddy O'Brian defeats Hector De Silva but instead of finishing him, he takes him aside and rewards him with his fat cock.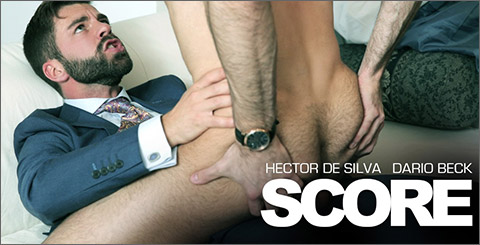 SCORE
It starts as a perfectly innocent evening – two friends watching a football game on TV, drinking a couple of beers and bonding like any regular friends would do. But as the beer starts flowing and the friends get more into the game, Hector starts suspecting that the blokey touching between them might not be that innocent after all. So he decides to get it all out in the open – literally unzipping his trousers and flopping his thick uncut dick out, and asks Dario straight up 'Is this what you want? Then start sucking."
   Hector takes the dominant role, forcing Dario to service his dick as he sits back on the couch enjoying the feeling of his friends tongue working his dick. He then turns his attention to Dario's ass and giving him the deep fucking he's been clearly craving for months. And as Dario rides Hectors hard cock he shoots a delicious load all over Hector's suit.
   And just like that the men go from housemates to regular fuck-buddies.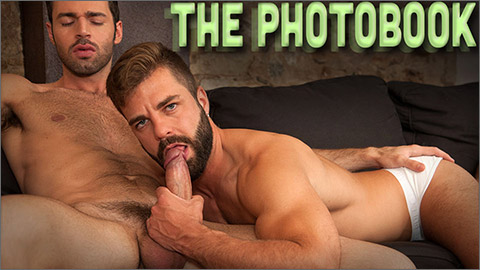 THE PHOTO BOOK
LucasKazan.com presents THE PHOTO BOOK, filmed on location in Barcelona and starring Dario Beck and Hector de Silva. "Galeotto fu il libro…", wrote Dante in Inferno V. "Gallehault was the book…" So is the photo book in this episode, conjuring Dario Beck's sexual fantasies. The object of his desires? Hunky Hector. "Two of the most handsome MEN in porn", comments director Ettore Tosi, "setting the set afire. And a tangible, off-the-chart chemistry".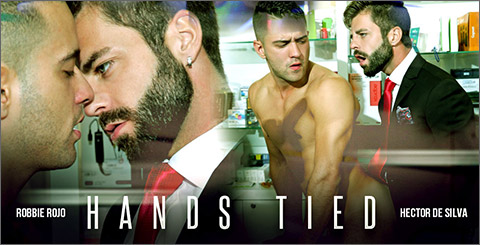 HANDS TIED
Robbie Rojo seems to be gaining quite a reputation at work, after offering sexual favours to his boss Dallas Steele – and the rumour going round is that he's an amazing fuck, and always horny for more! So when Hector asks him to swap one of his work shifts, Robbie plays hard ball and manipulates his handsome colleague to get exactly what he wants from him – except this time he wants him restraint so he can have his fill of Hectors thick, uncut cock. With Hector's hands tied firmly behind his back, Robbie gets on his knees and helps himself to an endless serving of Spanish dick. Robbie just can't get enough of it and by the look on Hectors face the rumours of his 'oral skills' were most definitely true. But what Hector wants to know if Robbie's ass is as sweet as they say, and he unties himself dying to get his tongue deep in Robbie's smooth hole, before fucking his young colleague to within an inch of his life!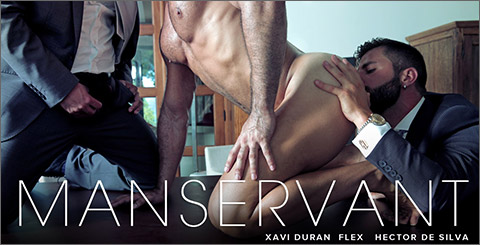 MANSERVANT
What a beautiful piece of beef to put between a suited sandwich! The ever stunning Flex gets played like a rich playboy's toy, as the obliging servant of Hector de Silva, in this weeks "MANSERVANT". Handsome Spaniard Hector returns as the wealthy business man who likes to show off and conduct meetings in his hillside villa. When sexy young associate Xavi Duran notices the stunning new butler, half naked after having a relax in the pool on his day off, the two tycoons decide to have a little fun. The subservient Flex knows his place and is happy to go down on his Masters house guest. Hector is so turned on by the show he finds he needs servicing too. Before long both Flex and Hector are doing all they can to give Xavi a welcome he won't forget simultaneously sucking on his thick hard dick. With both businessmen primed and ready for some carnal action, they take turns to fuck, rim, and get sucked off by Flex as his stacked body kneels doggy style on the table just asking to be used. What follows is pure Tag-Team Spit-Roast Heaven!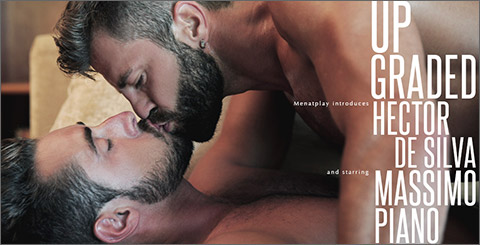 UPGRADED
If you've been away from Menatplay for a while, then this August is definitely the time to be getting off on the new mesmeric men we're bringing you to make your summer even hotter. Let's get started with this week's dapper duo un UPGRADED. Not only have we got a brand new Spanish stud, Hector de Silva making his debut, but we've couple him with the beautiful Massimo Piano who bottoms for the first time on Menatplay. The man does know how to take a big cock, and Hector gives it to him with undeniable lust in his eyes. Whatever you do, do not miss this spectacular pairing!
MEN.COM
MEN AT PLAY
LUCAS KAZAN