Canadian CockyBoys Gay Porn Star, Hayden Colby / Matthew Parker
Years Active: 2009 – 2015
COCKYBOYS INFO:
Matthew Parker is that everyday kind of guy you might notice on the street with a smile… But when he takes his shirt off, you're like holy fuck! There's a porn star hiding underneath! Matthew is straight up stunning, especially when you see him standing up naked, force feeding his cock to an eager guy. He's sexually versatile, but uh… When he tops it's like watching a power drill annihilating concrete. A true prince on the streets but a beast in the sheets, matthew is your favorite new dreamboat fuck buddy!
LUCAS ENTERTAINMENT INFO:
Nationality: Canada
Height: 5'8″
Weight: 140 lbs
Dick Size: 8″uncut
Position: Versatile
Smooth shorty Hayden Colby is all power. This passionate performer loves to show off his bubble-butt and thick uncut cock. Hayden started working in adult movies because watching other guys on screen turned him on so much. Born and raised in Quebec, this bilingual citizen enjoys going to the movies, clubbing, and traveling.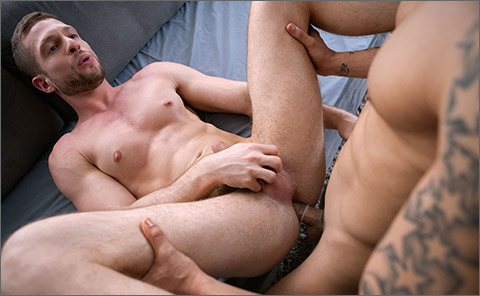 MATTHEW PARKER & SAN BAPTISTE FLIP-FUCK
Meet Matthew Parker and San Baptista, two real-life fuck buddies from Montreal. We've often shown you real-life couples here at CockyBoys, but real-life fuck buddies are a different thing entirely — there's more urgency, more aggression, more hunger to figure out exactly what turns the other on. And with Matthew and San — two completely different types of guys — their flip-fuck was truly a sight to behold.
   Physically, the guys are complete opposites — Matthew with his stunningly muscular body bare of tattoos, and San with his inked up bad boy appeal. The combination really made for some hot chemistry. The guys started making out at first, but as is usually the case with fuck buddies, they wanted to get to the main event as quickly as possible. After they stripped down to their underwear, San fingered and rimmed Matthew's eager bubble butt and then Matthew worked on San's cock with his lips. Then, we finally get to see the perfection of Matthew's body as he stood up and made San blow him on his knees. This almost immediately led to a hot 69, and by this time, the guys were more than ready to be pounding each other's brains out.
   Matthew laid back on the couch and stretched his knees to his shoulders, looking San straight in the eyes as San prepared to fuck him. You could tell that fucking is really what these guys love the most, because they suddenly became much more verbal. And they both have very distinct styles of fucking. San loves giving slow but extremely deep thrusts, both in missionary and doggy-style. Matthew, on the other hand, took hold of San's ass and just drilled him like a horny jack-rabbit, his cock moving in and out of San so fast that his balls and San's hole often looked like a sweaty, sexual blur. Matthew definitely proved to be the more aggressive of the two, even after he let San get on top and shoot his load. Matthew pushed San to the carpet for his grand finale, cumming all over his eager but spent bubble butt.

ADRIAN LONG SLAMS BOTTOM BOY HAYDEN COLBY
WORSHIPPING ZEUS
SUB SEEKING MASTER!
SEDUCED BY A PRO
A STEAMING HOT WINTER CHILL!
MATTHEW PARKER & SAN BAPTISTE FLIP-FUCK
HAYDEN COLBY FUCKS BRANDON JONES
HAYDEN COLBY JACKS OFF
HAYDEN COLBY FUCKS BRANDON JONES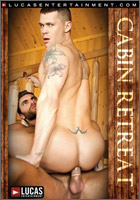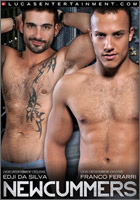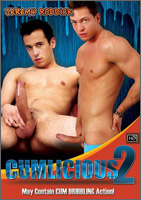 CABIN RETREAT
DICK HUNGRY
MAN HANDLED
NEWCUMMERS
POSITION TO FILL
FACE FUCKERS
TWINKLICIOUS
TWINKLICIOUS 2
CUMLICIOUS 2
PLAYIN' WITH PIERRE
COCKYBOYS
MEN OF MONTREAL
VIDEOBOYS
LUCAS ENTERTAINMENT
CLICK HERE TO GO TO HIS COCKYBOYS DETAILS