Bentley Race British Mate Gay Porn Guy, Harry Lane
Years Active: 2015
BENTLEY RACE COMMENTS / INFO:
I want to introduce you to my new mate Harry Lane. Harry is a 21 year old straight British lad living here in Melbourne. One of his mates told him about the site and he immediately dropped me an email asking if he was good enough to model on the site. His pics were pretty poor quality so I wasn't sure at first. But I'm glad I got to meet him in person. Harry is really beautiful, and a really sweet guy to hang out with. He was a bit nervous at first for his first nude shoot, but I think he did really well. His video scene is especially hot. After we got the photos out of the way we headed to my bedroom where Harry could strip off one more time and jack off while watching a porno. Make sure you watch this video right to the end to see that big cheeky grin on Harry's face. I'm fairly sure we'll be seeing Harry Lane on BentleyRace again soon.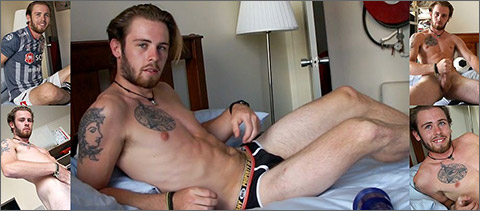 HARRY LANE'S FIRST PORN VIDEO – STROKING AND FLESHLIGHT FUCKING
For a guy who has never been naked in front of a camera before Harry did very well in his very first porn video. I thought he might be a bit nervous, but he didn't appear to be nervous at all. He was laying back on my bed, stripping naked and jerking off. In this scene Harry works his uncut dick rock hard while watching a porno on the TV. He also lubes up a fleshlight and tries some fleshlight fucking for the first time. My new straight mate looks great as he works himself on the bed. I really like Harry's confidence as he looks right to the camera while he shows himself off. After making such a hot scene I'm hoping Harry will join us again soon.