Ron Lloyd's LegendMen.com Model / Performer, Guy Sterling
Comments from Ron Lloyd:
I love Guy! He's got everything going for him. His body is like a work of art, with a personality to match. Humble, gracious, intelligent and gentle are some words I use to describe him.
   He hesitated when I first approached him about erotic nude modeling. Fortunately for all of us, he took the leap and continues to work with me exclusively in this genre. When he's not getting off on camera for Legend Men, he's a stuntman in film productions.
Quickstats:
Height: 5′ 10″, 177.8 cm
Weight: 180 Lbs., 81.8 Kg
Eyes: Brown
Hair: Dark Brown
Length: 8 Inches, 20.3 cm
Girth: 5.5 Inches, 14.0 cm
Cut: Mouth-Wateringly
Smooth: Sometimes
Hairy: Pleasantly
Sign: Taurus
Boxers: Boxer Briefs
Briefs: Sometimes
Bicep: 18 In, 45.7 cm
Waist: 30 In, 76.2 cm
Shoe: 10.5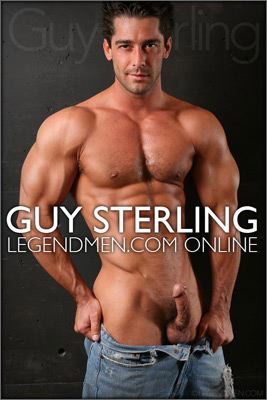 GUY STERLING LEGEND MEN SOLO
GUY STERLING SOLO 2
   NAKED HAIRY JOCKS 2011 CALENDAR
   HAIRY JOCKS NAKED 2012 CALENDAR