FuckerMate Brazilian Gay Porn Star, Gustavo Rodriguez
Years Active: 2015
FUCKERMATE INFO:
Country: Brazilian
Age: 25
Cock size: 7″
Gustavo is hot and a real bad boy, a Brazilian treat. He may look shy but underneath that sweet exterior is a horny Fuckermate with an insatiable sexual appetite. His toned and tattooed physique is incredible. A great addition to the Fuckermate family.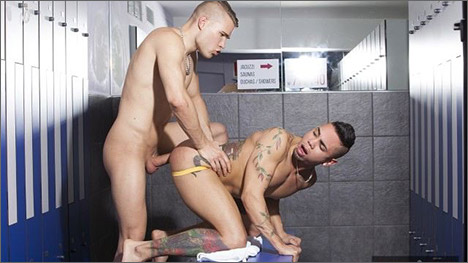 BEASTS IN SAUNA BARCELONA
Sauna Barcelona opened it's doors to Fuckermate.com. What we found was Jordan Fox giving a hard Fuckermate welcome lesson to our newest Brazilian mate Gustavo. This exclusive access to Sauna Barcelona is full of hot, hard, dominant and nasty sex. This video is full of cum, piss and spit, from the shower to the Sauna cabins this is one horny space for our Fuckermates to get down and dirty.We must admit that it was complited for us choose a short trailer for you, because the video is pure fire and only hard sex, dont miss the full one.