ChaosMen Amateur American Gay Porn Star, Griffin
Years Active: 2014 – 2016
TWITTER @griffinbarrowsx
ChaoMen Start Age: 25
Debut: July 14, 2014
Height: 5'11"
Weight: 175 lbs
Cock: 7″ Cut
Wow! What a great find Griffin is! He found the ChaosMen via Tumblr, and instead of searching for videos to snag, he decided he wanted to be IN the videos.
   I immediately loved his scruffy beard, tight body, and in most of his pics he sent in, he had this amazing genuine smile.
   And you quickly see that amazing smile at the outset of this video. His easy going, gregarious, and has an optimistic nature will stand out. His friendly nature belies a very hot sexy attitude about guys. In many ways that part of him reminds me of Vander. I suspect he will be one of those guys that can morph into any sexual situation and always ready to play.
   He does not have much experience fucking guys. He is mostly into giving head, and if a guy is going to give him head, he has to have some skills too. He is down to fuck, but all the guys he listed out as his favorites, were all pretty hung. So I am not sure if his eyes are bigger than his hole.
   Griffin has quite a hook on his dick, and he tends to squeeze the head pretty hard, focusing on all the sensation there. He loves to Edge, and can keep himself about to cum for hours. He held back one day for us, and he was super ready to bust the entire video.
   Definitely adding Griffin to Team Chaos, so look for more of him in the future!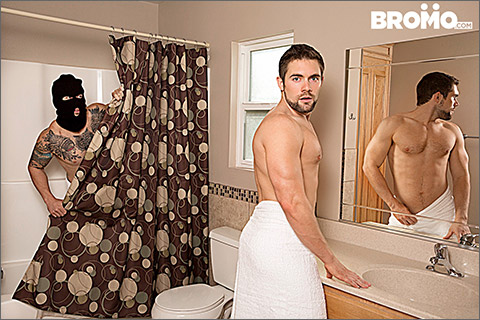 THE INTRUDER: Brad Powers fucks Griffin Barrows
Part 2 of The Intruder series starts with an unexpecting Griffin Barrows minding his own business. That is until the Intruder, Brad Powers, appears from behind the shower curtain. Griffin is reluctant, but Brad's hands feel so good he can't help but explore more of what the Intruder has to offer.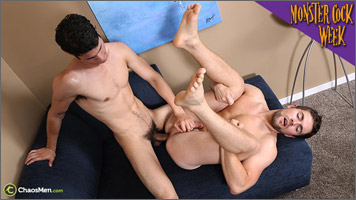 RAW: GRIFFIN & TROI
I wouldn't say Griffin is a size queen, but he does appreciate a rather large cock. Not so much to sit on, but he does like a challenge when it comes to swallowing!
   Since he joined the team, I asked him who he would like to work with, and Troi was at the top of his list. He watched a few of his videos and prepared himself for some deep throat action. Griffin was more worried about sitting on his cock, as his anal experience is not nearly as high as his sucking experience.
   I knew he could handle Troi though. He is a thoughtful Top, and never hurries a guy to take his cock.
   Griffin starts out by showcasing his oral skills, and I am pretty sure this is only the second time Troi's cock has disappeared completely down someone's throat- Brenner being the first time. Troi was impressed with his skills as he serviced him. He returns the favor, but they quickly move into a position where Troi can throat fuck him. Both guys were loving this position!
   We used the small couch for most of the shoot, and the guys did amazing given the cramped quarters. Griffin rides Troi's cock, starting by letting himself ease onto Troi's long cock before letting Troi rapid-fire fuck him. It seems Griffin's worries about taking Troi's cock were not needed!
   Troi fucks Griffin doggy-style and on his back, which was the perfect position to make Griffin cum. Troi unloads all over Griffin's hole, then shoves his cock in, marking his territory!
Keywords:
Build – Swimmer, Chest – Smooth/Natural, Cock – Hung, Cock – Uncut, Ethnicity – Latin Guys, Ethnicity – White Guys, Hair – Brown/DK Blond, Hair – Brunette/Black, Pubic Hair – Intact, Pubic Hair – Trimmed, Sex Act – Anal Sex Fucking, Sex Act – Bareback, Sex Act – Creampie Breeding, Sex Act – Oral, Theme – RAW, Video – HD – High Def, X-Tras – Tattoos
CLICK HERE TO GO TO CHAOSMEN BIO PAGE ON THIS PERFORMER