American GuyBone Gay Porn Dude, Greyson Kent
Known Aliases:
Years Active: 2014 – 2016
TWITTER @GreysonKentxxx
GUYBONE INFO:
Ethnicity: Mixed
Height: 5'7"
Body Type: Slim
Tattoos: No
Dick Size: 7" cut
Body Hair: None
Facial Hair: Goatee
Position: Versatile
Piercings: Yes
Greyson is anything but shy. He seemed like a porn veteran when he arrived to film. From his devilishly sexy smile to his raging erection, Greyson didn't disappoint on camera. And he's a moaner. Probably the most vocal GuyBone guy. I'm surprised I didn't drop the camera out of surprise when he came and let out a loud orgasm cry.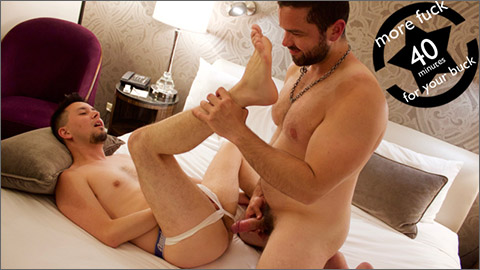 MAULDER TOPS GREYSON RAW
Passion, passion, passion! Maulder and Greyson had electric sparks from the start, sucking face and swapping spit like they'd been pent up for years. Their eager hands roamed each other's bodies. Their hips swayed, their groins rubbing through shorts. There was so much sexual tension ready to explode between these two, they ended up with an extra 20 minutes of footage! That's not only more fuck for your buck, that's double the length of a standard action scene AND only the second time we've gone that long on GuyBone! Damn hot! What a way to kick off our 5 Year Anniversary!
   Greyson teased Maulder's furry nipple with his talented tongue. Maulder flexed his big beefy pecs and flashed those perfectly hairy pits. His own talented tongue took its turn on Greyson, licking his lips, his mouth, his neck, his armpits. He bit his nipples and made Greyson whimper in pleasurable pain. Maulder was in full dominant force, issuing just enough pain to let his position be known, but then plenty of tenderness to heal the hurt. It was so hot seeing this muscle cub on top of slender jock Greyson. Their bodies fit together wonderfully and I was getting very ready to see some nudity.
   Greyson obliged my wish by whipping Maulder's thick uncut cock out of his tightening shorts. Good thing he released the beast, that fly was about to bust! That swollen shaft and fat cock head were almost too big for Greyson's petite mouth, but he's an oral pro and made it work like he always does. Maulder was thoroughly enjoying the blowjob, encouraging his partner to "come on, swallow that dick" and smacking his boner against Greyson's outstretched tongue. Greyson worshipped Maulder's big, tight nuts, driving the sexy Latino wild with ecstasy and expletives.