Handsome Corbin Fisher Amateur College Hunk, Grant
Years Active: 2016
CORBIN FISHER INFO:
Age (2016): 23
Waist: 32
Eyes: Hazel
Height: 6′ 1″
Weight: 170 lbs
Hair: Black
Build: Athletic
Cock: 8.0″ cut
Shoe: 11
One look at Grant and it's obvious he's a total stud- washboard abs, great muscles, and bright blue eyes. He's also one of the nicest guys you can meet, and it's clear from a look at his friendly and handsome face. Grant's working to be an EMT and it's a good thing too because he's been stopping hearts since he showed up.
   Grant's a smart guy with a good head on his shoulders, but he also has an undeniable sexual side that's aching to be set free- and we're so glad that he chose CF as the place to unleash it.
   Along with a good head on his shoulders, Grant also has a massive dick in his pants! It's almost upsetting how much this guy has going for him! But it's hard to be upset when looking at him stroke that big cock- and impossible when watching him splatter an incredibly impressive load of cum all over the mirror!
   I'll tell you one thing, I have no intention of getting that cleaned up any time soon!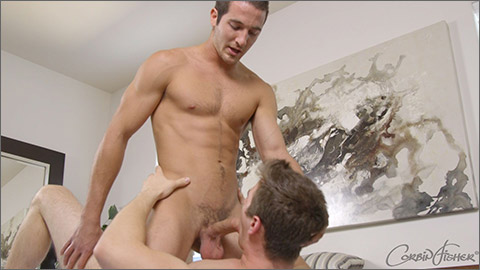 GRANT'S FIRST TIME
The rumors have been flying in since Daniel hinted about a hook up with a hot stud with a huge cock he'd just had. Seeing the action for myself, I could tell why he was so eager to talk about it- the way he was worked over is worth celebrating! From start to finish Daniel's face tells you all you need to know about the quality of the fuck he's getting!
   Grant is hard almost immediately and seeing that big dick of his experiencing a blowjob from a guy the first time, especially while he has a nice cock in his mouth is beyond hot- and that's just the start! Things get even better when he slides that hot cock into Daniel. Grant is a natural and incredibly passionate. You can see his curiosity blossom to surprise and ultimately pleasure the more he explores and experience's Daniel's body.
   We also get a better glimpse of his diversity. At some points he's slow and sensual, in others he's hard and deep- he's enjoying sliding his dick in and out of his hole in every way, and does so. There's no doubt about it, whether it be guy or girl- this guy knows how to fuck!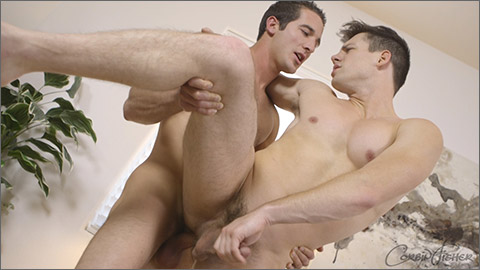 GRANT GIVES IT TO KELLAN
Seeing as he wasn't the guy to break in Grant, what Kellan has in mind is being the best Grant's had. It sure starts off that way. Kellan kisses him passionately and in no time the guys are into it and working off their clothes. The two seem to compete on who kisses better- with Kellan giving it to Grant at the end. As the winner, Grant has something to give Kellan as well!
   A rock hard dick is unveiled when Kellan pulls down Grant's underwear. Though he might be a better kisser, Kellan shows him that he's the better knob swallower- taking that big cock like a champ! I've seen Kellan suck quite a bit of cock- but this is definitely the hottest he's looked doing it!
   There is some undeniable attraction between the two studs that culminates when Grant slides into Kellan. Grant can't stop catching glances at his partner and they keep in constant intimate contact. Kellan rides Grant for all he's worth while Grant jerks him off for a spectacular cum shot that lands all over Grant's perfect chest and abs. Then it's Grant's turn and he sprouts like a well!