Hunky Uncut German Born Gay Porn Star, Hans Berlin
Years Active: 2012 – 2017
TWITTER @HansBerlinxxx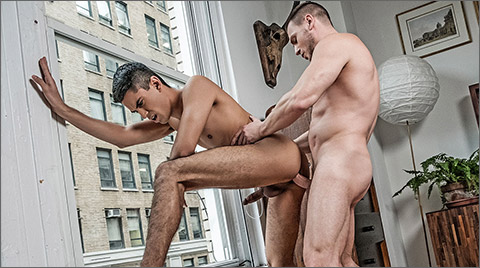 RAW DILFS: Lee Santino Bottoms for Step-Daddy Hans Berlin
Lee Santino is caught jerking off in bed by his stepdad Hans Berlin. Lee's embarrassed, but continues to have a hard-on despite being found out. Hans notices this, and instead of walking away decides to show Lee what sex is actually about and not just how it appears on the internet. Lee learns from his stepdad just how much he loves sucking on uncut cock and getting fucked in the ass bareback. Hans Berlin is rough in bed, so Lee Santino gets one hell of a workout from his stepfather!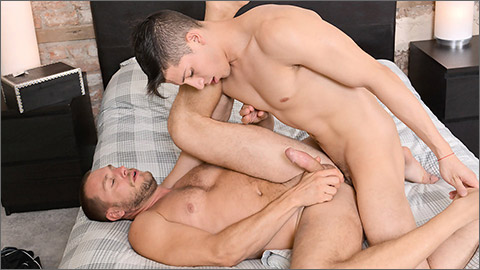 HANS BERLIN & DANNY MONTERO FLIP-FUCK
That famously thick and meaty tool is ready for some hole, and Danny is definitely up for it! Handsome hunk Hans wastes little time getting that cock between the young mans lips, and gets plenty to suck on from Danny too before the fucking starts. He stretches and fills Danny's butt in some hot positions, pinning him on the bed and using his arse before giving up his own! Yes, it's a flip flop, and Danny gives as good as he gets before their cum shots are pumping out!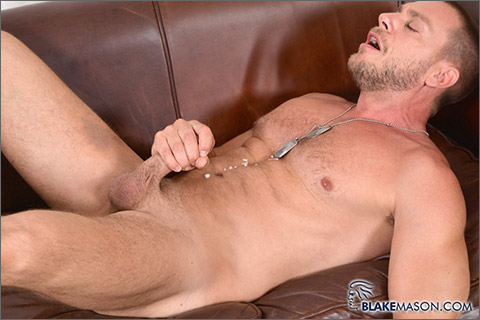 HANS BERLIN BLAKE MASON SOLO
Hans is no stranger to us, so we're very happy to have him appearing on video in his first wank scene for the Blake Mason audience. The gorgeous hunk is a famous porn star already, known for being a great versatile top with a big uncut cock that all the guys can't get enough of. Find out more about him and enjoy his first video with us, we hope there'll be a lot more of him after this!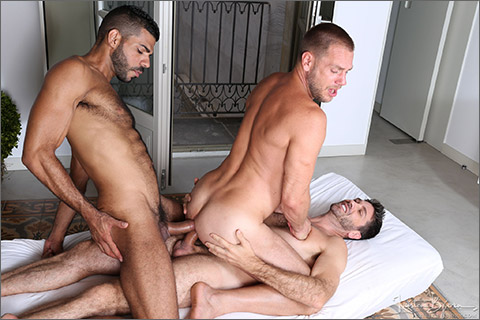 SKINS – DOUBLE OR NOTHING: CRAIG DANIEL & HUGO ARENAS DP HANS BERLIN
While checking out the goods in the shop windows, Daniel and Hugo find themselves being checked out by Hans. Hans knows what he wants and is ready to close the deal. Daniel and Hugo immediately take Hans back to their new apartment where he is quickly put into action. Hans finds that Daniel and Hugo like it rough, just like himself. Hugo unleashes his mammoth cock and begins stuffing Hans' mouth and throat to capacity. Daniel then whips out his huge cock and takes Hans by the head and fucks his mouth hard. Hans' limits are stretched with these enormous cocks as Daniel and Hugo tag-team Hans' hungry mouth. Hans is spun around as one man fucks his hairy, pink hole with his tongue as the other fucks his mouth with his hot cock. After both men tongue fuck his ass, Hans' mouth is then jammed full with both of those huge cocks. Now that these two gargantuan cocks are hard as rocks and well lubed, Hans sits down on Daniel's cock. Just as he gets Daniel's raw cock all the way inside of him, Hugo comes from behind and rams his raw cock deep in his ass as well. Both men gyrate and pump their cocks in that hot hole as Hans repeats "that's too big" but he never stops the incredible sex. Hans is then flipped and squats down on Daniel's cock. With his legs spread wide open Hugo comes along and shoves his cock back in his drenched pucker hole. The fucking continues until Hans can no longer hold back and lets his hot load of cum fly. While Hans' cum is flying Daniel showers his load all over Hans' balls and ass as Hugo shoots his thick load and mixes it with the other two loads. You never know what you might find while shopping!

FIRE ISLAND – HOUSE BOY: Hans Berlin fucks J.P. Dubois
In EPISODE 1, we meet the home owner, Hans Berlin, who has put up signs all around Fire Island looking for a houseboy. Among the many boys interested in the job is red-headed British hunk J.P. Dubois. But the interview is more than J.P. bargains for. In fact, it includes the first watersports scene ever at DominicFord.com. Hans has to pee, and J.P. is more than happy to help him out with that. The scene unfolds as J.P. auditions for the role of house boy, doing everything Hans asks of him, which includes getting fucked senseless and take Hans' load to his face. Who else wants to be the house boy on Fire Island? Stay tuned all summer long as this series unfolds.
BLAKE MASON
KRISTEN BJORN
MEN AT PLAY
JAKE CRUISE'S COCK SURE MEN
DOMINIC FORD
MEN.COM
RAGING STALLION
HOT HOUSE
LUCAS ENTERTAINMENT
TITAN MEDIA
CLICK HERE TO GO TO HIS KRISTEN BJORN DETAILS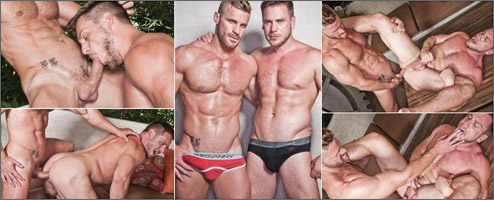 LANDON CONRAD AND HANS BERLIN GIVE NEW MEANING TO SWEATY SEX
CASTING COUCH #317: WILLIAM BRAVO & HANS BERLIN
SKINS – DOUBLE OR NOTHING: CRAIG DANIEL & HUGO ARENAS DP HANS BERLIN
FIRE ISLAND STAFF HOUSE: HANS BERLIN FUCKS BRANDON MOORE
FIRE ISLAND STAFF HOUSE: HANS BERLIN FUCKS JAMES KEY
FIRE ISLAND: HOUSE BOY
UNFINISHED BUSINESS
FOUL PLAY
JESSY ARES FUCKS HANS BERLIN
HANS BERLIN DOMINATES STEVEN PONCE
HANS BERLIN FUCKS STEVEN PONCE
HANS BERLIN SOLO
HANS BERLIN FUCKS JAMES LEWIS
POOL PARTY
THE F FORMULA
JOE GUNN, HANS BERLIN & GEOFFREY PAIN
GEOFFREY PAINE & TOM WOLFE FUCK HANS BERLIN
HANS BERLIN
ESCORTING 101: HANS BERLIN RETURNS 2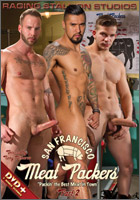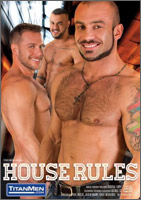 SAN FRANCISCO MEAT PACKERS – PART 2
UPPER HAND
SIGNALS
HOUSE RULES
HEAVY LOAD
ON TAP
MY DOCTOR ROCKS
SURRENDER TO LOVE
LUCAS MEN
HOOKING UP
GENTLEMEN 9: CLOSING THE DEAL
DEEP DICKING
GENTLEMEN 6: WEAR ME OUT
AUDITIONS – VOL. 48: POPPING D.O.'S CHERRY
FACE FUCKERS
KNALLHART (HARD BANG)
IN DER FLEISCHFABRIK (MEAT FACTORY)
ARSCHGEIL (HUNGRY ASS)
THE WEEKEND