Handsome Hunk William Higgins Czech Gay Porn Star, Gerasim Spartak
Known Aliases / aka:
Years Active: 2017 – 2019
WILLIAM HIGGINS INFO:
Model Name: Gerasim Spartak
Age: 25
Home Town: Brno
Height: 185cm/6'0″
Weight: 87kg/191.4lb
Foot Size: EU45/US9.1/UK8.6
Penis Size: 17cm/6.69″
Profession/Student of: Lady Gaga
Hobbies: Sport
Favorite Sports: Snowboarding
Active Sports: Skating
Movie/Music/Sport Stars: Darinka Rolincova
Visited Countries: Hungary
Want to Visit Countries: Greece
Dream of My Life: I do not know.
Zodiac Sign: Cancer (June 21 – July 22)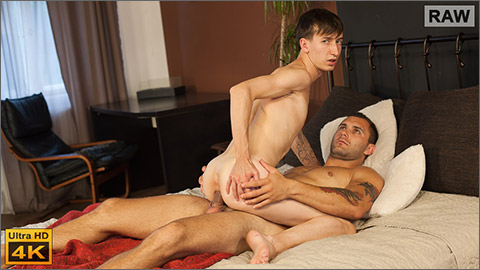 CHERRY BUSTING: IGOR UGANEC & GERASIM SPARTAK
Igor Uganec is the recipeint of a Cherry Busting, courtesy of Gerasim Spartak. They sit on the edge of the bed and chat with Igor divulging information about himself. He agrees that he would like to try sexy with a guy and Gerasim is more than happy to oblige. They begin to kiss, laying back on the bed as they do so. Gerasim opens Igor's shirt and kisses his chest. They get bare-chested and kiss some more. Igor straddles Gerasim and wanks him. Gerasim's dick is rock hard in Igor's hand and soon feel the hot mouth working on it. Igor sucks that big erection so well and soon Gerasim fucks the dick into the mouth. Igor suck and licks that big cock for a while. Then Gerasim removes his shorts and stands up to fuck Igor's hot mouth some more. His balls are tight as Igor sucks his cock. Then Igor removes his pants and they kiss each other and wanks cocks. Gerasim lays down for Igor to straddle him again, this time sliding his hot ass down on the waiting cock. Igor takes the entire cock deep into his ass and rides up and down on it, moaning with pleasure. He takes the big, fat, cock so well and soon Gerasim is thrusting it up into that ass as hard as he can. He grabs Igor's ass as he fucks his cock into it. Then Igor moves and lays on his back, wanking himself as Gerasim's dick slides into his ass for more fucking. Gerasim pounds his cock into the eager hole, fucking it all the way inside. Igor keeps wanking as he takes the throbbing cock all the way. Igor's cock is so hard in his hand as he takes Gerasim's fucking cock. Then they move again, with Igor on his knees as Gerasim fucks him from behind. Gerasim gives a very encouraging spanks on that sexy ass as he fucks it hard. His fuckinng gets faster and Gerasim moans as he pulls out and wanks the cum out of his big dick, all over Igor's ass. He milks his cock dry, slapping it against the ass. Then Igor turns over and wanks himself, but his ass still needs more and a big dildo is thrust deep inside to fuck him. Gerasim works the dildo in and out of Igor's hole. Igor continues wanking himself, moaning as he reaches the point of no return and his cock cums.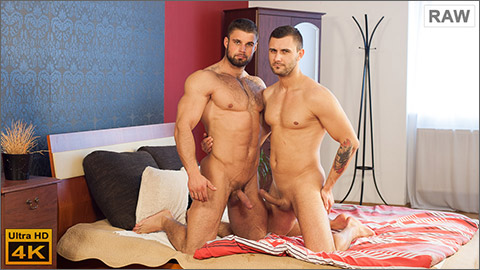 CHERRY BUSTING: LEO LOMBAR & GERASIM SPARTAK
Leo Lombar and Gerasim Spartak are two magnificent specimens. These hot straight guys are paired in a scene for Leo to get his cherry busted. He chats with Gerasim as they sit on the edge of the bed, explaining that his is a bodybuilder. Although he has been masssaged he hasn't done more with a guy, so they start by kissing. As they kiss Leo is quick to grope Gerasim's crotch. Then Leo's chest is bared as Gerasim helps him take off his tee shirt. They lay on the bed and continue to kiss and Gerasim opens Leo's jeans to get hold of his swelling cock. He pulls off Leo's jeans and wanks his cock as they kiss. Gerasim then takes off his pants too, exposing his own stiffening dick. Leo wanks both cocks briiefly and then, both naked, they kiss some more as they wank each other. Gerasim moves down and starts to suck on Leo's cock getting it rock hard. Leo wanks Gerasim and lays there enjoying the mouth on his dick. As Gerasim's hot mouth works on his cock Leo plays with his own nipples. He also wanks Gerasim's rock hard cock and then moves down to suck on it. His mouth envelopes the cock head and shaft as he moves up and down on it. Gerasim's balls are so tight at the base of his shaft as Leo keeps up his sucking. Laying down again Leo let's Gerasim suck on his throbbing cock once more. They both move onto their knees to kiss and feel each other. Leo has a taste for cock now though and is soon sucking Gerasim once more. He rubs the balls as he sucks on that rampant dick. When they kneel again and kiss they also spank each other's awesome ass. With his cock rock hard Gerasim moves thing to the next level, laying Leo down with his legs in teh air. That throbbing cock slides into Leo's tight hole and starts to fuck. Leo's body look awesome as he lays there and takes dick for the very first time. Gerasim's fucking gets faster as he works the hole, his dick going all the way inside. He keeps fucking the hot hole and moves Leo onto his knees, to take that ass from behind. Leo takes it well as that cock pounds his hole as had as it can. Then they move to spoon position and Leo wanks his stiff dick as Gerasim keeps up his deep fucking. The dick goes all the way into Leo's ass and he wanks himself hard, until his dick gives up the cum. Gerasim continues to fuck as Leo milks his cock dry. Then he pulls out and shoots his load too, over the hairy ass hole. They kiss again to end a great scene.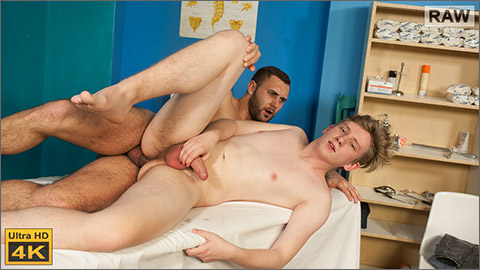 CZECH UP: DR GERASIM SPARTAK EXAMINES FILIP FIALKA
Dr Gerasim Spartak has a new patient,Filip Fialka. It seems that Filip has injured his groin in a soccer match. He opens his jeans so that Gerasim can exam him a little. Then Filip continues to strip, down to his underwear. He lays on the table and Gerasim begins the feel his thighs. Gerasim massages the thighs as Filip's underwear seems to bulge. His cock is hard as Gerasim reaches to the underwear as he massages. Seeing the hard cock Gerasim takes hold of it an wanks it a lttle. Then he leaves over to suck on the hard cock. His head bobs up and down on Filip's throbbing cock. Then Gerasim removes Filip's underwear and returns to sucking on his dick. His mouth wraps tight around the fat cock as he sucks it. Gerasim then gets naked too and that reveals his rock hard dick as well. He climbs over Fliip so they can 69. They suck each other as Gerasim kneels over him. Then Gerasim moves up on his knees and rubs his cock and balls over Filip's face. Filip climbs down from the table, bending over it, and presents his ass. He soon feels Gerasim's big cock sliding deep into his hot hole. Gerasim starts to fuck that sexy ass, with long, hard, strokes. His cock pounds the eager hole as Filip moans. Gerasim's dick really works deep into Filip's ass. Then they lay on the table, spooning as that big dick bangs into Filip's hole. He grabs his own cock and wanks hard as he takes Gerasim's dick in his ass. Filip continues to wank himself as Gerasim's cock works his hot hole. Filip keeps wanking and soon delivers his hot cum . Gerasim keeps fucking that sexy ass until he is ready to cum too. Then he pulls out and wanks the cum from his cock as well.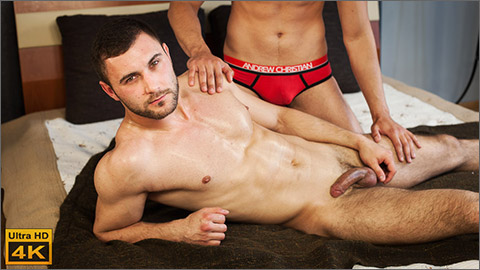 MASSAGE: GERASIM SPARTAK
Gerasim Spartak is a great looking guy, with a sexy body too. He has come in for a massage and he strips down to his underwear and lays on the bed, face down, to await the masseur. The masseur soon arrives, also only wearing underwear, and takes some oil as he begins work. His hands glide over Gerasim's back and shoulders massaging them. The fingers work into the shoulder and neck muscles and then down the back as well. Gerasim is relaxed as he enjoys the hands working on his back. Those hands go down to the ass, running over it. The fingers slip into the underwear, pushing it down off Gerasim's sexy ass. Then the hands run over the cheeks as well. The underwear is removed and Gerasim's legs are wide apart as the hands work on his hot ass. The ass cheeks are parted as the hands work, showing off Gerasim's tight hole. The hands run up and down the ass crack and Gerasim's butt raises off the bed. Oil is dripped onto the ass and massaged in, with fingers rubbing over the hot hole. Gerasim's ass is raised further and a finger slips into that tight hole. His cock is pulled back between his legs too and more oil is applied to the ass. The finger works into that tight hole again as a hand reaches underneath, to get at the cock. That cock gets quite hard as the hand wanks on it. Gerasim moves onto his knees as the hands rub all over that sexy ass. Gerasim grabs his dick and wanks it a little before turning over to lay on his back. The hands rub oil all over that sexy chest. Then they take hold of Gerasim's cock and wank it hard. His balls tighten at the base of the cock as the wanking continues and soon the hot cum shoots out, onto the hot body. Then the hands run all over the sexy chest again as Gerasim relaxes after cumming.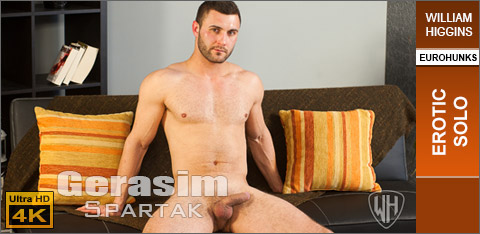 EROTIC SOLO: GERASIM SPARTAK
Gerasim Spartak is aged 25 and lives in Brno. He is a very handsome, and well-built, straight guy who enjoys sports, snowboarding and skating. Gerasim does a great interview in English. Then he stands and begins to feel his hot body. His hands lift the tee shirt, showing some skin and he rubs himself. Then Gerasim sits and leans back to feel over that sexy body. He removes his tee shirt to show off his chest. He opens his pants too, reaching inside for a quick grope. Then he stands and removes the pants and shows his hot ass in the tight underwear. He continues to feel all over his hot body and pushes down the underwear. His hard cock flops out and Gerasime takes hold of it and begins to wank, rubbing his balls too. He then sits again, legs wide apart, and wanks his cock hard. Gerasim's ass crack is on view as he wanks his cock. But he gives a better view of the hot ass as he lifts his legs. That lets the ass cheeks part to show off his tight hole. He traps his cock and balls between his thick thighs as he spreads his ass cheeks. Then Gerasim returns to wanking himself. One hand rubs over that hairy ass and down onto the tight hole. That tight hole looks so inviting as Gerasim rubs over it. Then he drops his legs and wanks his cock until his hot cum shoots out onto his hot body. After a great show he goes off to the shower to clean up.
CLICK HERE TO GO TO HIS WILLIAM HIGGINS BIO PAGE
CLICK HERE TO GO TO HIS STR8HELL BIO PAGE