ChaosMen Amateur Gay Porn Guy, Gerard
Known Aliases: Cailean (Sean Cody)
Years Active: 2016
BRIAN OCKERT / CHAOS MEN INFO:
Start Age: 24
Debuted: June 6, 2016
Height: 6′
Weight: 175 lbs
Cock: 8.5″ Uncut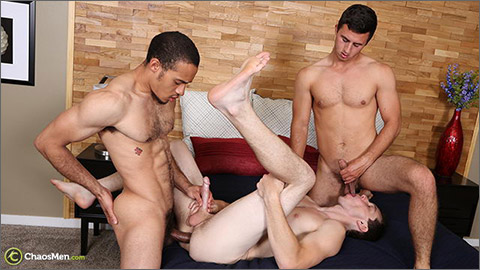 TAGTEAM RAW: GERARD & SANTINO & WREN
Yet another super hot TagTeam video!
These 3-ways have been scorching hot! Perhaps it is Gerard and his crazy sexual energy. Or is it because Santino is fascinated by Gerard's big cock? Or could it because Wren, who has been hitting the gym, has a sharp new hair cut that harkens back to when he first got started?
   Wren is the bottom boy in this video, with Santino taking some cock as well. Gerard and Santino start by servicing their bottom. Santino attacks his cock, while Gerard rims Wren's hole. I love the undershot on this one, especially seeing Wren's face as he is being orally treated front to back!
   Gerard helps Santino suck on Wren's ever growing cock, then goes down on Santino who keeps working on Wren's dick.
   Gerard's cock needed some attention, so Wren starts sucking Gerard's uncut cock. Santino climbs up on the bed so Gerard would have a cock to suck while his own cock was serviced by Wren. Next both Santino and Wren get on their knees and take turns sharing Gerard's amazing uncut cock.
   They get Wren on his back, and Gerard rims his hole while Santino sucks his cock. Gerard gets his hole all lubed up and slides his cock into Wren's eager hole. Wren nurses on Santino's low-hanging balls while he gets his ass pounded.
   Santino then takes a stab at Wren's ass, while Gerard sucks on Wren's cock. Poor Wren! But he is loving having both guys ram all his holes with abandon!
   Santino gives him a break by sitting down on Wren's cock. Now at first, Santino wanted to be fucked by Wren because he thought Wren would be smaller, but once faced with seeing Wren fully hard, he was not sure if he had made the smaller choice.
   He does his best to ride it, while Gerard encourages him and sucks his cock.
   Santino spins around and sits on it properly, Wren's cock barely wedged into his tight hole. Gerard stands over him, feeding him his cock so that both of Santino's holes are filled. After that, Gerard goes back to fucking Wren, while Wren fucks Santino.
   This turns on Gerard so much that he gets close to cumming. He fucks Wren right up to the moment he is about bust, pulls out and squirts once to paint his hole, and then plunges his spasming cock back into his hole. The key word is spasm, as his cock pumps a giant load into Wren.
   Santino slides in quickly to use Gerard's cum as lube and fucks him until he pulls out and jerks his cock and gives Wren another coating of jizz, also dumping the rest inside of Wren.
   Filled with two loads, Wren quickly and easily busts his own load. Gerard was telling him he is a good boy, kissing him just as he was cumming.
   Gerard slides down and cleans both boys cocks!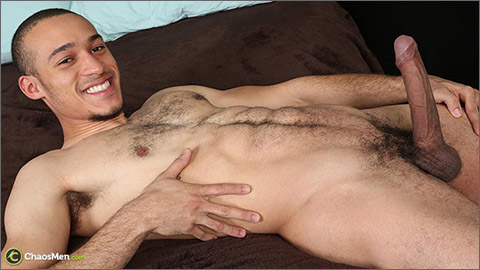 SOLO: GERARD
Gerard has done a solo before, so he is not totally new to doing video work. He was relaxed and ready to go!
   He is 25, mixed-heritage, and has amazing body with a 8.5″ cock. Gerard is bi, but is married, and I think he mentioned his wife was also bi. Not a lot of jealousy in that house. Lots of sharing!
   He leans towards women, but he definitely has a thing for hung Latin guys. He is an ass man when it comes to both men and women, and though he says he likes the guys hung, he is all about fucking their asses. He has tried bottoming, but has never had the epiphany where it felt good.
   Gerard has a great smile, and hot dirty-boy energy. He doesn't wear deodorant, so for you guys that like musky dudes, he smells great. For those of you who don't like them fragrant, no fear, he cleans up nicely, and it is not overpowering. But filming this video, I definitely was getting full-tilt pheromones!
   I wanted to see what his cock looked like shoved into a FleshJack , and he fills that cup all the way up, and practically hits bottom!
   The toy really turned him on, a couple times he had to stop or risk cumming.
   Since he was so close to nutting every time he fucked it, I thought we would see if he could use it right up to the last second, and sure enough he cums from fucking the toy!
   Hmmm… now let's see if he can do that to someone's throat!
   Stay tuned next week to see! (Spoiler! He can!)
CLICK HERE TO GO TO HIS CHAOSMEN BIO PAGE