Hung Blond Hard Handsome Gay Porn Star, Landon Conrad
Years Active: 2009 – 2016
TWITTER @LandonConrad
FALCON STUDIOS INFO:
Height: 5′ 9″
Weight: 175
Cock: 8″ cut
Sexuality: Gay
Position: Top
FALCON STR8: SPOTLIGHT ON LANDON CONRAD:
For this spotlight, we take a look at an up-and-coming stud by the name of Landon Conrad, who first appeared in one of our FalconStr8Men episodes (FSM117: Landon Conrad Fucks Derrek Diamond.)
Landon will make his Falcon-proper debut in the hotly anticipated upcoming Falcon production, Morning Wood (FVP198) You can find our exclusive interview and pics after the jump!
Falcon: Landon, tell us how you got involved in the gay porn industry.
Landon Conrad: I have always been an exhibitionist and loved watching porn. Everyone would always tell me I should do it, so I sent my pics to Falcon and a couple other studios.
F: What was the first thing you appeared in?
LC: I did a couple Falcon Str8men episodes then did a film for Channel 1 and just finished Morning Wood for Falcon.
F: Have you noticed whether your work in adult entertainment has affected your social or dating life at all?
LC: My friends are all cool with it and I've been in a relationship so I don't know if it would affect dating at all.
F: How big is that cock of yours? Have you ever measured it?
LC: It's 8" cut and thick.
F: What's your favorite fantasy if you have one?
LC: Haha, well I have a great partner, so as boring as it probably sounds, most of my fantasies would just involve him.
F: How would you describe yourself on a hookup website?
LC: Like on Manhunt? Hmm…I'd probably just give my stats, that I'm moderately hairy, with a gymnast body. And of course hot with a huge cock, hahaha.
F: What is your most marked non-sexual characteristic?
LC: I'm cocky. Very cocky. Wait, that still sounds sexual, haha.
F: Where are you from originally?
LC: I was born and raised in Salt Lake City, Utah.
F: What would be your ideal date?
LC: It would probably just be dinner and a really great, engaging conversation, followed by some cuddling perhaps.
F: What was your hottest or most memorable sexual experience?
LC: Probably sex on a plane. Yes, I have officially joined the mile high club, haha.
F: If you could do a scene with any other adult film star, who would it be?
LC: Well, my Str8men scene with Derrek Diamond was amazingly hot but I'd like for Brad Patton to come out of retirement for one last scene. He's fucking hot.
F: What is your current frame of mind?
LC: I'd have to say grateful. I'm always grateful for everything I have.
F: So what do you eat when you just want to indulge and pig out?
LC: Oh god, I love it all. Junk food is awesome, hahaha. Pizza, burgers, Mexican food. I cannot resist a good sized steak though.
F: And finally, do you have a personal motto?
LC: Yeah, you only live once so treat each day as if it's your last and live it to the fullest!

TWIN HEAT: Luca fucks Landon Conrad while fucking Liam Rosso
Landon Conrad's in hog heaven rooting around with twin sex fiends Luca and Liam Rosso. Left and right, he's got someone nipping at him, hungry to kiss, suck his dick and lick him all over. And it's just as rewarding for the feisty brothers as they jockey for position to service their lucky playmate. Landon soon gets down to fellate the dynamic duo, his head pivoting left and right to suck down their swollen cocks. Luca and Liam then kneel side by side and bottoms up so Landon can tongue their asses, digging deep inside their holes with slurping jabs. Then they reposition themselves with Landon on his back nursing on Luca's dick while Liam rides his pole. Their harmonized moaning continues as they get up with Landon still plowing Liam up the ass while Luca is behind him fucking his hole. Ready to cum and flanked by the rowdy Rosso bros, Landon jerks off. His hefty climax is quickly followed by the explosive blasts from the twins' over-stretched cocks aimed at his sweaty chest.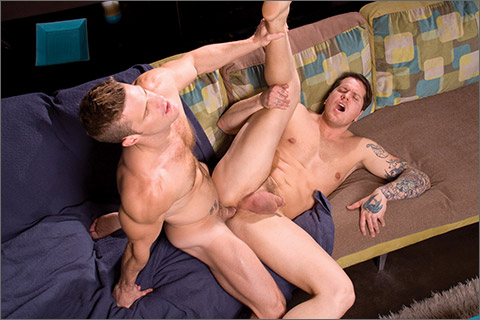 HUNGOVER: Landon Conrad fucks Parker London
SCENE 2: Landon Conrad fucks Parker London
Neither Landon Conrad nor Parker London can keep their hands off the other as they quickly find themselves in another room fucking like madmen. Landon plows Parker's tight asshole fast and furious, fueled with lusty excitement as the pizza man gasps with every deep thrust. The ass assault is rugged and relentless as the two muscled studs twist into different positions ensuring that every plunge is felt and savored. Only after both men shoot their loads, do things calm down.
RAGING STALLION
FALCON STUDIOS
HOT HOUSE
LUCAS ENTERTAINMENT
TITAN MEDIA
CHANNEL 1 / RASCAL
VIDEO ON-DEMAND: Landon Conrad @ AEBN SMUTJUNKIES THEATER
DVDs & ON-DEMAND: Landon Conrad @ TLA VIDEO