American Bad Boy Gay Porn Star, Christian Wilde
Known Aliases: Chris Stevens (Bait Buddies)
Years Active: 2008 – 2015
TWITTER @ChristianWildeX
PERFECT GUYZ STATS / INFO (2008):
Name: Christian Wilde
Age: 20
Zodiac: Aquarius
Eye Color: Blue
Hair Color: Brown
Height: 6′ 3″
Weight: 180lb
Waist: 32″
Chest: 42″
Shoe Size: 13
Cock: 8″ cut
Physique: Athletic
Introducing Christian Wilde for PerfectGuyz. This 6-foot, handsome blue-eyed, tanned stud is a genuine heartthrob. Christian is the classic boy-next-door with a well built athletic body, just the right amount of body hair, and a big cock. There is something very erotic about a gorgeous guy in the showers at the gym, especially a gang shower – naked with hot sudsy water running down his abs, through the soft tuft of pubic hair soaking his cock and balls and over the curves of his ass – fully exposed for public viewing. Wow – does it get any better than this? Yes, it does – because what is so alluring about Christian is the delicate balance of boyish innocence set against the intrigue of his prominent tattoos. Indeed, the Ink is evidence that there is a sly, bad boy behind the sweet smile and charming swagger. What can definitely be said about PerfectGuyz Christian is that this guy is a work of art, a true masterpiece of young, red hot masculinity. Next time you're in the shower at the gym, as you enjoy the soft caress of water over your naked body…..take a moment and remember Christian! Enjoy Christian Wilde in this special PerfectGuyz presentation.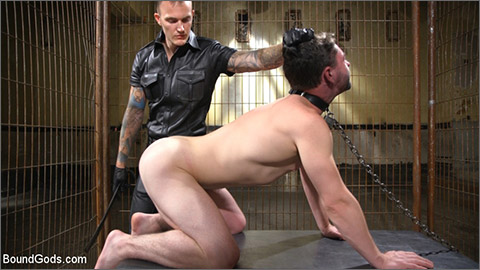 MR. WILDE SHOWS COCKY EXECUTIVE WHO'S THE BOSS
Jackson Fillmore impatiently sits in a cage, wondering why the dom he hired, Christian Wilde, hasn't started yet. Mr. Wilde finally gets up to silence the ungrateful bitch, barking at him to remove his clothes. He inspects every inch of Jackson, reducing him to only pieces of flesh. When Jackson thinks he can order Mr. Wilde around, Mr. Wilde responds with his hard leather paddle all over Jackson's feet and ass. Jackson learns to follow orders and show gratitude as Mr. Wilde turns his body lobster-red with a belt. After choking all over Mr. Wilde's massive dick, Jackson has whatever remaining noncompliance flogged out of him. Jackson accepts his nothingness, swinging over the ground in ropes while Mr. Wilde continues to take his time. He finally approaches Jackson and fucks his ass relentlessly before coating his face in hot cum. He unties Jackson and commands him to crawl to his throne over the sharp iron bars of the cage and lay his body at his master's feet. Jackson complies with Christian's order to cum, finally grateful for his master's treatment. As Jackson gasps in relief from his orgasm, Mr. Wilde stomps on his tender cock.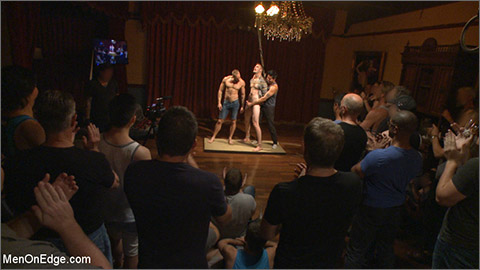 EDGED IN FRONT OF A LIVE AUDIENCE CHRISTIAN WILDE BLOWS A MASSIVE LOAD
With Christian Wilde as a model sub, Van Darkholme shares his expertise in bondage and edging in front of a live audience. He walks through practical rope work for chairs and beds, binding Christian and with the help of Jessie Colter, working a throbbing erection from the horny stud. Christian reveals to the crowd that he hasn't cum in three days as he moans and squirms in his ropes with each edge. Van then moves to a live Kinbaku demonstration, sensually binding Christian in a suspension. With Jessie teasing Christian's cock along the way, Van guides Christian through different positions and suspensions. After an aerial edge with Van hanging from Christian's swinging body, Van finally decides to allow Christian to cum. With three days of cum built up, Christian busts a huge load to the approval of the crowd.
MEN.COM
FALCON STUDIOS
RAGING STALLION
HOT HOUSE
CHANNEL 1 / RASCAL
ALL WORLDS VIDEO
NAKEDSWORD
NEXT DOOR STUDIOS
PRIDE STUDIOS
TWINKS
GAY ROOM
SUITE 703 / MEN HARD AT WORK
BANG BROTHERS / BAIT BUS
KINK.COM / BOUND GODS
KINK.COM / BOUND IN PUBLIC
KINK.COM / MEN ON EDGE
KINK.COM / NAKED KOMBAT
KINK MEN
ADDICT
INTO THE WILDE
GOLDEN GATE SEASON 5 – THE COVER UP
DREAM TEAM
WILDE ROAD
STALKER
PRIVATE PARTY
BOYFRIENDS
CHRISTMAS WITH CHRISTIAN
TRUCK
GRINDHOUSE
GOLDEN GATE: SEASON 1
CHRISTIAN WILDE FUCKS JAYDEN GREY
BACKROOM LIVE: CHRISTIAN WILDE + JAKE AUSTIN
BACKROOM LIVE: CHRISTIAN WILDE & SAGE DANIELS
THE HANGOVER
DEEP IN THE ASS
1 ON 1
CHRISTIAN WILDE & JIMMY CLAY
CHRISTIAN WILDE & ADAM WIRTHMORE
CHRISTIAN WILDE FUCKS MASON WYLER
NOCTURNAL EMISSIONS
THE WILD BUNCH
BALL OF THE WILDE
SEBASTIAN GONE WILDE
BALL OF THE WILDE
THE HAUNTING
CHRIS STEVENS FUCKS TOMMY DEFENDI
FRAT HOUSE TRADE-OFF
THE COMPUTER GEEK
FAILING GRADE
SMALL TOWN BOY
FUCKED AT FIRST SIGHT – PART 2
HOT AS HELL'S KITCHEN
MEN COLLECTOR – PART 3
MEN COLLECTOR – PART 2
MEN COLLECTOR – PART 1
PORN DATE – PART 2
CAM PLAY 2
THE SLAMMER 2
SHOOTING AT THE PHOTO SHOOT
STRANDED
THE SLAMMER
TOP TO BOTTOM: WILL BRAUN
FIRST TIME BOTTOM
THE STRAIGHT TO GAY SHOW 1
REBOUND SEX
I SPY
THE MASSAGE
THE HITCHHIKER
HE CAN DO IT BETTER
RELEASING NERVES
HAPPY HOUR
STAYING IN
THE NEW GUY
CHRISTIAN WILDE & DYLAN HYDE LIVE: OCT 9, 2011
GETS ME UP IN THE MORNING
BANGIN' IN THE BATHHOUSE
FRESH & CLEAN
FONDLE WITH CARE
COLE'S EXTRA OFFICE ATTENTION
FRESH & CLEAN
THE PERFECT VIEW
MR WILDE TRAINS A NEW SLAVE BOY AND FUCKS HIM INTO SUBMISSION
BIG COCK GALORE – LIVE SHOW
AT HIS REQUEST, MR WILDE BREAKS IN A A NEW SUB ADAM RAMZI
SLAVE BOY INITIATION
TIME FOR YOU TO LEARN YOUR LESSON PUNK!
12 DAYS A SLAVE
NEW MUSCLE BOY FOR MR WILDE
ARE YOU READY TO SERVE ME TODAY, BOY?
SIR, MAY I CUM TODAY?
ROMAN GLADIATOR LIVE SHOW – PART ONE
MR WILDE BINDS AND FUCKS A MUSCLED BODY BUILDER WITH AN UNCUT COCK
A PAIN SLUT AND A NEWCOMER – LIVE SHOW
YOU'RE NO LONGER HUMAN TODAY. YOU'RE MY OBJECT!
ONYX VS REDZ – PRE-FOLSOM STREET FAIR LIVE SHOW
CAGED SEX SLAVE ENDURES A BEATING, HOT WAX AND HARD STOCKADE FUCK
CHRISTIAN WILDE BEATS, TORMENTS, AND FUCKS HIS BODY BUILDER CAPTIVE
LEATHER DADDY MAKES A BONDAGE HOUSE CALL
BG 5 YEAR ANNIVERSARY LIVE SHOW – BONDAGE EXTRAVAGANZA – PART TWO
BOUND GODS 5 YEAR ANNIVERSARY LIVE SHOW – THE SLAVE AUCTION – PART ONE
FARMER CHRISTIAN WILDE AND THE SLEAZY CITY SLICKER
"LIFE IS NOT FAIR" – LIVE SHOOT
STEVE STERLING – FUCKED, BEATEN, ZAPPED AND FUCKED AGAIN
BAD-ASS INMATE
LIVE SHOOT: THE SINNER
THE BOUNTY HUNTER
WILDE DIESEL
BAR BONDAGE HOOKUP 2
ROCK vs MILLER – LIVE SHOOT
THE BODYBUILDERS AND THE ONYX
LIVE SHOOT: AFTERNOON COCKTAIL ON THE UPPER FLOOR
MEAT PROCESSING
DOM TRAINING CHRISTIAN WILDE
EDGED IN FRONT OF A LIVE AUDIENCE CHRISTIAN WILDE BLOWS A MASSIVE LOAD
PUPPY CAN SUCK HIS OWN DICK, AND DOES IT LIVE!
FIRST EVER MEN ON EDGE LIVE! – SLUMBER PARTY
BOUND CHRISTIAN WILDE BEGS TO CUM IN THE WOODS
MECHANIC EDGED BY HIS OWN TOOLS
CHRISTIAN WILDE'S NIGHTMARE
HOT ART THIEF WITH A BIG COCK BEATEN AND FUCKED INTO SUBMISSION
RELENTLESSLY FLOGGED, DRENCHED IN CUM AND TICKLED TO THE EXTREME!
BIP CREW INFILTRATES BOND-CON & MAKES STRAIGHT STUD TAKE TONS OF COCK!
OFFICER AVERY'S NIGHTMARE
BAR SLUT GANG FUCKED AND COVERED IN THE CROWD'S CUM
NO ONE CAN HEAR YOU SCREAM!
SEBASTIAN KEYS INSANE BIRTHDAY BASH
HORNY CROWD MERCILESSLY GANG FUCKS A BOUND HUNG STUD AGAINST HIS WILL
MUSCLED DJ TIED TO THE TOILET & ASS FUCKED IN FRONT OF A HORNY CROWD
HOT ART THIEF WITH A BIG COCK BEATEN AND FUCKED INTO SUBMISSION
BATHROOM PIG WHORED OUT TO THE HORNY PUBLIC
FUCK THE DJ!!!
HOT RIPPED STUD TORMENTED AND GANG FUCKED AT LOCAL SEX CLUB
HORNY CROWD TORMENTS BOUND MUSCLED STUD FOR BIP'S PRE-HALLOWEEN PARTY
BATHHOUSE WHORE TORMENTED AND GANG BANGED BY A HORNY CROWD
WAX AND GANG BANG A MUSCLED STUD WITH A FAT COCK
RIPPED STUD WITH A GIANT COCK GET USED IN A CROWDED BAR
LOGAN STEVENS IS TURNED INTO A SEX SLAVE AT A CAMPGROUND
YOU SHORE GOT A PURDY MOUTH BOY…
YOU SHORE GOT A PURDY MOUTH BOY…
A STUD WANTS TO BE A WHORE IN A SEX SHOP
GANG FUCKED ON THE POOL TABLE IN PUBLIC
RIPPED MUSCLE, FAT COCK, ROUND ASS, HUMILIATED IN PUBLIC
JESSIE COLTER GETS GANG BANGED AT MR. S LEATHER STORE
LIVE SHOOT: IT'S THE BEST XMAS PARTY EVER
TWO BOYS GET USED AND ABUSED IN A PUBLIC RESTROOM
BRIAN BONDS GETS CAUGHT IN A PISS AND CUM FEST
STUDLY SHOPLIFTER GETS AN EGGPLANT UP HIS ASS AND A FACE FULL OF CUM
BIG STUD GETS HIS ASS PULVERIZED IN THE SLAUGHTERHOUSE
TRENT DIESEL: BOUND AND SUSPENDED UPSIDE DOWN WHILE BRUTALLY FUCKED BY A MACHINE
TWO HAIRY SLUTS GET ABUSED IN A BAR FULL OF HORNY STRANGERS
BLINDFOLDED, FLOGGED, HUMILIATED AND FUCKED IN A BAR FULL OF STRANGERS
LATIN HUNK GETS DOUBLE PENETRATED AT FOLSOM GULCH PORN STORE
TRENT DIESEL GETS TIED UP, BEATEN AND GANGBANGED AT HELIOS RESORT
HARD FLOGGING AT GEAR LEATHER IN PALM SPRINGS
ADAM KNOX GETS CAUGHT IN A CUM FEST
NED AND THE GAY MAFIA
THE SACRIFICIAL CUM WHORE – HALLOWEEN UPDATE
BAR WHORE
GAY NIGHT ON THE UPPER FLOOR
CRUISING FOR SEX
HOUSE DOM CHRISTIAN WILDE TAKES THE ULTIMATE CHALLENGE!
SWEET TENNESSEE ASS
999 – BAIT BUS VICTIMS
THE COVER UP
CHRISTIAN WILDE SOLO
CHRISTIAN WILDE & NIKKO ALEXANDER
CHRISTIAN WILDE & DERRICK PAUL
CHRISTIAN WILDE & TRENT DIESEL
CHRISTIAN WILDE FUCKS DAYTON O'CONNOR
CHRISTIAN WILDE FUCKS DERREK DIAMOND
ANDREW BLUE, TEX RYDER & CHRISTIAN WILDE
CHRISTIAN WILDE & JAKE STEEL
MANNY VEGAS & CHRISTIAN WILDE
JUSTIN RYDER, CHRISTIAN WILDE, MARCUS MOJO, DYLAN McLOVIN & AARON SKYLINE
SHANE ERICKSON AND CHRISTIAN WILDE
SHANE & ALEXY & CHRISTIAN & SPENCER FUCK
CHRISTIAN WILDE AND DYLAN McLOVIN
PATRICK ROUGE GETS GANG-BANGED
CHRISTIAN WILDE & ISSAC
DYLAN McLOVIN, MARCUS MOJO, CHRISTIAN WILDE & BRENDEN
MARCUS MOJO & CHRISTIAN WILDE
RICHARD CYNDERBLOCK & CHRISTIAN WILDE
SAMUEL & BUKKAKE
CHRISTIAN WILDE & STEVEN WAM
CHRISTIAN & DAK
CHRISTIAN WILDE & WADE
CODY, CHRISTIAN AND TAYLOR
CODY, COCO VELVETT & CHRISTIAN WILDE
TOMMY D & CHRISTIAN WILDE
THE SLAUGHTERHOUSE: PART 1 – THE HEAD BUTCHER
SHANE ERICKSON vs CHRISTIAN WILDE – THE OIL MATCH
MASTER BLASTER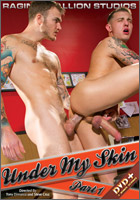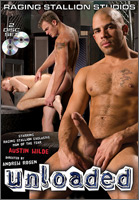 UNDER MY SKIN – PART 1
OPEN ROAD – PART 2
WHEN MEN FUCK
MUSCLE & INK
UNLOADED
TIGHT
SATISFACTION
GUARD PATROL
STUD FUCKERS
DIAMOND AUTO
STALKER
REAL BIG: BOYS MEASURING UP!
THE WILDE BUNCH
HUMONGOUS COCKS #8
HUMONGOUS COCKS #11
ROOMMATES (JVP-151)
BLIND LUST (JVP-147)
LAYOVER – LOS ANGELES, VOL. 1 (JVP-139)
LAID OFF (MVP-105)
MEN OF MASSIVE STUDIO – VOL. 19 (MSD-019)
TRUST ME I'M A DOCTOR
BACKROOM EXCLUSIVE VOL. 14
ANALSTAHL
HEISSE KISTEN (LUBE JOB)
HOMO OFFICE (HOME OFFICE)
BIG DICK MECHANICS
ADDICTED TO COCK
THE HAUNTING
STRAIGHT TO THE POINT: VOL. 11
STRAIGHT TO THE POINT: VOL. 12
STRAIGHT TO THE POINT: VOL. 14
STRAIGHT TO THE POINT: VOL. 16
STRAIGHT TO THE POINT: VOL. 17
STRAIGHT TO THE POINT: VOL. 18
CODY CUMMINGS UNLEASHED: VOL. 1
STRAIGHT TO THE POINT: VOL. 4
STRAIGHT TO THE POINT: VOL. 6
STRAIGHT TO THE POINT: VOL. 9
TOMMY D & FRIENDS: VOL. 8
TOMMY D & FRIENDS: VOL. 12
CUM IN MY MOUTH
UGF: TUCKER vs DIXON