Rome based European Gay Porn Star GoGo Boy, Gaston Croupier
Years Active: 2014 – 2016
TWITTER @gaston_croupier
BUTCH DIXON INFO:
Steaming, spicy dish from Sicily, plenty of meat, sauce, chilli and cream. Delicious and Irresistible.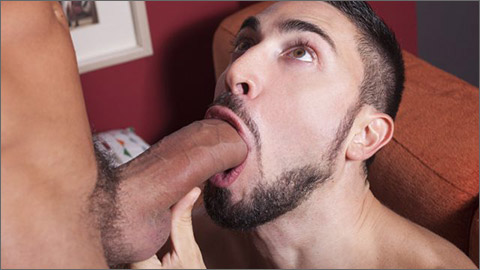 THE ITALIAN JOB – GIANNI MAGGIO & GASTON CROUPIER
After almost two years absence, our Italian sexy mate Gaston Croupier is back with us this week to make a perfect match. He's back to bottom for his supersized compatriot Gianni Maggio. They both have muscled worked bodies and that typical sex appeal for which Italian men are famous, but with another special quality too: Gianni got a giant XXL cock between his legs while Gaston's got a perfect hungry ass that wants only to be fucked with no mercy. What else can we ask? Do a good job guys!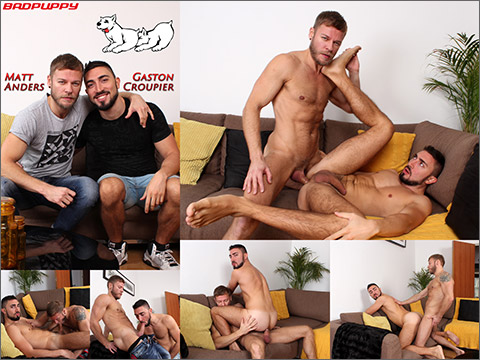 MATT ANDERS FUCKS GASTON CROUPIER
Hunky Matt Anders and Italian stud Gaston Croupier had never met. They were immediately attracted to each other and as they kiss you can see the physical passion. Gaston lifts up Mattís shirt as he pushes him back on the sofa and then he starts tweaking Mattís nipples with his teeth and lips. Mattís head goes back in ecstasy. Gaston is the first on his knees as he pulls Matt to his feet. He slowly strips Matt of his clothes before he devours Mattís cock. With a raging hard-on Matt stands, pulls Gaston to his feet and yanks his jeans to his feet. Matt pushes the now naked Gaston back onto the sofa and he goes to work sucking Gastonís large, thick cock. Gaston is next on his knees with Matt shoving his tongue deep into his ass. After some oral priming Matt slowly; but fluidly, pushes his cock into Gastonís eager hole. Matt goes to work pounding Gastonís ass and Gaston just as willingly works his legs and ass to increase the pounding. After what seems like an eternity of Matt decimating Gastonís ass, Gaston sits Matt down on the sofa, climbs onto Mattís cock and begins riding just as feverishly. Finally Gaston lies back on the sofa, pulls his legs back and Matt plunges his cock deep inside Gaston. Gaston grabs his already sore cock and begins jerking again. With Mattís cock deep inside him, Gaston shoots a load of semen all over his tight stomach. Matt pulls his dick out of Gastonís ass and with a forceful jerk of his hand, cum squirts all over Gastonís balls and cock. With a smile, Gaston reaches out with his hand to touch the cum dripping from Mattís spent cock.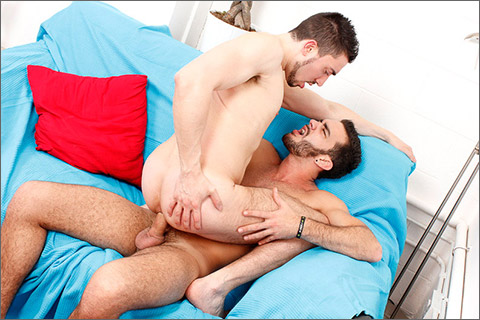 DARK YOUNG STUDS FUCK RAW: ALEJANDRO ALVAREZ FUCKS GASTON CROUPIER
Handsome young fuckers Alejandro Alvarez and Gaston Croupier give us a sexy interview as they get turned on talking about their sexual exploits. Slowly starting to strip off, it's soon obvious that Gaston assumes to role of hungry bottom boy, on his knees lapping at Ale's hard dick, pushing forward to take it all down his throat, pulling out and leaving it dripping with spit, his peachy ass pushing out as we watch him swallow inch after inch of meat into his cute face, getting it wet enough to slide effortlessly up his ass, the bare skin pushing past his hole and deep into Gaston. Ale's muscled toned body working hard to ram him full of raw dick, holding his legs up in the air and gaining as much depth as possible whilst Gaston has to lay back and hold on to the sofa and them hold his ass even more open for his raw fucker. Flipping him doggy style and stuffing him with more dick, Alejandro can't hold back for long and pulls out as he cock is already squirting spunk, covering Gaston's ass with cum inside and out before plunging it back in and fucking even more spunk into him. Don't miss the cum shooting out of Gaston's ass afterwards, damn hot! Gaston then repays the favours, shooting all over Alejandro's face, leaving both boy totally covered in cum!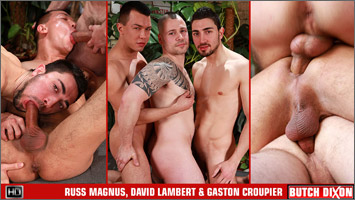 RUSS MAGNUS, GASTON CROUPIER & DAVID LAMBERT
WOW, really WOW, this is absolute FILTH, we don't know wether we're ashamed or proud!! Russ Magnus pops his porn cherry here and its the most scorching, cum soaked arse stretching debut we've EVER filmed. I mean this boys does it all and then some!. Tanned, toned and hung David Lambert is ably supported by ripped, uncut, Italian stud Gaston Croupier, as they do their best to suck, fuck and rim stud-muffin Russ into moaning, squirting submission. They eat him out, swapping saliva as they spit on his hole, then spit roasting, double penetrating, taking it in turns to smash his hole into a sopping, drooling mess. All bareback – all uncut cocks, and Russ takes it all and begs for more. Then our power-bottom decides he's gonna fuck lucky David, so its David's turn to take a cock in every orifice. before these rampantly oversexed guys can hold back no longer and Russ gets a double ended gunging taking David copious load in his face and Gaston's all over his gaping hole before Gaston plunges back in still squirting!! If that boy wasn't sitting on a rubber ring for the rest of the weekend i'm a monkey's uncle!!
FUCKERMATE
BADPUPPY
BULLDOG PIT
UK NAKED MEN
BUTCH DIXON
CLICK HERE TO GO TO HIS BULLDOG DETAILS
CLICK HERE TO GO TO HIS BUTCH DIXON DETAILS