Furry American Gay Porn Star Butt Slut, Gage Lennox
Known Aliases:
Years Active: 2017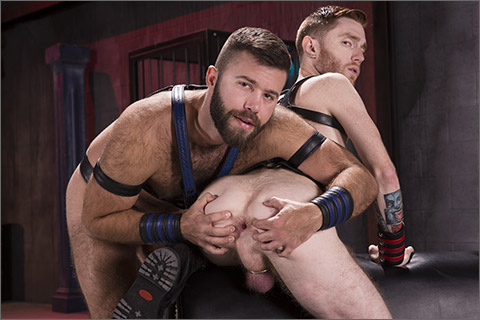 DEEP HOLE DUNGEON: Seamus O'Reilly rides Gage Lennox's fist
In a dark, dank dungeon, two men explore each other's bodies with their tongues. Clad in leather jockstraps and harnesses, ginger-haired Seamus O'Reilly and furry muscle hunk Gage Lennox begin to work each other into a frenzy. Gage unleashes Seamus' massive, thick, throbbing cock and wraps his lips around it. Showing off impressive deepthroating, Gage sucks down Seamus' cock to the base. Seamus' fire-red pubes stand out against the dark fur of Gage's thick beard. Turning Seamus around, Gage dives face-first into Seamus' ass. With rabid licks, Gage begins lubing Seamus' hole for what's to come. Gloving up and lubing Seamus' hole, Gage enters the flesh ring with his fist. Alternating between hands lets him quickly stretch out Seamus' hole until his entire fist is buried inside. When Gage switches hands again, Seamus shows off his red rosebud. Perched atop a fuck bench, Seamus sits on Gage's fist as Gage simultaneously swallows Seamus' cock. Utilizing his muscular build, Gage picks Seamus up and throws him over his shoulder, keeping his fist buried deep in Seamus' hole the entire time. Returning Seamus to his feet, Gage kisses him vigorously, then lays him on his back for the final stretch. With Gage's left fist buried up to the wrist in Seamus' ass, Seamus strokes his hefty cock and lets loose with a hot, white load that spills onto his lightly hairy torso.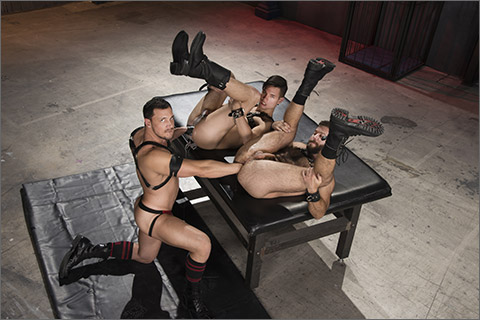 DEEP HOLE DUNGEON: Joey D fuck machines Issac Lin & Gage Lennox
Hairy, muscular Gage Lennox and smooth, lean Issac Lin show off their asses to big, beefy Joey D. Joey has a special surprise for their training session today: twin fucking machines! But first, the boys need to service Joey's cock. They take turns choking on Joey's fat, hard meat, eager to do whatever it takes to please him. Before using the fucking machines to fill their asses, Joey makes Gage and Issac lube up their dildos by showing off their cocksucking skills. When Issac's dong is ready, Joey spins him around and guides the big, black dildo into his hole. As Issac watches, Joey slides his cock into Gage's hole and fucks him as Gage continues to practice his cocksucking on the fucking machine. Saliva drips from Gage's mouth to the floor, forming into a sloppy puddle. With Gage's hole opened up, Joey spins him around and guides him onto the fucking machine. The speed ramps up as Joey feeds his cock to Issac, then to Gage. Joey has one more trick in this session to destroy Joey and Gage's holes. Joey reconfigures the fucking machines so that they penetrate straight up into the air, penetrating more deeply than ever into their eager holes. As the machines reach the limit of their abilities, the boys start begging for daddy's fist – and Joey is eager to give it to them!