Bel Ami Czech Gay Porn Star, Gaelan Binoche
Known Aliases: Tony Hatch
Years Active: 2009 – 2015
BEL AMI INFO:
Zodiac: Taurus
Height: 186
Weight: 70
Dick Size: XL
Hair Color: Brown
Eye Color: Brown
Dick Type: Thick
Gaelen is a college student, very bright and enterprising, and he wants to work more for Bel Ami, but so far he is a little bit resistant to taking advice or constructive criticism in order to improve his performance and appearance. We are working with him to shed these habits. He is an excellent top but George feels he is still holding back in front of the camera. "He is beautiful and his name comes from the French actress Juliette Binoche. His eyes and mouth remind me of her," George says. "I have seen that he has very few sexual inhibitions. And he has an instant hard-on; you just touch his dick and it is hard, no Viagra needed. So I believe he will grow to become a strong performer but we are coming to it in a roundabout way." In his recent episods (as of early 2011), Gaelen's sexual confidence has grown by leaps and bounds.
   Gaelan is a student from the Czech Republic. When he first came too us he was a little too lean for our tastes and went off to gain 10 pounds before we started working regularly with him. He still looks quite lean as he is a tall boy but he is slowly becoming sexier and sexier.
   Gaelan Binoche has been making his way through the hot bottom boys of BelAmiOnline and shows it all off this week as our featured Pin-Up stud. Gaelan is super tall, very lean and has a huge uncut cock that has been pleasing the boys for a while. Don't be lulled by his sweet face, he is quite the big top.


COVERED IN CUM: RICK LAUTNER & GAELAN BINOCHE
Rick Lautner and Gaelan Binoche are two of our more experienced models. They both know what they like and they both have an instinct for what the other one needs as well. It seem like Rick needed a load of_cum on his face after this round of steamy fucking.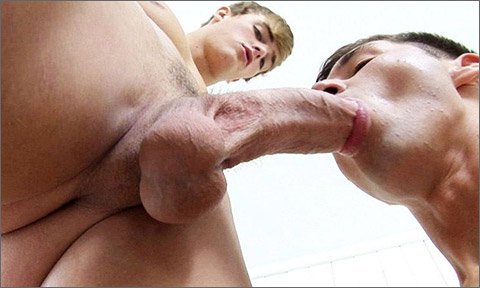 GAELAN FUCKS MICK LOVELL
It's summer with Mick Lovell time again today and this time we have Mick paired up with Gaelan Binoche. Mick lves to get fucked by a big cock like Gaelan's, so in these cases he is usually on the bottom.